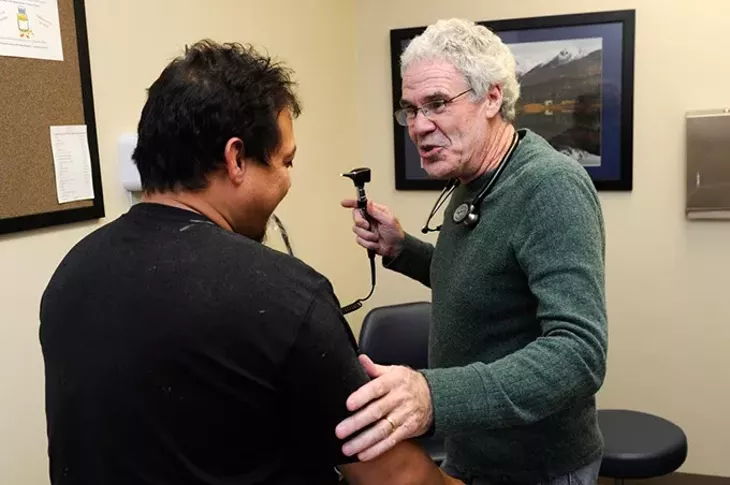 Garett Fisbeck
Dr. Fred Loper treats a patient at Good Shepherd in Oklahoma City, Wednesday, Dec. 2, 2015.
About two years ago, LaVonne Monson wrestled with how she would pay for her prescriptions.
Diagnosed with hypertension, or high blood pressure, she visited the Oklahoma County Pharmacy, hoping to receive aid from the social service program. At the Midtown location, 1201 N. Harvey Ave., Monson shared that, after 17 years, she no longer had health insurance and desperately needed her medication. She was told about neighboring community health clinic Good Shepherd Ministries at 222 NW 12th St.
"Before I came to this clinic, I prayed about my health needs and what to do," Monson said. "It wasn't by mistake that I went next door from the county pharmacy to Good Shepherd. It was supposed to be, and I thank God for the services I get."
Now, Monson makes regular visits to the facility, which provides medical, dental and pharmacy services to uninsured Oklahomans. She comes for primary health care and participates in the patient assistance program, which meets her medical needs at a price she can afford — free.
"I don't know," responded Monson when asked where she would go if Good Shepherd Ministries or other community clinics didn't exist.
"I probably wouldn't receive care. If I went to see someone and I got a prescription, I wouldn't take it or make it stretch. I could visit the ER [emergency room], but I know my situations are not emergency," Monson said as her eyes filled with tears. "That's something I don't want to think about."
Uninsured Oklahomans
Monson is one of 578,336 uninsured Oklahomans, according to an October report from the Oklahoma Health Care Authority. For Monson, it's not by choice. She understands the benefits to insurance after working 17 years for SoonerCare, Oklahoma's Medicaid program that provides health care to residents on public assistance, children, seniors and people with disabilities. It is a program she doesn't qualify for, and she can't yet apply for Medicare.
"The Affordable Care Act did not affect me," Monson said. "I couldn't afford it. When I went online to apply for it, the premiums were too high. … I didn't want to say I made more or less money and get penalized. It was a catch-22."
At Good Shepherd, clinic staff saw little change after the implementation of the Affordable Care Act (ACA), also known as Obamacare. An overwhelming majority of the clinic's clients are economically disadvantaged and come from backgrounds of no insurance.
With health care reform ongoing in the nation, free community clinics continue as the cornerstone of indigent services. That's despite common misconceptions there would no longer be a need for free clinics after the full implementation of the ACA, said Terrisa Singleton, Oklahoma Charitable Clinic Association chairwoman, who explained that many Oklahomans fall in the coverage gap.
"There are a lot of people who don't qualify for SoonerCare and they work but don't get benefits," said Singleton, who also is Delta Dental of Oklahoma Oral Health Foundation's director. "There are many reasons why people find themselves in need of care from community clinics.
"In some cases, clinics are starting to change and allow [services] for the underinsured, people who have insurance but there is a gap between their ability to pay when the insurance kicks in."
Part of the coverage gap centers on Oklahoma's refusal to expand Medicaid under the ACA. According to a Kaiser Family Foundation report, an estimated 23 percent of the state's uninsured would have been eligible for Medicaid if the state expanded its program. The decision by Gov. Mary Fallin jeopardized insurance for 144,000 adults. States can still join the expansion, and recently, Louisiana Governor-elect John Bel Edwards expressed support to expand Medicaid in his state.
The state reports that more Oklahomans are becoming insured. In October 2014, 17.74 percent of residents were uninsured, and 15.43 percent were without insurance a year later. Still, the percentage of uninsured Americans is 12 percent.
Longtime provider
Meanwhile, the number of patients attending Good Shepherd hasn't decreased. Clinic staff estimated they will record more than 16,000 patient visits in 2015. Pharmacy records show 600 patients receive assistance and workers fill 2,000 prescriptions each month.
The organization traces its roots back to the late 1960s, when it was formed within First Baptist Church of Oklahoma City. In 1977, the ministries added an evening clinic at Chuck and Chris's Bar in downtown. Originally, patients were homeless, but as word spread of the services, the clientele shifted. The makeshift medical clinic began operating a year later in its present location, but in a building that has since been razed.
"Historically, it was just a one- or two-night clinic," recalled Fred Loper, the clinic's medical director. "From the beginning, dentistry was always a part and we had a little in-house pharmacy. It was a typical faith-based clinic with volunteers and very connected to the church."
In 2012, Oklahoma City's Butterfield Memorial Foundation awarded the clinic with a $7 million grant to expand services. The clinic went from part-time to full-time. At the time of awarding, the clinic served 914 patients in a year.
With 26 staff members and hundreds of volunteers, the facility treats adults and children for chronic illness and wellness visits. Without the clinic, a majority of patients would go without care or visit the ER.
"So many of our patients have gone for so long without medical care," noted Loper, who said the facility most recently helped four patients with specialized medical treatments for Hepatitis C.
It never turns patients away, but it makes referrals to specialists when appropriate.
Its dental staff and volunteers conduct dental cleanings and run a tooth extraction service each Monday night. The 16 appointments open that morning and book quickly, said Jeannie Bath, dental director.
Many of the volunteers are health students coming from nearby universities. That was the case for Bath, who was introduced to Good Shepherd as a freshman dental student in 1996.
"Most of the dental students and dental hygiene students are like me. They were raised in the suburb and have a privileged lifestyle," Bath said. "They have no idea about the alternate universe going on right here. We see patients living in a whole different reality."
Focus on service
Like Good Shepherd, Crossings Community Clinic's inception was very similar. Member of Crossings Community Church started the clinic in 2005 after identifying health care as a struggle for many in the community, said Steve Turner, executive director.
"It was a big issue for those that were unemployed and uninsured, but also those that had high deductibles and were medically vulnerable," Turner said. "We decided as part of an exercise of our faith, we wanted to serve."
During the first seven months, the clinic staff, which included one volunteer physician, saw 412 patient visits in 1,500-square-foot rented space at N. May Avenue and NW 36th Street. Over the course of the next eight years, the clinic was housed in a rented former Wal-Mart building.
Earlier this year, the facility opened in a freestanding structure split with the church's community center and built by church-raised funds as well as grants awarded by groups like Butterfield Memorial Foundation. The clinic at 10255 N. Pennsylvania Ave. includes eight medical exam rooms, a dental area, a vision room, a lab and offices.
Over the past decade, Crossings Community Clinic reports 37,000 patient visits for medical, dental, vision and counseling services, all at no cost to patients. Unlike other free community clinics, Crossings requires appointments. Turner said appointments allow patients to meet with medical staff that can best fit their health needs.
College students visit the clinic daily to meet with patients. Additionally, St. Anthony Family Medicine Residency program volunteers at the clinic. In total, 425 volunteers make the clinic a reality.
Following the implementation of the ACA, less than 10 percent of the clinic's patients enrolled in the Health Insurance Marketplace, said Turner, who stressed the clinic serves a critical role in the community.
"Those with health insurance usually maintain their health through constant visits with doctors on a regular basis," Turner said. "Individuals who don't have insurance wait until there is a crisis. We are treating patients when they are at a critical point of health or dental care.
"What we want to become is a primary care provider for our patients so they don't have to wait until there is a crisis."
Under the radar
There are many challenges that come with operating a free community clinic, including costs. Health care is an expensive industry with laboratory testing, equipment, treatment and medications costing large sums. Both Good Shepherd and Crossings report in-kind partnerships with local medical and health businesses. The donating public, along with volunteers, remains a large aspect of the success and future of free community clinics.
At Good Shepherd, the $7 million grant funds are dwindling and the organization looks for new revenue sources to tackle the annual $2 million operating budget. Fundraising is difficult when the clinic reaches the poor and forgotten, often not mixing with potential donors.
"People in our community don't even know we are here," said Pam Timmons, executive director.
For those who notice and utilize free community clinics, like Monson, it makes a difference.
"I really mean this," said Monson. "All the years I had insurance, I never received this type of care."
"Print Headline"; Treating the forgotten, Free community clinics serve critical populations in OKC despite implementation of health care reform.