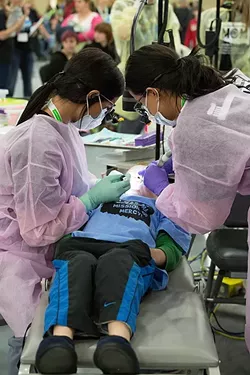 John Gladden doesn't like to hear about Oklahomans with broken teeth that cut tongues or cheeks when biting into a meal.
Stories of emergency room visits for dental problems, like a cavity causing severe pain, trouble the president of Delta Dental of Oklahoma.
"Something as routine as a toothache can mean serious trouble," Gladden said. "For some, a simple visit to the dentist is out of the question. They have no money, they have no time or they have no transportation. Some face all three. For some, it means a trip to the emergency room to relieve pain."
As leader of Delta Dental of Oklahoma Oral Health Foundation, Gladden knows of alternatives for coping with the pain. He named various free or low-cost dental clinics throughout the state that work with people who lack dental insurance. Additionally, the MobileSmiles program — a large bus with dental staff onboard that serves adults and children — has provided countless tooth extractions and treated diseases and mouth pain. MobileSmiles is a partnership between two nonprofits: Oklahoma Dental Association and Delta Dental of Oklahoma Oral Health Foundation.
Some Oklahomans don't live close to free or low-cost dental clinics or they can't make it during clinic hours. For others, the MobileSmiles bus drives through their town, meeting specifically with patients in urgent need. Some Oklahomans have dental insurance but can't cover out-of-pocket expenses.
That's where Oklahoma Mission of Mercy comes in. The two-day dental clinic for children, adults and seniors provides services such as cleanings, fillings, extractions and anterior root canals at no cost to patients, with no questions asked.
This year's clinic runs Feb. 5-6 at Oklahoma City's Cox Convention Center, 1 Myriad Gardens. Dentists and dental hygienists will begin seeing patients at 5 a.m. both days.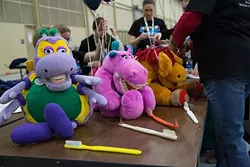 Care gaps
Organizers predict a crowd of 2,000 people, with lines expected to form the night before.
"What I love about the event — no matter the patient's need — as long as the patient has a desire to be seen, we can help them," said Lindsay Smith, president of Oklahoma Dental Association. "We can provide basic and preventative services as well as restorative services."
It's critical work when nearly half of Oklahomans don't have dental insurance, significantly more than the number of residents without health insurance. An estimated 15 percent of state residents are uninsured, according to the Oklahoma Health Care Authority.
Without dental insurance, many forgo dental visits. The Sooner state ranks No. 45 nationally for its low number of adults who make recent dental visits, according to the Oklahoma State Department of Health.
Overall, the health department graded the state an F in adult dental visits. Oklahoma County received a D grade.
"When they don't have dental insurance, the care is delayed," Gladden said. "Delay is bad. It gets worse and worse over time."
Even those with insurance don't make appointments regularly for cleanings and evaluations, Gladden said. While many stick to the advice of brushing and flossing, that's not enough for staying on top of oral health.
Gladden and others involved with Mission of Mercy recommended the two-day dental clinic to anyone: those experiencing tooth pain and those who might not have had a cleaning in years.
The Oklahoma Dental Association, the Oklahoma Dental Foundation and Delta Dental of Oklahoma's Oral Health Foundation organize the annual clinic.
Growing need
For the past six years, Mission of Mercy has cared for 10,599 patients, totaling more than $7 million in donated dental services. The event began in 2010 in Tulsa but has since moved to locations such as Enid, Lawton, McAlester and OKC to expand the clinic's reach.
As a general dentist, Smith volunteers annually at the event and has worked on patients from across the state. Some come for an opportunity to receive a routine dental appointment.
"For some patients, they might get their teeth cleaned and their fillings done. That might be all the care they need for that entire year," Smith said, adding he also treats more serious cases. "I have the ability to help each patient that walks in the door. I can take care of their specific need, whatever that might be."
In addition to providing care, volunteers share information about various year-round clinics and opportunities for people to receive help before the next Mission of Mercy event. In Oklahoma City alone, clinics are housed at Good Shepherd Ministries and Crossings Community Clinic. In Midwest City, Rose State College operates a Dental Hygiene Clinic.
"Throughout the year, through MobileSmiles units and charitable clinics throughout the state, we work together to make sure we can take care of people who truly need our care," said Smith, who volunteered at Good Shepherd Ministries in dental school.
For those who can't make it into a free or low-cost clinic or cover the copay of a dentist visit, Mission of Mercy is the answer, said Smith and Gladden.
"There is a certain number of Oklahomans that only this type of clinic will serve," Gladden said. "It is for these people that Delta Dental, the Oklahoma Dental Association and [Oklahoma Dental] Foundation come together for two days and try our best to meet the immediate needs of these unique patients."
Print Headline: Dental solutions, Nonprofits and oral care professionals provide a much-needed, large-scale dental clinic the first weekend in February.