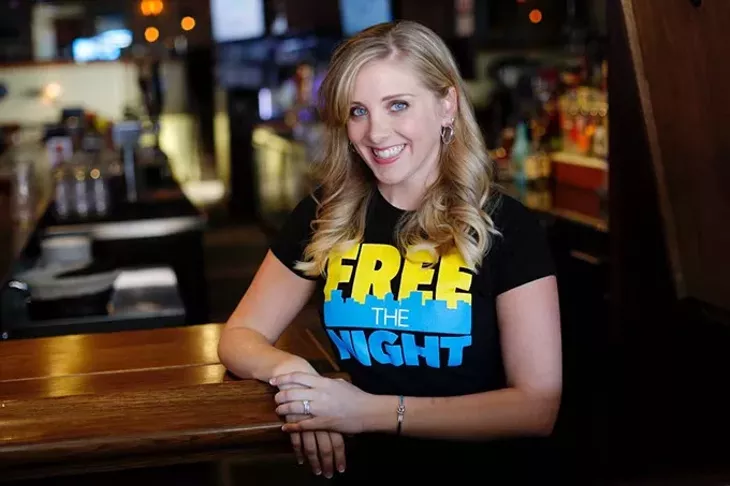 File Photo/ Garett Fisbeck
Kathleen Thomas.
The haze is immediately apparent. Smoke washes over all who open the door. By the end of the night, whether they lit up or not, everyone in the bar leaves smelling like cigarettes.
But Free The Night campaign manager Kathleen Thomas said more longtime smoking establishments in Oklahoma City are changing.
For some customers, that's music to their ears.
"I just hate the smell of it in my hair and my clothes," Michelle Bui said. "It makes my eyes sting, and I almost can't focus on the conversation I'm having with my friends while I'm there because I'm so miserable."
That's why she said she won't visit most bars where smoking is allowed.
Smoking kept Geoff Eaton from supporting musicians he loves.
"There were many bands I would have liked to see at the Bricktown Wormy Dog [Saloon], but I didn't go due to smoking. Best news ever was when they went nonsmoking. Same with Grady's 66 [Pub] in Yukon. They went nonsmoking, and now I check who is playing," he said. "Honestly, most people I associate with now don't go to smoking bars. If I was invited, I would probably make a nonsmoking suggestion."
Thomas said surveys taken by Free The Night at community events show nearly 80 percent of Oklahomans prefer smoke-free bars and clubs.
The group works with bar and club owners to implement nonsmoking policies. This month, both The Boom and Night Trips became smoke-free venues.
Sipango Lounge, 4301 N. Western Ave., became a nonsmoking bar in November, and owner Mike Hyde said weekend business has climbed 30 percent.
"My only regret is that I didn't go smoke-free earlier," he said.
The ask
Even with good data, suggesting a change in policy to bar owners still requires a soft touch, Thomas said.
"We go in with an outreach packet. It's a no-pressure way to start a conversation," she said.
The main worries owners have is that they'll lose business and offend regulars. Thomas said over the span of years, many customers come to feel ownership in a place, and any change causes an uproar.
"They don't want to alienate those longtime customers," Thomas said.
But they do come back in a matter of weeks. She said regular patrons like "their" bar for more reasons than just smoking. The other customers and staff become like family, so in the end, going outside to smoke isn't that big a deterrent.
There are lots of positives to explore as well, she said.
As in the case of Sipango, revenues can climb when an establishment makes the switch. Despite being a fan of cigars, Outside the Box Hospitality Management Group chief operating officer Clayton Bahr helped WSKY Lounge, 228 NE Second St., end its smoking policy. Now patrons can buy cigars and take them outside to smoke before returning to the bar for more cocktails.
The reason for the change: More people left because of the smoking than stayed. And people are much more likely to buy a drink in a bar if they're in that bar.
Cleaning costs also drop, as do employee sick days, Thomas said. And long-term exposure to secondhand smoke has been shown to increase the risk of lung cancer by up to 30 percent, according to the U.S. Department of Health and Human Services.
It's a message that has resonated locally. Oklahoma City bars JJ's Alley, Henry Hudson's Hideout, Baker St. Pub & Grill, The Mule, Apothecary Thirty-Nine, The Wreck Room, Pelotón Wine Bar & Cafe and Whiskey Chicks Parlor have all joined Free The Night's list of smoke-free establishments.
Other avenues
Performers have supported Free The Night in hopes of getting more venues to send smokers outside. Melanie Schmidt of the band Willow Way gave a testimonial the organization uses in its information packet about why she supports the idea.
"As a vocalist, it's my priority to take care of my vocal chords, and even secondhand smoke can begin to take a toll," she said. "I value businesses and organization that recognize the positive impact a smoke-free working environment can hold for music artists."
Bui, a Norman Music Festival organizer, spends time at music venues supporting local bands and said smoke-free venues also bring in bigger crowds.
"I know for sure some bartenders have told me attendance for shows has gotten better when bands can play smoke-free," she said. "So if that isn't a plus, then I wouldn't know what is."
Print headline: Butt out, Bars and clubs are going nonsmoking with a nudge from Free The Night.