Jacob Threadgill
The French Brie Cheeseburger topped with crispy apples and a special sauce and a side of fried okra.
The sign hanging outside Lip Smackers Restaurant includes the phrase "cooking with passion and love," and it's something that owner Jabbar Chaibainou takes to heart.
After years in the hotel restaurant industry and owning a Camille's Sidewalk Cafe franchise, Chaibainou branched out on his own in May at his humble eatery connected to VP Fuels at 4200 N. Pennsylvania Ave. with a focus on fresh half-pound hamburgers, Mediterranean sandwiches, salads and smoothies.
Chaibainou got his start in the kitchen while running food and beverage operation as a general manager for an Oklahoma City hotel. One night, a chef quit in a hurry, and it forced him on the line. Working in the hotel industry taught him the importance of food quality, which shines through in Lip Smackers' fresh Angus beef patties.
"The hotel business doesn't need the restaurant to make a profit," he said. "You have a blank check to spend as much as you need to make sure you have the best kitchen and food. They care about customer satisfaction."
Whether it is a neighborhood regular walking into Lip Smackers or a cross-country traveler from nearby Interstate 44 stopping for food and a fill-up, Chaibainou wants them to get friendly service and fresh food at a good price.
"I don't care if you're going to come back; I'm going to make sure that you're happy and satisfied," he said. "If you look at the money first, you aren't going to make it. Profit will come with good food and good customer service."
A huge regular half-pound burger sells for $4.95, but there are much more adventurous toppings. There is an avocado and Swiss ($6.45), a grilled olive burger ($6.25), a Brunch Cheeseburger topped with a fried egg and hash browns ($7.25) and an onion dip burger topped with French onion dip and potato chips ($6.45). The most popular burger is the mushroom and Swiss burger ($6.45) with grilled mushrooms cooked on the flattop with garlic and butter and finished with teriyaki sauce for flavor and color.
The most adventurous menu addition is the French Brie Cheeseburger featuring crispy fried apples and a special sauce topped with melted Brie ($6.45).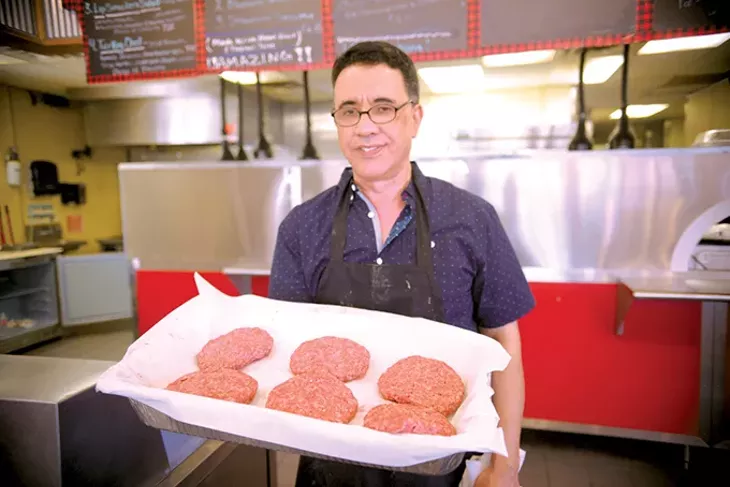 Jacob Threadgill
Jabbar Chaibainou serves inventive, fresh half-pound hamburgers for under $7.
"The Brie cheese is extremely salty, and to balance the burger, I knew I needed something not that sweet," Chaibainou said. "The apple isn't overly sweet when you bite into it, but it's all about the balance of what a burger should be. That burger doesn't exist at another restaurant in the world; only here. You can Google it and it won't come up."
Lip Smackers also serves fresh fruit smoothies ($4.95) like peach, blueberry and raspberry that get a kick from fresh mint and special fruit syrup that Chaibainou keeps secret.
"It's so fresh, it makes you want to go to the ocean," he said.
Fresh salads ($7.25) like the Bangkok Thai with romaine, carrots, grilled chicken, crispy noodles, sunflower seeds, tomato and Asian sesame dressing are joined by three other salad options. Fresh fried potato chips, french fries, sweet potato fries and fried okra are additional side items.
French sandwiches are served on croissants, and Mediterranean sandwiches are made with French rolls with marinated shrimp, a recipe that Chaibainou got from his brother, a chef in Las Vegas. It also features Moroccan-style chicken marinated in paprika, garlic and cilantro.
Chaibainou moved to OKC from Morocco in 1983 to attend Oklahoma City University. He quickly fell in love and married his wife Kim, and the couple has four children.
After 35 years in Oklahoma, he considers it home, which is reflected in the burgers on the menu, but that wasn't always the case.
"I would go to the cafeteria and they'd have all the chicken-fried steak, mashed potatoes and gravy, and I'd be like, 'Is this really food for humanity?' I didn't know food like that, and I refused to eat it," he said. "I'd walk out of school and go to McDonald's. I'd order a quarter-pounder with cheese, french fries, Coke and a shake. In three months, I gained 25 pounds. I came here at 145 pounds, and then I went home and they'd say, 'America is good! Look at you; you have cheeks now.'"
He wants to add soups to the menu once the restaurant gets established, like ones he made with his own recipes at Camille's Sidewalk Cafe. The first few weeks in the nondescript location were slow, but word-of-mouth buzz has picked up business.
"I thought I was going to close down, but now I'm on the runway, increasing my speed and ready to take off," he said.
Chaibainou thinks back to the importance of passion in cooking and says it's a lesson he learned while working in the kitchen of a retirement community. A 95-year-old resident didn't like the regular menu options, so she would make a special request for grilled chicken.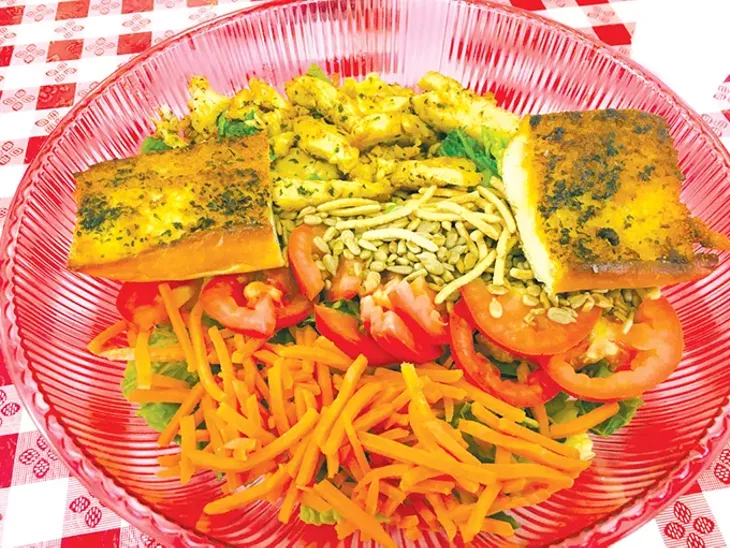 Jacob Threadgill
The Bangkok Thai salad with garlic bread
"One time, I was off for three days. I came back, and she was so angry," he said. "'Where have you been? I starved.' She said to the chef, who knew the kitchen better than me, his version was inedible. 'What's the difference?' she said. Because when I make them, I do it with a smile, and when they make them, it's while cussing out. The food can feel that vibration. Even if you have the perfect recipe and the perfect tools, but if you don't have that passion, it's not going to come out good."
Visit lipsmackersokc.com.