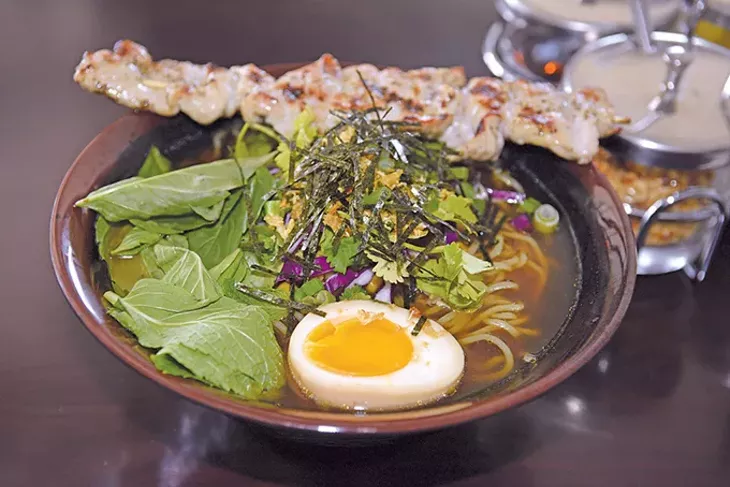 Photo Jacob Threadgill
A Noodee bowl with ramen, grilled pork and pork broth.
The disappointment that came with the January announcement of the closing of Guernsey Park didn't last long as owner Truong Le quickly converted the building into two concepts: Okie Pokie, which opened in late March, and Noodee, which held its soft opening April 16.
Okie Pokie became the first of three high-profile poke restaurants — two of which are concepts by California celebrity chefs — to open on 23rd Street this year. While the Hawaiian dish poke — marinated raw fish with fresh vegetables — is riding its wave of national momentum into Oklahoma City in 2018, it's actually a concept Le began to develop in 2014.

Producers from the CNBC reality television show Restaurant Startup that asked restaurateurs to pitch concepts to potential investors contacted Le, but he said the show was canceled after he did initial production interviews. The concept remained a nugget of inspiration.
"My intention was not to open it here. I was hoping Guernsey Park would continue to do what it was doing back then in 2014 to 2015," Le said. "It was booming."
Guernsey Park opened in 2012 and was one of the first of a new wave of fresh, from-scratch restaurants in the Uptown 23rd District. Over the years, the menu expanded, but its from-scratch commitment led to rising food costs.
"It became an issue for trying to control labor and food costs," Le said. "It was our first restaurant, and we didn't know what we were getting ourselves into by doing everything from scratch."
The menu expansion included separate menus, a more casual lunch menu with fusion foods like sushirittos and more experimental dishes during dinner, which Le said confused customers. Guernsey Park's fusion ethos is still on full display at its sister restaurant Covell Park, 1200 W. Covell Road, in Edmond.
"We figured it was better to close down and rebrand," Le said. "You can dress however you want. You don't need a special occasion to come here."
Jacob Threadgill
Troung Le is the owner of Covell Park, Okie Pokie / Noodee, Chick N Beer and the upcoming Collective Kitchen and Cocktails.
Split decisions
The Guernsey Park building has been turned into two separate restaurants. Downstairs, where Guernsey used to prepare fresh sushi, customers form a line behind Okie Pokie's counter, where they can choose from a few pre-selected bowl options of tuna, salmon or tofu with vegetables and sauces or build their own bowl, which is served in an ergonomic to-go container. They can dine in the restaurant or take it on a stroll.
In the main entryway and in an upstairs dining room, customers dine at Noodee, which is a custom bowl concept ordered tableside. Guests choose a corresponding noodle (udon, ramen, rice or egg) with a broth base (pork, chicken, spicy seafood, vegan or beef). The bowls are topped with grilled skewer of protein (steak, pork, shrimp, hoisin tofu, chicken, fried coconut shrimp, fried tofu or mushrooms), an over-medium egg and a choice of selection of vegetable toppings.
Since the Okie Pokie concept only requires fresh food, all of its prep work can be done in the morning, freeing up the kitchen to turn out Noodee bowls. Le is hoping customers embrace the freedom of choice at both restaurants.
"We wanted to do something no one else has done, which is kind of scary," Le said. "We want you to be completely comfortable with the menu, pick whatever you want and not feel bad about the chef. A lot of places won't let you ask for A1 sauce. Everyone has [their] own way of eating and different taste buds. Have fun and play with the menu."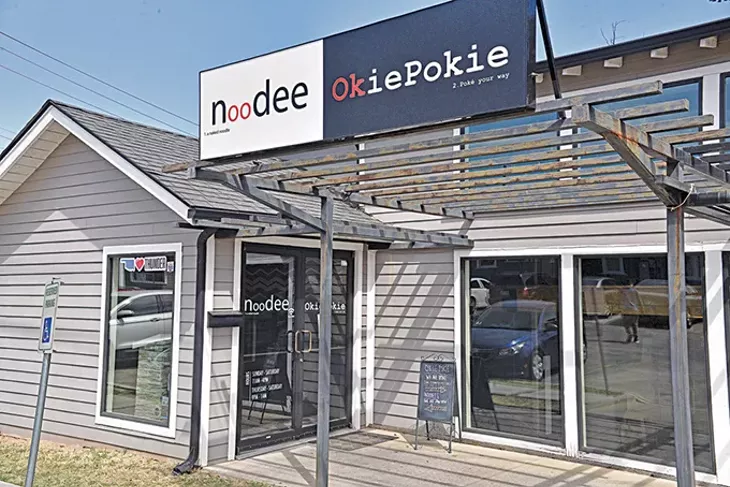 Jacob Threadgill
At 2418 N. Guernsey Ave., Noodee and Okie Pokie are separate restaurant concepts inside the old Guernsey Park location.
With his newest concept, Le is cognizant of the limited parking space on Guernsey Avenue, which also houses his other restaurant Chick N Beer. Okie Pokie / Noodee is currently open 11 a.m.-4 p.m., closing when Chick N Beer is at its busiest time.
"I don't want to hurt my own business by having this place packed out," Le said. "If I hear from enough people that they don't mind parking and walking here, I'll consider [opening at the same time]."
Chick N Beer business starts to die down around 9 p.m., and Le said he wants Okie Pokie and Noodee to become a late-night option for patrons leaving the district's bars. Okie Pokie and Noodee will be open 9 p.m.-1 a.m. Friday and Saturday nights.
"There aren't that many late-night options [in the city]," Le said. "You're eating fast-food at that point. We want you to relax, have cocktails, a bowl or just hang out and have an appetizer. I don't think Oklahoma has that market yet."
Collective future
Okie Pokie and Noodee are billed separately, but they share a point-of-sale (POS) system, which Le said is a good dry run for his newest concept of which he is a partner, The Collective Kitchen and Cocktails, which is slated to open in Midtown in late 2018.
Located at 308 NW 10th St., The Collective is part food hall and part restaurant incubator. There will be a big cocktail bar at the center of the 12,000 square-foot building that will be surrounded by seven microkitchens.
The Collective will provide marketing, signage and equipment for the kitchens without money down and will take a gross percentage of sales each month. All the chefs have to do is bring a few knives and desired pots if they want, Le said.
By comparison, opening a food truck puts you at the mercy of unpredictable Oklahoma weather and the bills associated with the truck upkeep. Converting a building to open a restaurant costs an average of $250,000, Le said, which means taking out a loan or bringing in partners. Chefs will be able to take home profits their first month in The Collective.
"It allows chefs to do what they love. You don't have to worry about the front of the house or toiletries and bills in general," Le said. "What if they do well and want to go off? That's great. It's good for us to incubate successful business owners, and then we get to evolve."