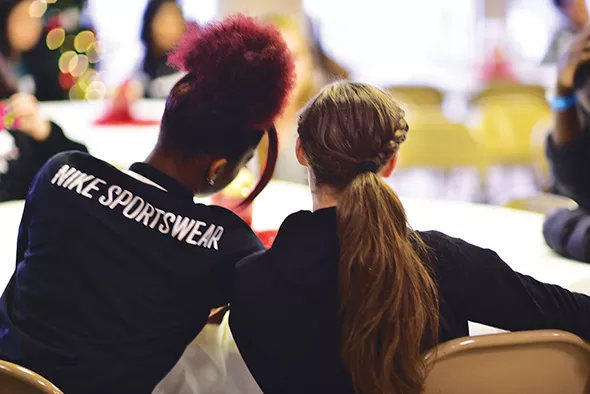 Provided
Girls at Pivot - A Turning Point for Youth can participate in Girl Talk once a month and hear from professional women from the community who have overcome adversity.
When Shantel Farrow was 6 years old, she learned that nothing could be done about the sexual molestation she had endured that year. After telling her mother that a friend of the family had sexually molested her, the mother-and-daughter duo went to their local police department in Oklahoma to report the incident but left the station somber, with the realization that the young girl's perpetrator would remain unpunished and free to continue harming other young girls.
Though the perpetrator was shunned from Farrow's family, other abusers would enter her life throughout her adolescent years. With an engrained belief that the police would not help based on that first impression with law enforcement, Farrow never reported the abuse. It was revealed to her family only when, at 14 years old, Farrow attempted to take her own life.
"I internalized everything," Farrow said. "I really withdrew from friends and family. I thought if I got too close to someone, I'd have to eventually tell them what was going on, and doing that seemed like a very scary thing to do, so I kept my friendships very surface-level for a long time."
After her attempted suicide, Farrow immersed herself in her church and met her first mentor, youth director Rae Ann Wilson.
"She saw me for me," Farrow said. "She helped me identify my strengths. When she learned that I made good grades in school, she insisted on paying for me to take the SAT and ACT and for my college applications."
Farrow took her newfound appreciation for mentorship with her to University of Oklahoma, where she studied sociology. During college, she attended her first therapy session, an experience she said changed her life. She went on to earn a master's degree in marriage and family therapy and was determined to impact others the way Wilson had impacted her.
Today, Farrow is a 37-year-old mother of three and a licensed marital and family therapist who works full-time as a therapist and intake manager at Oklahoma City-based nonprofit Pivot – A Turning Point for Youth.
Pivot allows Farrow to use her passion for therapy and mentorship to make a difference in the lives of those who the organization's vice president of development and community engagement Melanie Anthony calls society's most often overlooked and undervalued.
Turning point
While a teenager's face might not be the one that comes to mind when a person hears the word "homeless," Anthony said there are many homeless teens in Oklahoma.
They are couch-surfing at their friends' houses, living in their cars, weighing the pros and cons of going to a homeless shelter and, when necessary, camping out under bridges.
According to a 2013 study from The American Institute for Research, Oklahoma ranked fifth in the nation for the number of children under the age of 18 who were homeless that year.
Provided
Shantel Farrow is a therapist and intake manager at Pivot - A Turning Point for Youth. She created the organization's new mentorship event Girl Talk.
The report revealed that in 2013, 43,643 children were homeless throughout the Sooner State. Most were residing in transient and temporary living conditions.
When considering seeking help or searching for a homeless shelter, Anthony said she hopes adolescents will consider Pivot.
Pivot's mission is to make a positive difference in the lives of Oklahoma's youth through offering participants housing and basic needs like food and clothing, education and job assistance, prevention, intervention and therapeutic care through one-on-one or group therapy sessions.
Those who receive help through Pivot are usually between the ages of 12 and 21, but Anthony said no one who comes to the organization for help is ever turned away.
Pivot offers those in need with an onsite six-bed emergency shelter and additional onsite shelters for those who need to stay for longer periods of time.
"We've had kids walk in our front door and say, 'My friend told me if I ever needed help, I should go here,'" Anthony said. "That's the reputation we want."
Pivot – A Turning Point for Youth rebranded itself last year after realizing that the organization's former name, Youth Services for Oklahoma County, seemed to suggest an affiliation with the state or federal government.
On the nonprofit's website, organizers tell their story.
"Since 1972, Youth Services for Oklahoma County has positively impacted the lives of young people and their families. While our services have impacted thousands, our name has been a source of confusion for those outside our orbit. Many would-be supporters have had trouble understanding our role. 'Are you a government agency?' some asked, due to our institutional sounding name. 'Why should I donate — don't you get money from the state?' others asked. And often, people even ask, 'What exactly do you do?' It was time for a change," Pivot president and CEO Kami Kuykendall wrote. "Our new name is about that moment when young people realize, 'Yes, I can do this!' It's the point where confidence, self-esteem and the support of a dedicated adult inspire a positive change that leads to a lifetime of success and fulfillment."
Farrow and Anthony recognize that the new name conveys that the organization is a place youth can turn to when in need.
With the desire to do more at Pivot, Farrow recently created Girl Talk, a monthly event where a professional woman who resides in Oklahoma visits Pivot to talk with some of the young girls receiving services from the organization.
The speaker, Farrow said, is usually a woman who overcame challenges and adversity similar to what the girls participating in the event might currently be going through.
"Someone can tell a person what they should do all day long, but these kids are smart and they want to hear from authentic people," Farrow said. "When they know they are hearing from someone who's gone through what they're going through, it makes a big difference."
Farrow shares her story of surviving abuse with the youth she counsels at Pivot and hopes that by doing so, they will open up to her in return so the cycle of healing, mentorship and support can continue.
The next Girl Talk event is 4 p.m. Feb. 11 at Pivot – A Turning Point for Youth, 201 NE 50th St.
Visit pivotok.org.