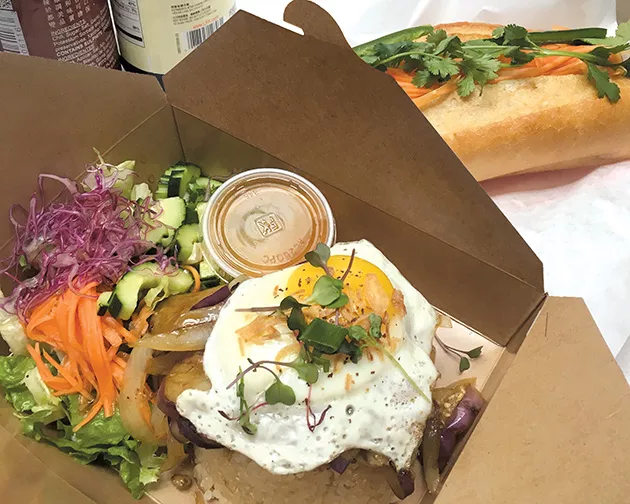 Jacob Threadgill
Brown rice with grilled eggplant, salad and a tofu bánh mi at Magasin Table
There are some days when pho is the only thing that will satisfy a craving, especially when it is as cold as it has been in the Oklahoma City area in the past week.
Instead of venturing to one of the many great locations around Classen Boulevard in the Asian District, my craving took me farther south to 8th Street Market, where Magasin Table opened last year next to Prairie Artisan Ales as the first restaurant in the mixed-use development.
Magasin Table is a partnership between Oklahoma City native Leon Hoang and Kim Nguyen, who operates Magasin Café and Magasin Kitchen in New Orleans. The two met when Hoang worked in Dallas as a day trader and Nguyen sought refuge there from Hurricane Katrina. The Magasin brand is an homage to Magazine Street in New Orleans, where the original Magasin Café is located.
Hoang said he wanted to bring a Vietnamese concept into the downtown nexus and was attracted to 8th Street Market, where it pairs well with Prairie Artisan Ales, which does not serve food. Hoang trained in Louisiana to get down the Magasin concept, which features familiar Vietnamese concepts with a slightly elevated twist. It offers salmon or shrimp with its rice bowls, vermicelli noodles and bánh mi. Pho can be ordered with oxtail and filet mignon, and it even has an occasional braised short rib pho special.
What makes Magasin Table stand out is its commitment to offering fresh salads with the rice bowl and plenty of vegetarian options. There is a dedicated vegan pho broth filled with tofu and plenty of vegetables, and grilled eggplant can be added to any dish in addition to garlic-fried tofu. It also has brown rice and noodle options to provide a healthier starch.
I was tempted to order the vegan pho on my first visit, but I went with the combination pho ($10), which includes brisket, steak and Chinese meatball. The counter-service model of the restaurant works well to accommodate crowds when Prairie Artisan is packed, and there were a few folks coming from downtown in suits to eat, even on a cold day.
Jacob Threadgill
Combination pho
The bowl was huge, and I cannot believe I am saying this not even a month after attempting the 6-pound pho challenge at VII Asian Bistro, but I wanted more. The meatballs were a pleasant surprise for me because I have not had pho with them before, and they held up well in its delicious broth, which had a depth of flavor that I would put on par with anything in the Asian District. I know some consider adding sauce to a pho broth a faux pas because the broth should stand on its own after hours of cooking. Purists will tell you that sauce should be on the side for dipping, but I've had a few pho broths in my life that desperately needed the kick of Sriracha. Luckily, this wasn't the case at Magasin, which had star anise grounds settling at the bottom of the bowl.
My only complaint was that I was still hungry after finishing the bowl and it didn't come with very many bean sprouts to add to the broth. I would have liked the option to get a larger bowl with more noodles.
After a meal full of meat, I returned to Magasin to try some of its vegetarian options. I ordered com (a rice bowl) with grilled eggplant ($8.50) and a garlic tofu bánh mi ($5.50). I substituted brown rice on the com for an extra $1.50, and that was my favorite dish of three Magasin Table experiences. It is served with a sunny-side egg and topped with microgreens and fresh salad or cabbage, romaine, carrots and cucumber with a fish sauce dressing. The eggplant was perfectly cooked, not too mushy (which can sometimes be a problem with the vegetable) and had good sweet and spicy notes. I didn't miss jasmine rice, as the brown rice was hearty and stuck to my stomach, and the salad was a nice touch.
Jacob Threadgill
Grilled pork vermicelli with an egg roll
A bánh mi is only as good as its bun, and Magasin uses La Baguette rolls baked at Super Cao Nguyen, which are tremendous. Instead of slathering the bánh mi with a spicy mayo, it uses French butter, which is perhaps the bite I remember most from my meals — the crusty roll with the high-quality butter. The tofu was good, and the sandwich was something I would order from them again.
I returned for a final meal to complete the menu with a vermicelli plate ($9) with an egg roll and try one of its recently added bao bao (steam buns). I got a steam bun with lemongrass chicken ($3.50), and it was very good. It did not have the plastic-like taste I get sometimes with an undercooked steam bun, and it was not too thick. Fried onions provided a nice extra crunch in addition to a salad.
The vermicelli with pork and egg roll is one of my go-to orders at Vietnamese restaurants, and Magasin's version was good but not my favorite of the three meals. I was surprised to see they offered a different vermicelli noodle that was slightly thicker than normal. The sliced pork had good marinated flavor, and the egg roll was freshly prepared and fried. I mixed all of the ingredients together, and it hit the spot, but I wanted some extra herbaceousness provided from mint and cilantro that was not there.
All in all, Magasin is a much-needed lifeline for folks working downtown who do not want to go up to Classen Avenue and wait for a Vietnamese lunch. It also offers easy access right near Interstate 235 and quick service to get back to your desk on your lunch break. I love that it offers a variety of healthy and vegetarian options in addition to indulgent items like salmon and braised short rib. It is very much worth a visit if you are hungry from a few beers at the Prairie Artisan Ales taproom or want to venture out of the Asian District for Vietnamese food.