Mark Hancock
Chicken fingers and fries, left, with a bacon cheesburger and fries, at So Fine.
What makes food good?
Maybe that's an odd way to start off a restaurant review, but I honestly wonder sometimes why some places are popular and others are slow and hordes of unlucky restaurateurs see their dreams whither and die. Why can some restaurants truck in frozen entrees and get lines out the door while those who do the damned hard work of really cooking are overlooked?
I would like for you, if you get the chance, to look in on So Fine Eatery and Pub, 733 NW Fourth St., and owner Larry Jenkins and cook Tammy Landers. In the sky-blue concrete building that used to be the Neighborhood Lounge, in view of the luxurious accommodations of the Oklahoma City Jail, Landers is cooking up the kind of simple, honest food that will make you think of your childhood — and wish your mom was a better cook.
She told me everything is prepared in the kitchen, and I believe her. When she told me to get the chips with queso and salsa ($4), I did.
Let me tell you about these chips. They were tortilla chips. They cut up tortillas and they fried them and they put salt on them and they were perfect. The salsa tasted like Pace, and the queso seemed like Rotel and Velveeta, and if I'm honest, I didn't care. The chips were so good, everything else tasted like growing up.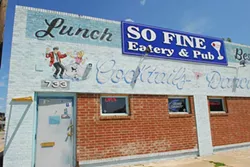 Next came the cheeseburger ($5.50), and I don't want to shock you here, but it was tasty. Fresh beef cooked all the way through but seasoned well and still juicy. I don't think you'll see people lining up out front like at Nic's Grill, but if you want a tasty burger, this is a tasty burger.
It came with fries ($1.50), also fresh and seasoned perfectly. They're the kind of fries you don't realize you're still eating even after announcing that you're no longer hungry. Subconsciously, you must eat them.
Hey, kid. C'mere. You want to hear something sad? Most places that serve chicken tenders ($6) just open a box and throw them in some frying oil. That's why you have to put a gallon of barbecue sauce on to finish them. At So Fine, they cut up chicken and then they fry it up like you would fried chicken. The result is a bite that is crisp with a good kick of black pepper. They're good alone or with gravy. If she put it in a sandwich, I'd say "Please" and "Thank you" and "Can I have another?"
If you come on a Wednesday, which is as good a day as any, you can get the spaghetti with meat sauce ($5). Now, if you're trying to compare it to Stella or Rococo, stop. This spaghetti is a meal, but it's also a time machine zooming you right back to being 8 years old and positively giddy at the idea of a big plate of noodles for dinner.
I regret to inform you that I was unable to sample the Friday special, which is an Indian taco ($5). I do not regret to inform you that I'll be going back at my earliest convenience to experience it myself.
So Fine Eatery & Pub is also a bar, so if you're looking for a drink to go along with your dining, congratulations. But if you are a teetotaler, they will allow you a soft drink or water. They are not monsters.
What makes a restaurant good? I'm not sure of the answer for everyone else, but for me, I like tasty food and nice people. And if So Fine doesn't impress you from the outside, remember that — like people — it's what's on the inside that counts.
Print headline:
So fine, From cheeseburgers to tortilla chips, the fare at this pub brings back memories of childhood.