The new Little Knight's location is at 2917 E. Waterloo Road in Edmond. | Photo Jacob Threadgill
Like its namesake, Little Knight's food truck has nobly supplied tacos, burritos and quesadillas in Edmond through rain and shine at the corner of Waterloo Road and Broadway Avenue for about four years.
In July, Little Knight's opened a brick-and-mortar location at 2917 E. Waterloo Road, which resulted in expanded hours and menu. Diners can munch on street tacos served with a Guatemalan twist.
Mario and Rita Caballero moved to Oklahoma 14 years ago from Guatemala, where they ran a successful restaurant. Playing off of their surname, which means "knight" in Spanish, the Caballeros opened the food truck because they didn't see another truck serving hungry denizens in north Oklahoma County.
Landmark truck
The truck earned rabid and loyal fans. Little Knight's sports a nearly spotless record from online reviewers. Out of 140 reviews on Facebook, Yelp and Google, only four have been less than the maximum five stars.
"A lot of people say the truck is a landmark for the community around here," said Eddie Caballero, Mario and Rita's son, who runs the new Little Knight's location. "We're always out there and it's easy access."
Little Knight's specializes in street tacos where the onus is on the meat filling, grilled onions, cilantro and special red sauce. If you're looking for lettuce, cheese and sour cream on your taco, order the supreme version.
"It's Mexican with a Guatemalan twist," said Caballero. "It's not 100 percent one way or the other; it's a mix of both."
The Caballeros' Guatemalan influence can be seen in the Little Knight's breakfast platter, which features two scrambled eggs, longoniza (Guatemalan sausage), refried beans, plantains, queso fresco and a choice of flour or corn tortillas.
The food truck started by catering to breakfast and lunch crowd, closing at 3 p.m., and making it one of the few places in the Oklahoma City area to get authentic breakfast burritos and tacos. The new restaurant is open until 8 p.m.
Caballero said breakfast accounts for nearly half of his sales on the weekends. During the week, a cavalcade of construction workers, painters and nearby oil companies order breakfast for plenty of energy during the workday.
Menu expansion
The new location is a small shack located next to a Phillips 66 gas station, but don't let the outside fool you. The interior of the restaurant is warm, inviting and cozy. There are nine total tables in the dining room and an additional five on the outdoor patio.
Mario Caballero spent three months renovating the building on his own, hanging new sheetrock and painting the walls for an "old world" style.
Moving into a new location also meant more space for the kitchen. The addition of a deep fryer meant fresh tortilla chips. Caballero said it's not uncommon during football season to get take out calls for five orders of chips, queso and salsa. They also added fried flautas and taquitos.
Little Knight's offers a pair of new "specials," but in reality, they're available every day — fresh tamales and a drunken burrito, which is smothered in a cheese sauce. Tamales are such a labor-intensive dish that many restaurants only offer them on certain days of the week or during the holiday season, but Little Knight's serves them every day. They make them by hand every other day and hope the demand doesn't outstrip the supply.
"I don't eat the tamales here because I know how much work they take," Caballero said. "For me to go into the back and eat one, it just won't do it."
Tamales are served in chicken and pork varieties, and topped with a smoky tomato-based sauce. Little Knight's lets its entrée sauces do the talking. They offer salsa for chips, but don't expect a pico de gallo in a side cup. The restaurant wants to add heat if you ask for additional sauce. A green jalapeño sauce is spicy but pales in comparison to the tiny container of orange habanero accompanying a platter.
"I tell people, 'Be careful,' but they don't listen, and I can see them sweating," Caballero said of the habanero sauce.
A taco platter of three tacos (choices of chicken, steak, al pastor, chorizo and shredded beef) is complemented with fresh refried beans and rice prepared with chicken stock, tomato and corn, grilled onions and radishes.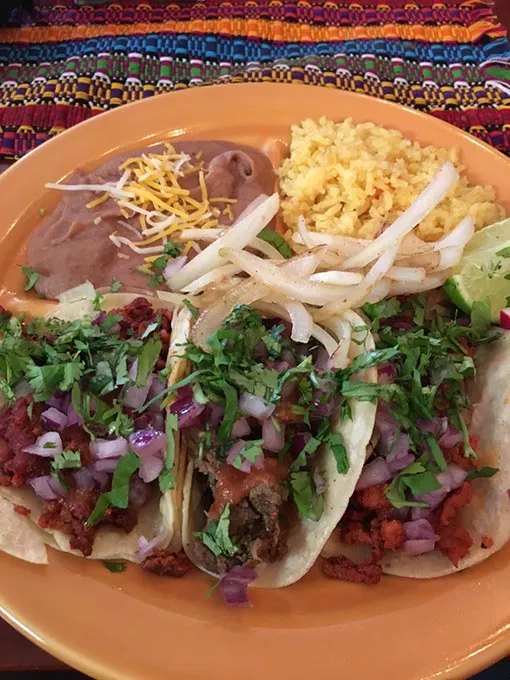 Little Kight's street tacos are available with chicken, steak, chorizo, al pastor and shredded beef. | Photo Jacob Threadgill
Community involved
The Caballeros believe in word-of-mouth as the best advertising, which places an onus on the quality of the product.
"We gained a lot of customers because our food is fresh," Caballero said. "My dad believes in the quality of the meat. We are buying the best quality of meat we can get … We opened this place because we were getting more demand and bigger quantities."
The community of Little Knight's fans was put on full display April 2016 when the Little Knight's truck was stolen during the middle of the night. After social media push offering a reward for the truck, the story was picked up by local television news.
After the report aired, the truck was discovered in Tecumseh after a resident recognized its distinct yellow paint. It was a returned after two days with minor damage and inventory gone.
"After that, we had people coming from different places who had never tried our food. It actually turned into free advertising," Caballero said.
Print headline: Landmark tacos: From food truck to restaurant, Little Knight's serves tacos and burritos with a kiss of Guatemala.