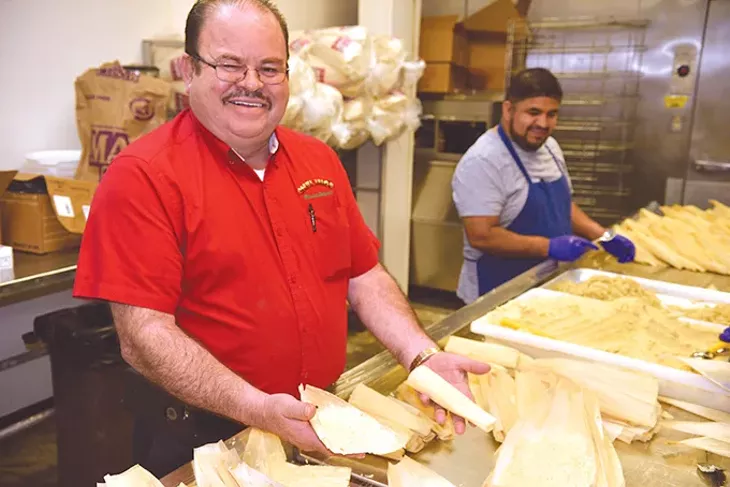 Jacob Threadgill
Marcelino Garcia shows off the new fresh tamale operation at Chelino's tortilla factory at 2101 S. Robinson Ave.
Guadalupe Garcia has watched as his father Marcelino "Chelino" Garcia has built Oklahoma City's largest network of Mexican restaurants, which now total 14 in the metro area.

Growing up, Guadalupe remembers the first menu at the now-shuttered original Robinson Avenue location and how it differs from the menu that drove its expansion.

"Back in the day, when we first started Chelino's, we used to sell beef stew and a lot of real authentic Mexican plates," Guadalupe Garcia said. "I don't think people were used to it. ... We stuck to what they knew."

As food culture has changed since the turn of the century, with the prevalence of food television and media and the explosion of authentic ethnic cuisine across the city, Chelino's is leaning into the trend by bringing back old menu items and is now producing tamales from scratch at its 14,340 square-foot tortilla factory at 2101 S. Robinson Ave., which opened in 2007 after a 2006 fire at its previous facility.


Fresh production
Chelino's has produced its own tortillas, both flour and corn, since 1998. On the flour tortilla line, a worker places fresh dough through the machine. The dough is flattened, baked and packaged by a pair of workers who fill plastic packages at lightning speed.
Two separate corn tortilla presses are in the other room in the facility. One machine presses the corn
masa
thinner so that it can be fried for chips and taco shells. Another machine produces thicker corn tortillas for tableside service.
The tortilla factory also has a storefront, where fresh tortillas, spices, canned goods, sweet treats and plate lunches are served. A plate of two large
tamales
with sides of rice and beans is $6.
Seasonal
tamales
, like a dessert
tamale
made with pineapple, apple and raisin, which is a favorite during Lent, and
tamale rajas de queso
with poblano, jalapeño and Anaheim peppers with mozzarella cheese are available at Chelino's convenience store, Calvillito Mexican Imports No. 3, 5800 S. Western Ave.
Just behind the lunch counter is a refrigerated room where four workers prepare chicken and beef
tamales
that will be served at Chelino's restaurants. Pliable cornhusks are ready to be filled with a layer of
masa
and meat filling.
The bright red and green hue of the
masa
lights up the room. Chelino's mixes the same salsa used on the meat —
verde
for the chicken and
rojo
for the beef — into the
masa
before it is cooked.
"
Tamales
are like brisket; everyone has their own recipe," Marcelino Garcia said. "[Everyone thinks] their recipe is better than yours. When you mix the
masa
, you must add flavor to the
masa
, the same flavor in the meat so it mixes in the whole bite."
The process of making
tamales
is time-consuming and arduous. Cornhusks must be soaked for hours, and the
masa
must have whipped lard added at the right time at the right temperature.
"Lard is the only thing that keeps the
masa
from sticking to the corn husk," Guadalupe Garcia said.
Jacob Threadgill
Jorge Flores oversees corn tortillas that will be fried for chips and taco shells.
He said that some of his favorite memories as a child were watching his mother set up in the kitchen for hours, usually around Christmas, to make tamales.
"I asked my mom to teach me the recipe, and it's a little bit of this, a little bit of that. There are no exact measurements," Guadalupe Garcia said. "It's a skill that you learn from time and practice. To bring it to a professional level is a wonderful thing."
Previously, Chelino's served
tamales
made at a factory in Lubbock, Texas, that were shipped frozen to the restaurants. After an increase in beef prices, they became too expensive to ship at Chelino's menu price point. Marcelino tried to make
tamales
at the factory 18 years ago but was shut down by the health department for not being able to keep the room cool enough.
A new refrigeration system allowed tamale production to begin at the facility in February, even to the surprise of his son.
"He's a wild card," Guadalupe said of his father. "I didn't think starting this year we were going to start making tamales. … It's been a dream for him. We make everything else fresh and in-house, and the fact we can now do the same with the tamales as the tortillas is very meaningful. It's what the customers deserve."


Menu additions
The addition of fresh
tamales
comes as Chelino's unveils a new menu with new additions and a few items that were relegated to secret menu status.
Carne asada fries, which trace their origin to the San Diego tradition of putting french fries in burritos, have been one of the most popular additions, Guadalupe said. His menu item is the 'Lupe Special. It's a chicken chimichanga, a five-ounce chicken tamale and a chicken enchilada.
"It's for someone with a big appetite; you have to come hungry and you'll be satisfied," he said.

Other new additions include chili cheese fries, a fish filet with shrimp and mixed vegetables and sliced Mexican potatoes, which have been on Chelino's secret menu for some time, Guadalupe Garcia said. They've also added a quesadilla norteña, which is a fajita quesadilla with fried peppers and onions. A flour tortilla enchilada filled with avocado slices and topped with salsa verde and sour cream has earned high marks from both father and son Garcia.
"We are always thinking about what we can do better," Marcelino Garcia said. "We are concerned about quality, and we want it better. We want everything to be homemade, and it means a lot to me. Tortillas are made every day, fresh with no chemicals."
Visit chelinos.net.