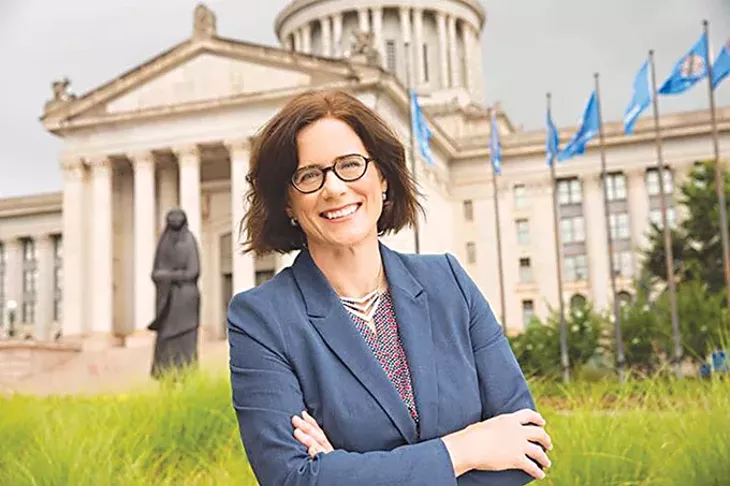 Provided
Julia Kirt
A week before the lowest number of women lawmakers since 2010 were headed to the Oklahoma Capitol for the beginning of the 2017 legislative session, women from across Oklahoma gathered in a Tulsa hotel conference room for the one-day, nonpartisan Pipeline to Politics educational program, which seeks to increase women's participation in politics.

It was hosted by Oklahoma Women's Coalition and University of Oklahoma's Carl Albert Center, and Julia Kirt made the two-hour drive from Oklahoma City to pick up new legislative advocacy tips to aid her work with Oklahomans for the Arts. She wasn't considering running for office.

After female lawmaker after female lawmaker testified to working together across party lines to address issues of particular concern for Oklahomans, Kirt changed her mind about running for office. Six months later, in the summer heat, Kirt, a Democratic candidate for Senate District 30, was knocking on doors and meeting voters. Her name will appear on a ballot for the June 2018 primaries.

"I was describing to people, 'Not this November; the next November,'" said Kirt, a Sally's List-trained candidate.

"Now, I've knocked the district — a certain targeted number of voters, and I am seeing people for the second time."


Female candidates
Much like the rest of the country, Oklahoma is seeing a growing number of women lining up to run in the 2018 elections. While women are mounting campaigns for local elections, like school board and city and county office, there is also a large number filing for state office, including House and Senate.
This year has the potential to be a watershed for women's representation. In the Oklahoma City metro alone, 23 women are vying for House and Senate seats, according to an analysis of campaign finance records by
Oklahoma Gazette
on April 3.
Women are running in rural districts too.
Not all of them will make it to the November election. Still, this election has potential to bring more women to state leadership positions. While more than half of Oklahomans are female, the Oklahoma Legislature is 18 percent female and 1.9 percent women of color. Oklahoma ranks next to last in the nation for the percentage of women elected to state legislatures.
Oklahoma's version
Across the country, women are raising their hands to run for and serve in elected office, from seats in the U.S. Congress to local school boards. In national news reports, women candidates are driven to action by frustrations over the election of President Donald Trump, inspired by the women's marches and the #MeToo movement or concerned by policies crafted by heavily male-dominated legislative bodies.
In Oklahoma, federal issues only weigh slightly on women running for office, said Sara Jane Rose, founder of Sally's List, a nonprofit organization dedicated to recruiting, training and helping elect progressive women to public office in Oklahoma.
Instead, women candidates are driven by state issues impacting their communities, such as the fiscal circumstances that led to cuts to core services.
"The further this state has declined in terms of how it serves its citizens, the more fired up these women have become and the more passionate they are about getting their hands dirty and fixing things," Rose said.
The national trend motivated Oklahoma women to consider running, Rose said. So too have special election results. In Georgia, Republican Karen Handel won the state's 6th Congressional District. In contests for state seats, women candidates have fared well too. Oklahoma has its own examples with retired teacher Karen Gaddis' victory for a Tulsa House seat last July and therapist Allison Ikley-Freeman's successful bid for the Senate in November. Both are Democrats.
On Wednesday, when state candidates can begin filing, 17 Sally's List-trained candidates will turn in their paperwork.
Alyssa Fisher, Sally's List programs manager, said the women running this year are stronger candidates than usual.
"When I look at the list, each name is of someone who has dedicated their life to being on the front lines of the issues we are facing in this state," Fisher said. "All of these women are bringing unique perspective and qualifications that we don't often see in current representation."
Women candidates are serious contenders. Right now, it's common to find Oklahoma women undergoing candidate training, receiving party support and running in strategic races with open seats or vulnerable incumbents.
Provided
left Lori Callahan right Ajay Pittman
Brave
Various reports outline the barriers women face when they decide whether or not to run in the first place. Barriers include fundraising, party support and gender stereotypes. Another reason women don't typically seek office is that they aren't necessarily trained to see themselves as leaders.
In her college days, Oklahoma City resident Lori Callahan thought about running for office as a way to serve her community, which she had done successfully since her days as a candy striper.
As she grew older, those thoughts didn't go away. She continued to serve through community volunteering and for the Republican Party in Canadian County. Now, with the lived experiences of a small business owner, mother, foster parent and more, she is one of six Republican candidates for Senate District 30. Callahan is the only woman Republican in the race.
"I hear it at the doorsteps, especially from men: 'Wow! You're brave,'" Callahan said. "Yes, but we should all be comfortable to do this. Women are more qualified than they think they are."
Ajay Pittman agrees. As the daughter of Sen. Anastasia Pittman, she grew up in a household where women with values, opinions and leadership skills were supported. Then, when she visited her mom's place of work at the Capitol, she saw too few women holding leadership positions.
At age 24, Pittman is vying to represent Oklahoma City's House District 99, currently held by Rep. George Young, who is running for a Senate seat. When she knocks on doors, the Democrat said some voters remark about her age, like when someone said, "Last time I saw you, you had braces."
Pittman said it's an opportunity to catch people up on what she has been doing as a health worker and nonprofit leader.
While the open seat sparked her motivation to run, Pittman said she feels fortunate to run at a time when there is such a favorable environment for female candidacy, including women of color."To see this trend of millennials, women and women of color tells me that if I have children, they will see themselves in positions that they want to have," Pittman said. "I was able to see my mom in a position that I knew I could obtain one day. Others have not had that. I want to inspire others, especially little girls, that they can do it."