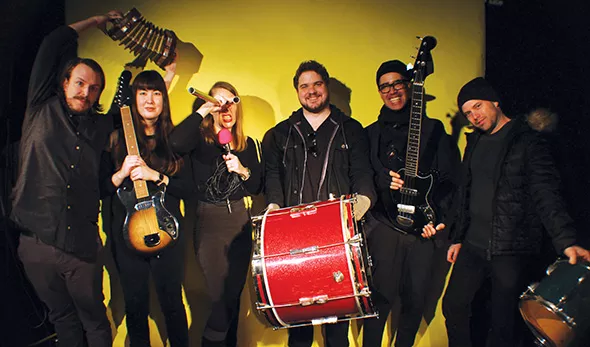 provided
from left Tommy McKenzie, Becky Carman, Marian Nunez, Zach Nedbalek, Andy Nunez and Matt Duckworth are Applied Music Program.
Oklahoma music fans will have the rare opportunity to see several local bands perform together at an upcoming show at 51st Street Speakeasy, 1114 NW 51st St., on Feb. 2. The bands include Applied Music Program, Carly Gwin and the Sin and Lacey Elaine.
The occasion is something of a rarity because several of the musicians involved tend to be exceptionally busy, and they get together in these particular configurations only once every few months. The members cross over, perform in additional bands or are involved in other areas of the Oklahoma music industry. This results in some full schedules.
Formed in 2012, synth-pop band Applied Music Program consists of Andy and Marian Nunez, Becky Carman, Tommy McKenzie, Matt Duckworth and Zach Nedbalek. Some band members rotate instruments, but for the most part, Carman and the Nunezes provide the group's vocals.
A.M.P.'s sound is unique and full of interesting sonic texture. In one song called "Pockets," heavy, groovy bass lines carry light synth flourishes layered with handclaps and Carman's dreamy vocals. The tune has an '80s influence that doesn't feel tired or dated.
Many of the A.M.P. band members are longtime fixtures of the Oklahoma music scene. For instance, Andy and Marian Nunez are former members of the indie band Starlight Mints and also have owned and operated Opolis in Norman, 113 N. Crawford Ave., for 17 years. Duckworth has been a drummer for The Flaming Lips since 2014.
The Starlight Mints dispersed in 2009. Andy Nunez said he and his wife Marian decided to focus on family and their music venue but shortly felt the itch to perform again.
"Next thing you know, little by little, other people started playing with us," Andy Nunez said.
A.M.P. has been fluid since its inception, with several different drummers sitting in depending on their availability and musical parts getting filled as needed.
"People kind of come and go," Andy Nunez said. "It's not like a regular band, trying to do regular band stuff. Everyone just treats it as a good time."
Nunez said he sees the band as a lifelong project that he hopes to give more focus as his teenage daughter gains more independence. The group has new songs and music videos in the pipeline, and they usually travel at least once a year on a combination vacation/tour. Nunez said they hope to get into some music festivals this year.
The Speakeasy show is A.M.P.'s first 2019 gig, and Andy Nunez called it one of the best venues in the city.
"Years ago, when we were younger, we'd go to New York City and play in places like that," he said. "It really reminds of the bigger-city vibe, the dark, old bar kind of vibe. I love the vibe in there."
He acknowledged the deeply communal and supportive quality of Oklahoma music and said the collaborative nature of their band is one of its most gratifying aspects.
"You know that you're going to know these people for the rest of your lives," he said. "Because you guys all share this curse/passion of wanting to make some noise."
Sin sounds
Performing along with A.M.P. at Speakeasy is Carly Gwin and her backing band, The Sin. The group includes Patrick Roberts, Kevin Fries and A.M.P. drummer Nedbalek.
Early on, when Gwin performed as a solo artist, Nedbalek said he and Fries declared jokingly they would one day play in a band for her. Gwin and Nedbalek have performed in a '90s tribute group, My So Called Band, since 2010, but about three years ago, Gwin decided she wanted a more personal project. The parts of her new group fell into place.
"The first time we ever played together, we sounded pretty good, I think," she said. "It was like they completed the missing puzzle pieces of my songs."
Carly Gwin and The Sin is another group that defies traditional genres since Gwin pulls from influences like country, Americana, classic rock like Fleetwood Mac or alternative artists like Fiona Apple.
"Patrick's guitar solos are really crazy weird in the best way to me," Gwin said in an attempt to describe their style. "Zach does some cool drum parts. Kevin plays insane bass lines."
"I don't ever know what to tell people," Nedbalek said. "The Sports Animal made fun of us because we call ourselves 'flower rock' on our Facebook page."
However listeners want to label it, the group's songs feature crisp instrumentation under morose lyrics conveyed in Gwin's rich vocals. Gwin teased that they have a new single, "You Can Feel Sad," and an accompanying music video coming the end of February.
"That's my specialty, sad songs," Gwin said.
Although her early songs were predominantly personal, Gwin has shifted toward writing songs outside her own experiences. For instance, she said 2018's "It's All Your Fault" was written from the perspective of a conservative male politician.
Both Gwin and Nedbalek said The Sin doesn't get to play as many shows as their other band, but they approach the group as more of a fun outlet, which is similar to A.M.P.'s attitude.
"I'm so happy that the two of these bands are playing on the same night because it's a dream for me," Nedbalek said of the Speakeasy show. "The two original music bands that I'm in get to share a stage and have fun on the same night."
Gwin said their songs often provide a nice break for the ear, and listeners can expect "chill-ass music" at the show.
"I think that one of the charms is that my songs start out super simple and basic, and it's sometimes nice to hear that in a world full of crazy, intricate music all the time pumping in your ears," she said.
Bass lift
The evening's third featured artist is Lacey Elaine, an alternative musician who has been performing for several years, including time as bassist in Oklahoma City rock band Cherry Death.
Elaine has released a few solo tracks through Old Blood Noise Endeavors. These are compact, fast, punchy songs that go heavy on the bass, often doubling up the instrument for a unique sound.
"The wonderful thing about playing live is that when a set is over, it's over," Elaine said via email. "There's a finality that's not achievable while writing or recording. What a great way to practice living in the present, yeah? I crave that when I'm not performing consistently!"
The Speakeasy show starts at 9 p.m. on Feb. 2. A cover charge of $3 is required for entry. The show is open to guests 21 years old or older.
Visit 51stspeakeasy.com.