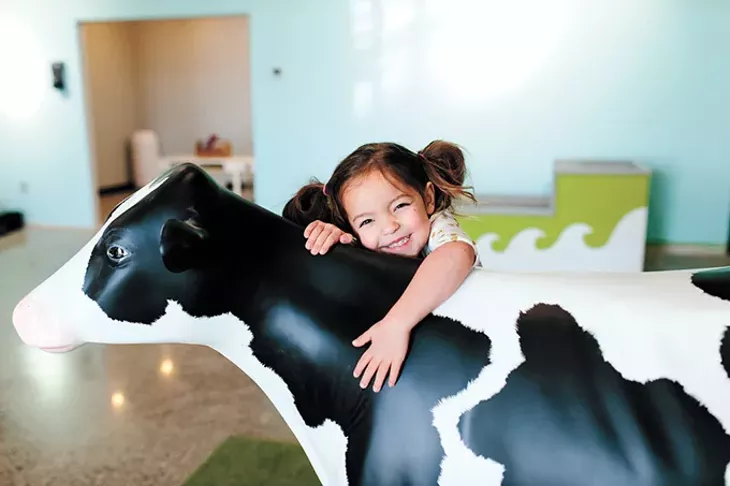 Photo Courtney Despain / provided
Okie Kids Playground includes a play farm where children can milk Lucy the mooing cow.
Starting a new business from scratch is a lot of work, especially when introducing a concept into a market without a lot of precedent for it. But then again, not many people are Annalisa Douglass, a mother of 4-year-old triplets and founder of Edmond's Okie Kids Playground, which opened in January just one month after the birth of her fourth child.
"You don't really tell a triplet mom she can't do something," Douglass said. "She'll figure out a way to do it. When we put our shoes on and go, we've accomplished a lot already, so nothing scares us."
The indoor play facility designed for children age 6 and under has already been a welcome playtime addition for parents in the community. The calming play environment includes a number of activities and features purposefully designed to enhance young learning and build motor skills. Okie Kids, 321 W. 15th St., in Edmond is open 10 a.m.-6 p.m. Monday-Friday.
Douglass said the idea for an indoor play facility came about a year ago when she was stuck at home with her triplets, then 3 years old. The weather wasn't so bad that they could not get out of the house, but it made playing outside pretty much impossible.
She had no choice but to keep her kids at home, and spending days at a time cooped up with multiple 3-year-olds was incentive enough to think of ways to prevent such a scenario from happening again.
"I was like, 'There has to be something we can do; there has to be something better,'" she said.
Even when the weather was sunny, Douglass struggled to find play environments suited for younger children. She began doing research into indoor playgrounds that were geared toward kids who were still too young for school. She visited a few places in Texas with her husband and children, and those visits helped her realize how much Oklahoma lacked.
Douglass was unable to find a franchise to bring into Edmond, so she decided to start her own indoor playground concept. Her plans were made more difficult when, just one week before closing on her future building, she found out she was pregnant for a second time.
She thought hard about scrapping her plans for the business, but Douglass ultimately felt as if she was being led to open Okie Kids. Just one week after having her baby by cesarean section in December, Douglass was back to work.
"I was not able to lift, of course," she said. "I had assistance with that, but I was definitely still able to make decisions."
In January, Okie Kids was ready to open. Douglass oversaw the debut while nursing and caring for her month-old infant. It is always bring your child to work day at Okie Kids.
Douglass said the community response to the playground has been strong. Many days, they hit their capacity within an hour of opening.
"That's been quite shocking," she said. "I never anticipated that, so I'm very happy with it."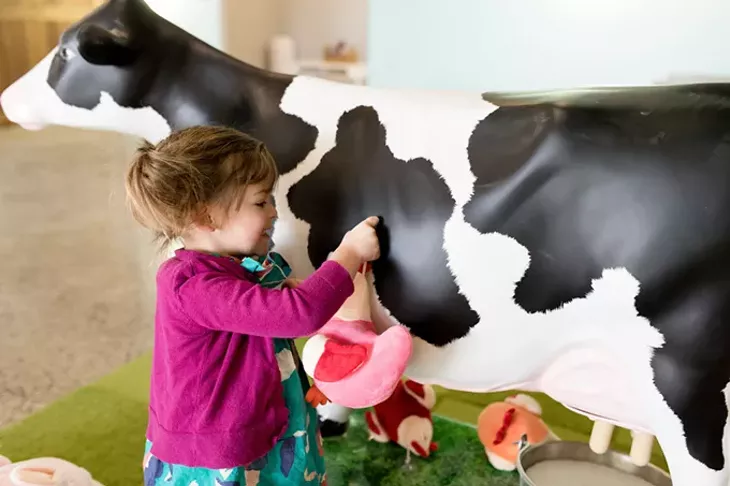 Photo Courtney Despain / provided
Lucy the mooing cow is the only electronic toy at Okie Kids Playground.
Feature attractions
No prior reservations are necessary to take one's children to Okie Kids. Admission can be paid per individual visit (with unlimited playtime) or as a month-long membership package that includes discounts for parties and the on-site cafe.
The building's interior includes a long room for meetings and parties and another side room for coloring and crafts. Everything is centered on a main play area separated into six distinct parts.
Near the entry gate is a sensory boat loaded with building blocks that Douglass switches out from time to time to keep things fresh. The boat includes a magnetic fishing game, which helps the children work on steadying their hands.
A mock farm sits not far away. A large, electronic cow moos as children milk its utters. Douglass said this helps them learn to use their hands in different ways and develop the pinching mechanism and grasp strength needed to write with a pencil or pen.
Next to the farm is a play market where children can learn about commerce and shopping. It includes a board with magnetic letters and bins where children can sort plastic foods by color.
"It's fun to see when the children actually start to put their stuff back in the correct color patterns so you know they're grasping that concept," Douglass said.
There is also a playhouse where children can mimic family life. Douglass said she has noticed that area is as popular with boys as it is girls.
"I have more friends who have sons who love that because they don't get to experience that unless they live with sisters," she said. "They'll be in there pretending with the baby dolls and cooking and pretending with that."
For quieter play, there is a schoolhouse where children can go read books and play with letters. Next to it is a small replica of an Edmond Fire Department fire truck. A stuffed Dalmatian on top was named Cowboy through a social media poll.
Away from the main play area, children will find an air tube wind tunnel installation similar to the one found inside Science Museum Oklahoma. Douglass said this teaches children how the wind works and gives them a concept of the different weights of things.
The indoor playground's pièces de résistance are its two custom-designed play structures, one made specifically from crawling toddlers and one for older children. Douglass wanted the structures to be as accessible for parents as they are for their children.
"I wanted to make sure adults could get in it and not get trapped," she said. "Every time I tested one, I got in it and I couldn't get my kids."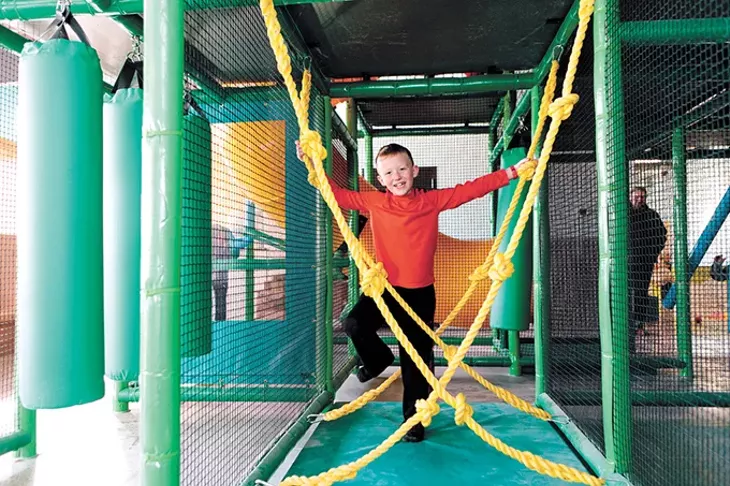 Photo Courtney Despain / provided
The large and small play structures inside Okie Kids Playground were custom-built for the facility.
'Ol'-fashioned fun'
One thing parents won't find at Okie Kids are games and activities focused around touch screens, computers or electronic devices. Excluding Lucy the mooing cow, the playground toys are entirely unplugged, a rebuke of the direction a lot of youth entertainment is going.
"I wanted good ol'-fashioned fun," Douglass said. "My children are getting ready to be 5, and they still don't have tablets. They still don't know how to operate my phone. They get on the computer mostly to watch shows on how things are made, but that's it."
Okie Kids puts a lot of emphasis on providing parents with peace of mind while their children still have fun. A portion of all door proceeds goes to a different local charity each month. (Angels Foster Family Network and Human Animal Link of Oklahoma Foundation have been beneficiaries in past months.) An indoor cafe comes staffed with a barista and coffee provided by Edmond's Perk Place Café. While one parent watches the kids, another can get work done while connected to the playground Wi-Fi.
Instead of bright reds, blues and yellows, Okie Kids comes with a more calming and soothing color palette. There is no music played indoors, and there are no cheesy characters fighting for a child's attention. It is earnest fun without the chaos.
"I wanted something that was not for kids only," she said. "I wanted parents to come in and relax and feel good."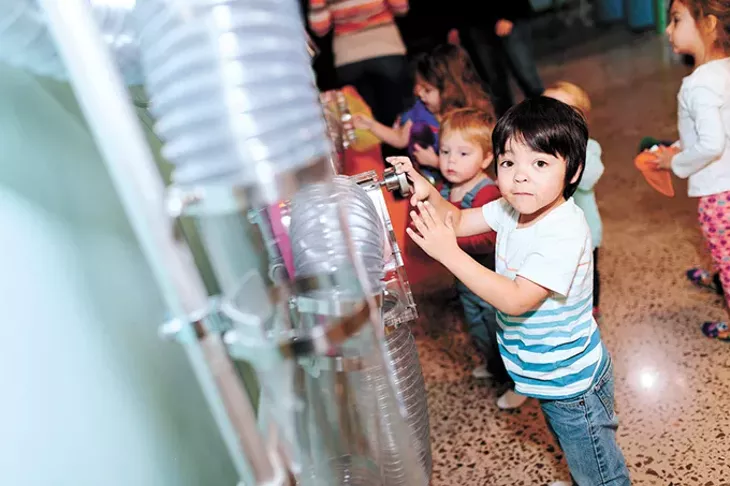 Photo Courtney Despain / provided
Children play with the air tubes at Okie Kids Playground, which opened in Edmond in January.