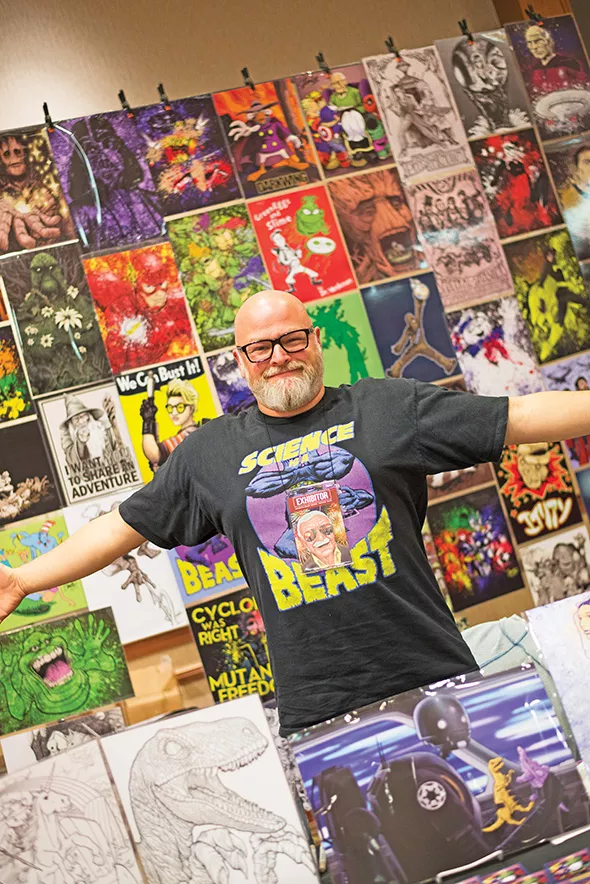 Heather Bond
Jerry Bennett is the latest artist-in-residence at Skirvin Paseo Artist Creativity Exposition (SPACE) at The Skirvin Hilton Hotel Oklahoma City.
Jerry Bennett's boisterous and bellowing laugh is a whale song within the region's comic book community, guiding fans through perilous mobs of cosplayers and pop culture completionists packed into sprawling convention spaces. Armed with a print wall of whimsical, referential mashups from movies, comics and cartoons as well as a silver, bushy beard of local legend, Bennett has been steadily building a career through collaborations with other comic creators and hundreds of appearances at conventions, art shows and comic book shop events.
Bennett's tireless work was recently rewarded by Paseo Arts Association and The Skirvin Hilton Oklahoma City when he received the 2018-19 Skirvin Paseo Artist Creativity Exposition (SPACE) on-site residency. The SPACE acronym will no doubt appear in the comic vignettes that the admitted sci-fi fanatic will be creating in the year to come.
"My plans have completely changed since I got the artist residency," Bennett said before being startled by his elderly cat hissing at an encroaching gang of kittens that had recently infested his home office.
Bennett's resulting laugh frightened and dispersed the kittens to neighboring rooms while the older and wiser tomcat simply rose his head to Bennett in knowing appreciation before settling back to sleep.
"I really want to level up my game as far as gallery work is concerned," Bennett said.
Trained as a fine artist, one of his early passions was pointillism, a technique using only small dots to create large-scale works. The slow, careful process gave him an appreciation for detail that would serve him well later. After college, Bennett said he was a week away from moving to San Diego, California, to pursue a career at The Walt Disney Company before fate intervened when the place he was moving into was suddenly not available anymore. He reassessed his options and decided to pursue comics instead in hopes that he would be afforded more creative freedom. Twenty-three years later, his love of pop culture and his classical training often merge in pieces like a beautifully detailed Swamp Thing and a Jennifer Connelly pointillism portrait using tiny bees instead of dots as a reference to the horror movie Creepers.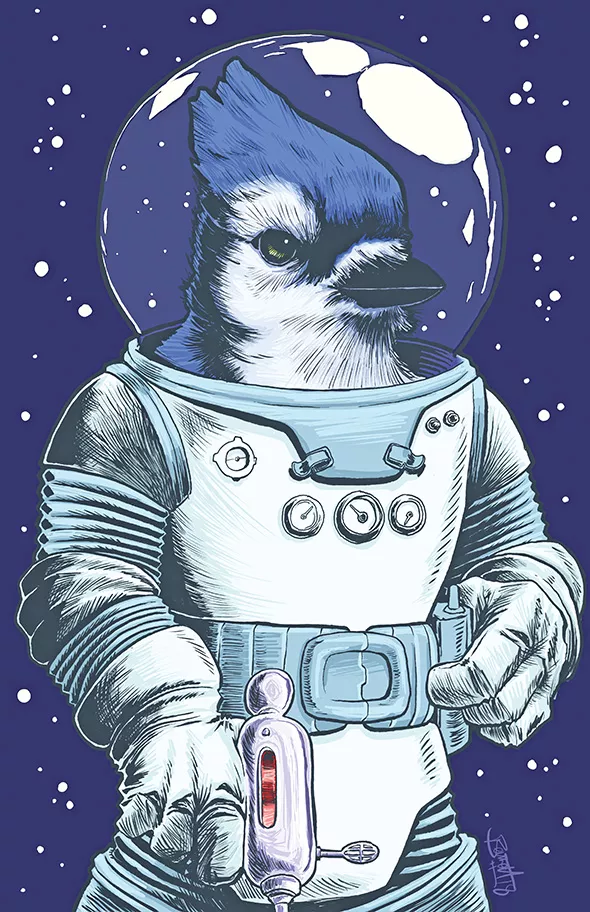 provided
"Captain Galactibeak" by Jerry Bennett
"Most of my work has to be digital right now, which is great and I love these tools, but I do want to stretch my skills creating comic book work with pen and ink," Bennett said as he turned his attention back to his dual computer monitors showing early sketches of a comic book project. "I want to create comic stories that will be Oklahoma-centric, both fiction and nonfiction, and also do that with pen and ink. I've always wanted the time and opportunity to create more gallery work, and the Skirvin is going to throw me three receptions throughout the year to allow me to do just that."
Like many other artists that went all-in on their careers, Bennett spends a significant amount of his time scrambling for freelance gigs, doing portrait work and commissions and creating licensed Topps sketch cards for The Walking Dead, Star Wars and Stranger Things. Bennett said the residency will allow him some breathing room so he can focus on his own stories and refine his creative method.
Panel discussion
This will be the seventh year for the ambitious collaboration between the historic Skirvin Hilton Hotel and Paseo Arts Association to promote the work of professional artists by providing a work and retail space. Diverse mediums have already been represented — encaustic art, portraiture, poetry and analog collage and resin pieces by Marissa Raglin, who just wrapped up her residency in September. Executive director of PAA Amanda Bleakley said Bennett will be the first sequential artist represented in the SPACE residency.
"His artwork is very approachable. There will be a mass appeal because it's fun and immediately relatable," Bleakley said. "It's something that people can come in and experience, which is what the residency has been moving toward in the last few years."
Bennett plans to offer workshops on character creation, layout and inking that will highlight the method behind the artistic and literary medium that is often overlooked. But Bennett believes that is changing, and he attributes his residency partially to a wider acceptance for comics within the creative community.
"The fact that I've been able to do all these things, getting involved in the art community and being a part of gallery shows has given me the confidence to tell people how important the art of comics can be," Bennett said. "Our comics culture has been really blossoming. We are seeing a lot of neat styles coming out of these grassroots efforts. A lot of mid-level graphic novels are doing well right now because the creators are having to do a lot of work getting the book out there first in a webcomic or 'zine form and getting discovered that way."
Bennett's work has also been seen in Okie Comics Magazine, a free print publication that can be picked up at libraries, restaurants and retail spaces throughout the metro area. Publisher and editor Jeff Provine has released three issues so far, with a fourth due in February. He is also a frequent collaborator with Bennett and admits to knowing the artist's trademark laugh longer than he has known the man, having witnessed crowds drawn in by his exuberant spirit and relentless output which "makes jaws drop on the people walking by the ever-growing wall of prints he's produced."
For Okie Comics Magazine, Bennett and Provine have created stories about cowboys fighting a pteranodon on the Chisholm Trail and a giant possum wrecking downtown Oklahoma City in the 1960s as a reference to the disastrous urban renewal project known as the Pei Plan. They are currently laying the foundation for a retelling of the first-ever Bedlam game.
"Jerry is important to the comics scene in Oklahoma through his talent, determination and friendliness," Provine wrote in an email to Oklahoma Gazette. "He is truly a workhorse, one of the best guys I've ever met. He works incredibly hard to create good art, as he has done for years, representing not only himself but the whole spirit of the indie comics world. And on top of that, he has the biggest, sweetest heart of just about anyone, the kind of guy you want to see succeed in everything he does because he's making the world a better place."
Visit facebook.com/thejerrybennett and skirvinhilton.com.