A Tulsa-based wholesale clothing company snagged a spot on ABC's Shark Tank in December 2014 and has flourished ever since. Unlike some sports clothing brands, Gameday Couture focuses on mixing team spirit with feminine trends such as floral prints, laser-cut shorts and tribal-inspired fringe tunic tank tops.
In 2010, husband and wife Shawnna and Kurt Feddersen developed a high-quality, moderately priced brand after noticing a gap in the fashion market. At first, the two ran the company, but they have since hired a small staff of designers and sales representatives to keep things running smoothly while working directly with retailers.
For years, many sports-loving women settled for generic-looking t-shirts that hardly, if at all, differed from men's styles. Gameday Couture changes that.
"We previously owned other businesses," Shawnna said. "I didn't necessarily know [that I wanted to get into fashion], but I've always had a lot of interest in fashion and sports. The passion grew with it."
Industry endorsement
Gameday Couture designers work meticulously with universities to ensure their creations coincide with the school's image. No matter the body type, personality or college, the Feddersens said their goal is to offer something for everyone.
The couple began creating fabulous game day clothing about six years ago.
After they showcased their female-friendly sports brand on Shark Tank, a reality show in which entrepreneurs pitch their ideas to industry leaders, things only improved. Their creative yet simple designs earned the support of Dallas Maverick's owner Mark Cuban, who invested $500,000 in their Oklahoma-run company.
From there, a new business plan was born and put into action.
In late April, ABC aired a follow-up segment on the show. It featured Gameday Couture's expansion, its recent NBA partnership and how the company plans to continue growing in ways the Feddersens haven't expected.
"We wanted to stick within the NCAA; we didn't think we'd do pro," Shawnna said. "We are very happy with it."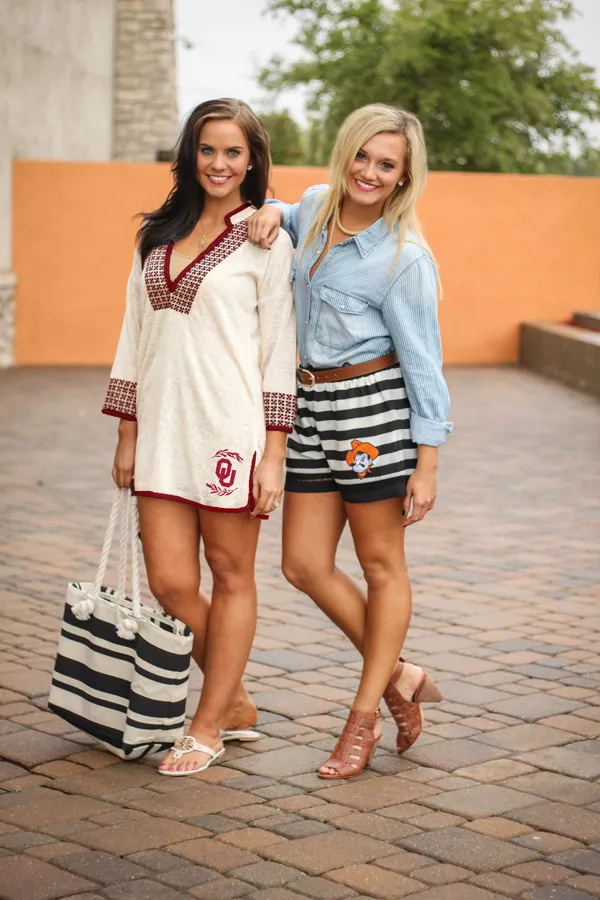 Tulsa-based Gameday Couture sports fashions feature on-trend swim tunics, laser-cut shorts and more. | Photo Gameday Couture / provided
On-trend fashions
In addition to offering private labeling, Gameday Couture offers several style collections with color schemes to match just about anyone's favorite team and features shirts with color-coordinated elbow patches, tees with beaded sleeves and quilted vests. The collections are available in more than 700 department stores, boutiques, gift shops, sporting goods stores and fan shops across the nation as well as via its retail website, gameday-couture.com. The Feddersens' business plans don't end there; they want to expand internationally, too.
"Our next step may be overseas and looking at the European market," Shawnna said.
The staff also offers a fashion look book-style blog at gamedaycouture.tumblr.com. The looks are completed head-to-toe with Gameday Couture tops, bottoms and accessories as well as shoes and jewelry from other brands.
Shawnna said they are appreciative of Cuban's guidance, endorsement and assistance and for the opportunity to work in sports and fashion. Perhaps, she wondered, the NFL might be conquered next.
For more information, visit gameday-couture.com.
Print headline: Fashion play, An Oklahoma-based sportswear company aims its designs at female fans and hits its target.