The crew maning the Mob Grill food truck, from left, Kaitlin Slothower, Seth and Judy Barker, and Ericksson Lopez. mh
Not too long ago, Seth Barker and Marco Morrow were just a couple of guys working in the pharmaceutical industry.
They didn't love it, and they didn't hate it; it was a living. Then, when the economy took a nosedive, both men lost their jobs.
When they realized they didn't have to go back to those day jobs, well, they didn't.
"Marco had been making these burgers for over 10 years for cookouts and tailgates. Everyone who tried them said that he could make money making them, so we decided to give it a shot," Barker said.
Within three months, they pooled their resources, put together a business plan and bought a truck … in Florida. The two took off for a long drive to the Sunshine State, and by the time they arrived home with a freshly painted truck, MOB Grill had three events lined up for the following week.
The name comes from the two playing around with Marco's Onion Burgers, but they wanted panache. They couldn't ask for more than the glamour and the style of zoot-suited gangsters with fedoras and Tommy guns.
Once they had the theme, the pair hired local designer Adam Headrick, owner of AC Creative Studio, to create a logo and design concept.
"We were thrilled with it, and he's a friend of Marco's. I call Marco the mayor because he knows everyone in town," Barker said.
Baker calls himself capo, or captain.
(In case you are wondering, the pictures on the truck are of actual mobsters from the Roaring '20s.)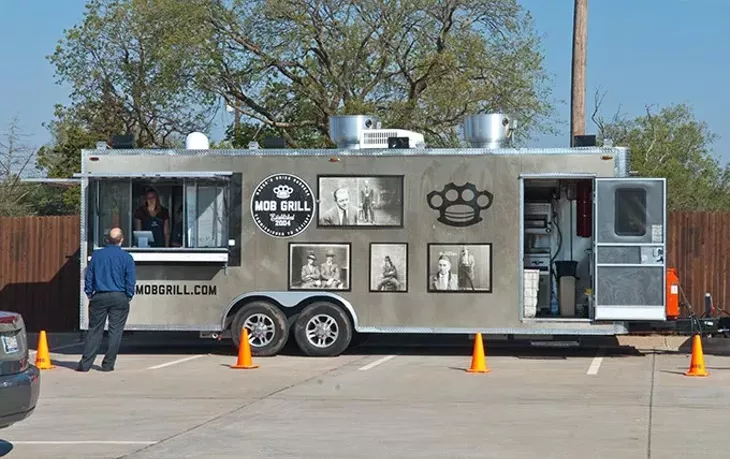 "It's awesome. It's the hardest work I have ever done in my life," he said of the business endeavor. "There have been more 18-hour days, days you just don't go to sleep because you have to be back out to get ready in three hours. But nothing beats it."
The concept is simple; the men serve three things — well, really, when you get down to it, only two: burgers and fries.
"Ours is a fresh, quality ground beef with the marinated onions. Those are the secret; they're cooked right into the burger," Barker said.
The onions are hand-cut and marinated in a proprietary recipe that takes out the sting and sweetens them just enough. The fries also are hand-cut, and Barker recommends you get the cheesed-up version.
"I put a half pound of American and [Monterey] Jack cheese on them. I had a lady ask for more fries with her cheese the other day. What a great complaint," he said. The third thing MOB Grill offers is dessert, and that part of the menu hasn't been decided yet.
The duo isn't having any problem booking events. The truck was a regular at this season's H&8th Night Market and rolls to Stillwater for Oklahoma State University games and for Stillwater's monthly food truck festival, Fridays Food Trucks and Tunes, which ran through September.
Barker said he has had to turn down some requests due to time limitations, but there are worse problems to have.
"I tell you, the best part is when people eat your burger and say that's the best burger they've ever had in their life. That's some feeling," Barker said. Learn more at mobgrill.com and on Twitter at @MOBgrill.
Print headline: MOB Barker, A new '20s-era, gangster-themed burger truck takes over the town.