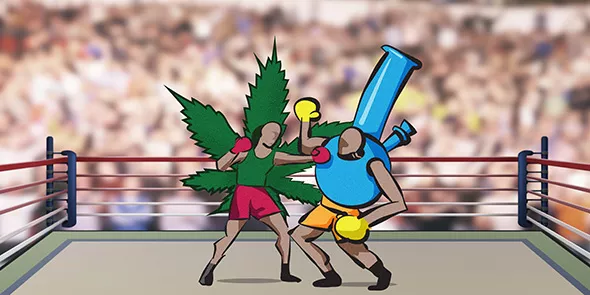 Image by: Phillip Danner
Stand Up & Fight/Canna-Grudge Showdown is 6 p.m. Sunday.
Imagine this: a circus tent on rural private property; inside, a professional boxing ring filled with both trained fighters and folks from the cannabis industry going at it with boxing gloves, surrounded by hundreds of medical cannabis patients.
That is exactly what the first Stand Up & Fight/Canna-Grudge Showdown hopes to bring Sunday.
The event will be held at 940 NE 34th St. in Newcastle. Doors open at 6 p.m. and fights begin at 7 p.m. Tickets are $25."I used to fight Toughman, and then I got into kickboxing. It's always been a thing of mine," Michael "Medic Mike" Sutterfield said.
Sutterfield credits Daniel "Tokie Daniel" Boyington of Tokie Tees and the organizer of this year's cannabis kickball tournament for the idea.
"He's like, 'Man, we need some kind of canna-fights or something,' and when he said it, it just kind of rung a bell with me … So I thought, 'Why not throw it out there and see if someone would even provide me a ring and stuff to do something like that?' and from there, it just took off," Sutterfield said. "And so then once I see that it was really going and people really were interested in this, I thought, 'You know what? Why not do this and split the money with Operation Zero and help cancer patients because that's what me and Jeremy both do anyway?' And then this will be something different, something new, something that's off the fucking wall. And it's been a home run, I think."
Originally slated to be held inside a Moore vape shop, interest in the event as well as pressure from city government prompted Sutterfield to move the event to some land his family owns outside Newcastle. Licensed patients can consume cannabis on the premises, but no alcohol will be sold.
The event will now be held inside a large heated tent measuring 200 feet by 100 feet that can hold up to 500 people. As of late November, Sutterfield said more than 150 tickets have been sold.
The event is sanctioned by World Kickboxing Organisation (WKO), and all fighters are now members of the organization for one year, prompting talks of rematch bouts.
There will be a total of 14 kickboxing matches on the card. However, the serious bouts will be the preliminary matches, including three title fights, followed by cannabis industry matches as the main event.
"We went all-out with this. We have insurance. Anyone that's fighting, the day of weigh-ins, they'll come, they'll weigh in, they'll go to the physical with the doctor right there," Sutterfield said. "Once they get that physical, they will also fill out their card and they are actually sanctioned kickboxers for one year with WKO, so if you go and you look at WKO's magazine and stuff that they put out, your name will actually be in there and you will be ranked. Granted, you're probably going to be at the bottom, but you will be ranked."
At least one doctor will be on hand at the event, but Sutterfield said they are in talks to have a second doctor at the fights. Organizers are providing the headgear, gloves and shin guards. Fighters will be required to provide their own cups and mouthpieces, and each set of fighters will decide whether they will use 14-ounce or 22-ounce gloves during their bouts.
The judges for the event are Sean O'Grady, World Boxing Association's former Lightweight Champion of the World; Connie Johnson, former state senator; Greg "Chilly Mack" Wilson, owner of Mr. Mack's; Monica Green, owner of The Green's Bakery; and Jeremy Dedmon, owner of Paragon Extracts and Operation Zero. The referee for all fights is David "Thunder" Cummings, a 13-time world kickboxing champion. The announcer is Larry Reed from The Grinder, and the "ring queen" is Amie Davis.
The partial event card is as follows, in no particular order:

Matt "Action" Jackson vs. Byron Harmon
Johnathan Woody vs. Edgar Rodriguez
Alexx Garza vs. Justin Garroutte
James Brown vs. Dustin Barker
Andrew Blackshear vs. Derek "Hooligan Bean" Workman
Michael "Medic Mike" Sutterfield vs. Kody Armstrong
"Ganja" Gordon Flick vs. "Reefer" Ronnie Welchel
Randall Pegg vs. Robert Barker
Amanda Smith vs. Shelby Dean

The first three matches listed are part of the Stand Up & Fight portion of the event.
"Those are going to be a whole 'nother set of fights. Now, these are trained fighters that do this for a living. I think there's six of those," Sutterfield said. "Three are title fights, real title fights. Those are going to be kickboxing matches. No headgear, no shin guards; I mean full-out, getting-it-on kickboxing matches. These are trained fighters that are fighting for belts that night. We're gonna do all their fights first and then do ours behind that."
Some of the Canna-Grudge matches are professional beefs that will be quashed in the ring, while some are personal grudges and others are just people who want to get in the ring and duke it out with someone.
"My fight is personal with Kody Armstrong. I promise you, I'm going in there to whoop his ass. I guarantee that. … The story behind that is more of a bad business deal, I guess you could say. I might have had him in mind a little bit when this all got started. I guess you could say I just took a negative and turned it into a positive," Sutterfield said. "And here's the thing. After this, we both have agreed to the same thing. Everything is squashed. Everything is forgiven. Now we can move on. We'll never be close like we were or whatever. We ain't gonna go and kick it together, but we're good."
As word has gotten around, those in the cannabis industry as far as Colorado have gotten wind of the idea, so expect more events in the future.
"Our insurance policy that we had to buy on this whole deal, when we purchased that, it's good for one year also, so now our little brains are spinning and we want to hold to do this twice a year. One in Oklahoma City and I've got a spot right outside of Tulsa that's willing to let me do it there," Sutterfield said. "I've already got more people in the business calling me, saying, 'I want in the next one. I want in the next one.' Dude, they're already lining up for another one."