It is the Alcoholmanac, and what goes better with a tasty beverage than delicious bar snacks? Oklahoma City has a plethora of amazing places to choose from, but here are seven spots we can guarantee you'll find something delicious to accompany whatever spirits you choose.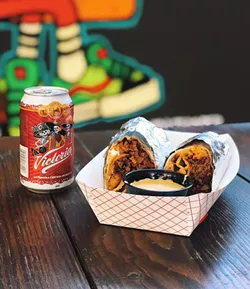 Photo provided
Good Times
Good Times
405-609-3647
1234 N. Western Ave.
Good Times is a fantastic place to grab a cold craft brew or a tasty cocktail, and they're 420 friendly. Chat it up with friends on their spacious outdoor patio, and when you get the munchies, they've got a great menu to satisfy those cravings. The Doritos-encrusted chicken quesadilla is a personal favorite.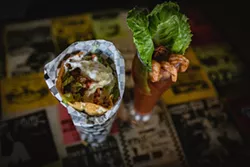 Photo provided
3Cubed
3Cubed Restaurant and Bar
405-242-3333
800 NW 4th St.
3Cubed is a relatively new player on the scene, opening in 2021. Here you'll find delicious new-age cuisine and specialty cocktails all packed with flavor. Try the loaded chicken taco or the porch chop brisket with fries, or take a dive into their slow-cooked BBQ. If you're vegan, they've got some tasty options you're going to love, like mushroom-based wings and portobello burgers.


Photo provided
Ponyboy
Ponyboy
405-896-2037
423 NW 23rd St.
If you're catching a show at Tower Theatre or Ponyboy, make sure to dance your way over to a table and enjoy their menu. It's filled with hamburgers, sandwiches, soups, salads and more, all with a deliciously unique twist. Try the Bruiser burger with a side of the mac and cheese balls — they're some of the best in town.
Photo provided
O Bar
O Bar
405-898-8170
1200 N Walker Ave.
Take in a breathtaking view of the OKC skyline with handcrafted cocktails and an incredible curated menu. Whether you keep it simple with Mediterranean tapas or a charcuterie and cheese board or choose to go all-in with dishes like their duck à l'orange or pan-seared scallops, you're in for a treat.







Photo provided
The Jones Assembly
The Jones Assembly
405-212-2378
901 W Sheridan Ave.
www.thejonesassembly.com
You might go in for the fabulous atmosphere, the delicious drinks, or the live music, but don't pass up The Jones Assembly's fantastic menu. Enjoy amazing soups, salads, wood-fired pizzas, or take a taste of their steak frites or the cacio e pepe, a house-made spaghetti with crushed peppercorn, pecorino romano, and grana padano.
Photo provided
Oak & Ore
Oak & Ore
405-606-2030
1732 NW 16th St.
Oak and Ore is passionate about craft beer, with over 36 beers from Oklahoma and around the world on tap, and they've got a curated menu of bar snacks to help to soak it all up. Try their perfectly cooked wings paired with flavorful sauces like PB&J and chili lime. If wings aren't your thing, try their ahi tuna nachos or the Cubano sandwich.
Photo provided
Sean Cummings Irish Pub
Sean Cummings Irish Pub
405-841-7326
7628 N May Ave.
If you've got a hankering for traditional Celtic music and food, Sean Cummings is the place to find authentic Irish pub fare in OKC. Whether you start with their Guinness wings, a main dish of bangers and mash, or try their delectable fish and chips, every dish here is worthy of enjoying with a cold pint.