We love traditional Tex-Mex and its Okie-adjacent variants (let me bathe in complimentary cheese sauce), but there are a lot of restaurants in the metro area highlighting authentic cuisine from all over Central and South America.
By Jacob Threadgill with photos by Alexa Ace and Gazette / file
Café Do Brasil

NW 11st St., Suite 100
cafedobrazilokc.com | 405-525-9779
This Gazette reader favorite has been in Midtown since before it was a trendy district. Enjoy Brazilian food from the recipe book of owner Ana Davis. Its house-made chorizo is a hit during breakfast, and its dinner menu accommodates a lot of diets (vegan, gluten-free) in addition to delivering excellent seafood.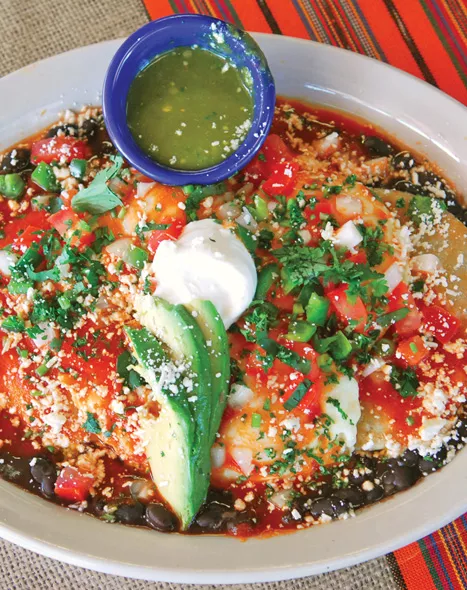 Café Kacao
3325 N. Classen Blvd.

cafekacao.com | 405-602-2883
Compared to Café Antigua, Kacao takes its Guatemalan roots and amps it up a notch with other Central American and North American touches. Of course, it is famous for its weekend brunch, where diners line up even before its 7 a.m. opening time.
Pupuseria El Buen Gusto

6062 S. Western Ave.
405-636-1399
The national dish of El Salvador is the pupusa. Fluffy masa is stuffed with your choice of meat, cheese and beans and served with marinated vegetables and sauces. El Buen offers both corn and rice-based pupusas filled with a variety of pork preparations and exotic ingredients like squash flowers.
Mamaveca Mexican and Peruvian Restaurant
2925 W. Britton Road
mamaveca.com | 405-286-5535
This Norman favorite recently expanded to north Oklahoma City, where its Peruvian dishes are outselling its Mexican fare, according to owner William Chunga. Ceviche and lomito saltado are famous Peruvian dishes, but Mamaveca also offers dishes like tallarines verdes, which is a South American twist on pesto.
Café Antigua

1903 N. Classen Blvd.
facebook.com/cafeantigua1
| 405-602-8984
Classic Guatemalan cuisine is on display at Café Antigua, where its most popular dish, huevos motuleno (housemade corn tortilla layered with black refried beans, two eggs topped with salsa called chirmo, avocado slices and two types of cheese), is simply known to many diners as the No. 7 — even though the menu items aren't numbered.
Naylamp Peruvian Restaurant
2106 SW 44th St.

facebook.com/naylamprestaurante
| 405-601-2629
With a lot of international and geographic influences, Peruvian cuisine is very diverse from the seafood of the coasts to meat and potatoes in the mountains. Naylamp, which now has a Warr Acres location, 5805 NW 50th St., offers everything from the classic pollo a la brasa to tacu tacu, a crispy rice and lentil dish topped with steak.
Zarate's Latin Mexican Grill
706 S. Broadway Ave.
facebook.com/zarateslatingrill
| 405-330-6400
Founded by Peruvian expat Jorge Zarate, his eponymous restaurant has become a hit among Edmond diners over more than a decade with an expansive menu that includes dishes from his homeland and across Central and South America and the Caribbean. Enjoy an eclectic variety of dishes and its excellent complimentary salsa.