Even as the majority of Europeans cringed as English voters decided to leave the European Union, the chefs from France, Italy, Spain and the rest of the E.U. probably smiled quietly to themselves, because soon, they won't have to pretend that fish and chips is "just as good" as their own, distinctive cuisines. Visit these restaurants for a taste of E.U. variety.
By Greg Elwell
Photos Garett Fisbeck and Gazette file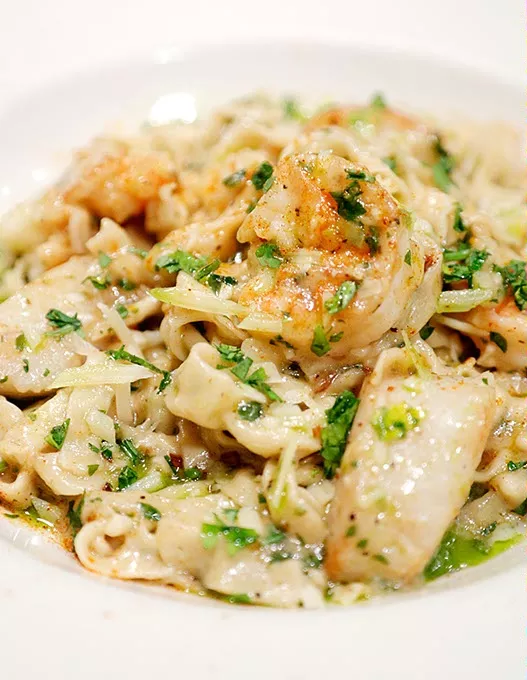 Garett Fisbeck
Seafood provencal fettuccini at Mantel Wine Bar & Bistro in Oklahoma City, Friday, Aug. 28, 2015.
The Mantel Wine Bar & Bistro
201 E. Sheridan Ave.
405-236-8040
Say "Bonjour!" to European favorites at longtime Bricktown restaurant The Mantel. Start with a shared appetizer of honey and fig-topped baked Brie or the decadent blend of dijon, shallots and a quail egg on the steak tartare. Then let those taste buds immigrate to Italy with housemade lobster ravioli or a heaping bowl of creamy fettuccine Alfredo with a glass of vino from The Mantel's palate-pleasing wine list.
Pan seared halibut with herb pasta, a seasonal menu item at The Metro Wine Bar & Bistro. mh
The Metro Wine
Bar & Bistro
6418 N. Western Ave.
405-840-9463
Wander up Western Avenue to find one of Oklahoma City's oldest fine-dining establishments. The Metro Wine Bar & Bistro has been home to several of the city's best chefs. Dishes range from well-loved classics like steak frites and saffron risotto with shrimp and scallops to rarer fare like sautéed veal liver with caramelized onions. Looking for something lighter? Check out the chilled leek and potato vichyssoise.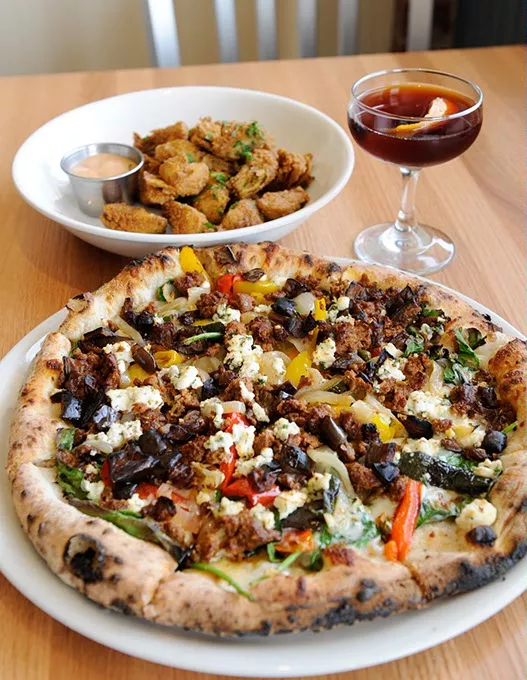 Garett Fisbeck
Lamb sausage pizza, fried artichoke hearts, and a Antiquato cocktail at Pizzeria Gusto in Oklahoma City, Wednesday, Jan. 28, 2015.
Pizzeria Gusto
2415 N. Walker Ave.
405-437-4992
Of course Pizzeria Gusto serves great pizza. No need to lament the lack of pepperoni — the soppressata pie has plenty of that sharp sausage bite — when there are so many intriguing flavors to try. The eatery also offers plenty of alternatives to pizza. Its chopped liver crostini with bacon, garlic, Balsamic, tomato crudo and capers is delicious, as is the crispy gnocchi with braised short rib. A best bet is the tuna conserva salad, which is as filling as it is tasty.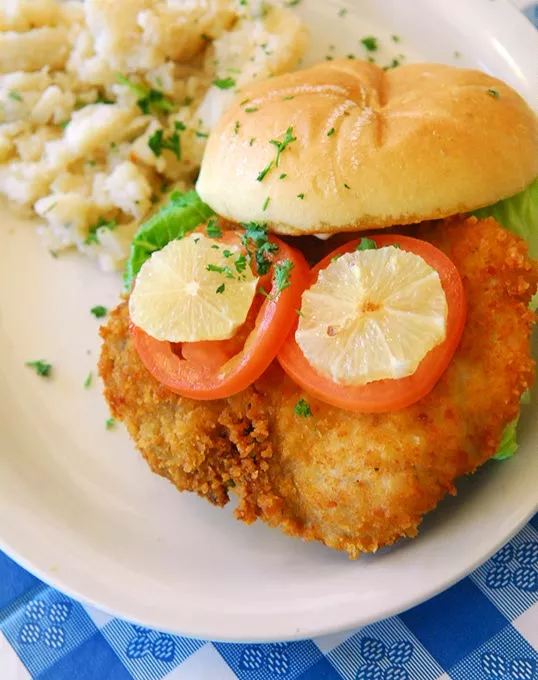 Das Boot Camp
229 E. Main St., Norman
405-701-3748
Jäger means "hunter" in German, but it's also a kind of mushroom-bacon gravy Das Boot Camp serves on jäger fries — french fries covered in roasted pork, melted Swiss cheese and gravy — and jägerschnitzel, a golden, hand-breaded pork loin served with eggy spätzle noodles. If that sounds heavy, consider ordering a few boots of Royal Bavaria Brewery beer to wash it down. While you're there, enjoy an Oktoberfest beer.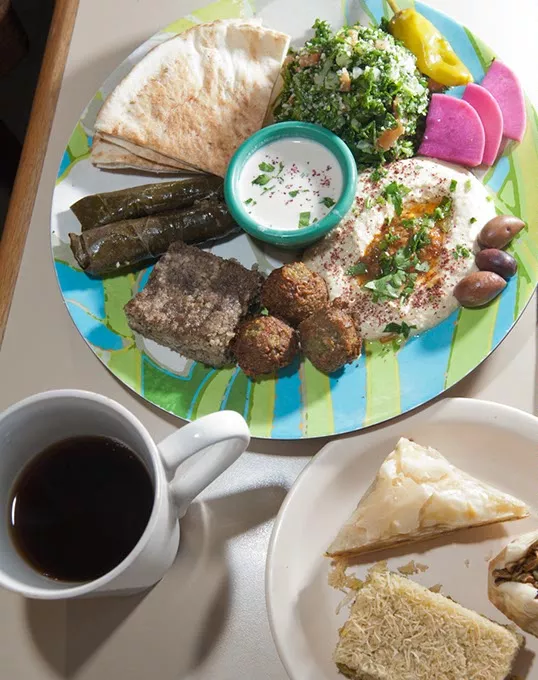 Mediterranean Imports & Deli
5620 N. May Ave.
405-810-9494
There are two kinds of people in the world: those who love fresh hummus and those who have not had fresh hummus. Anyone in either group would be well advised to visit Mediterranean Imports & Deli, where the hummus is so creamy and smooth, it already ordered and paid for your favorite drink at the bar. As the weather turns chilly, be sure to check out the rotating roster of soups, including minestrone and lentil. But watch the clock. The kitchen closes at 6 p.m.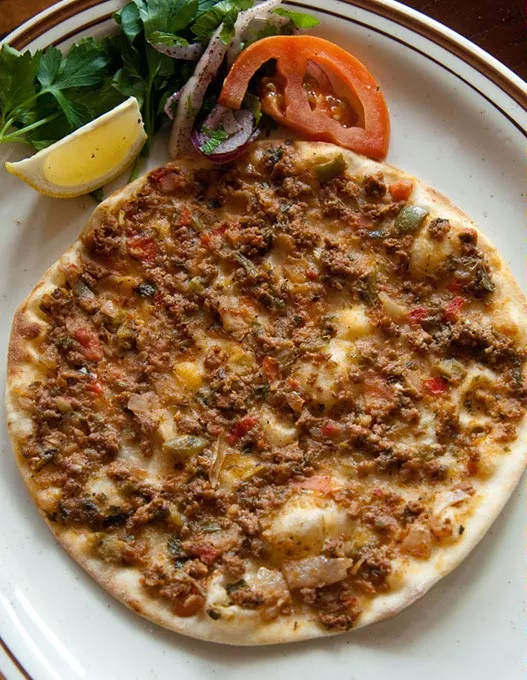 A single serving of Turkish pizza fresh baked at Istanbul Restaurant. mh
Istanbul Turkish Cuisine
3604 N. May Ave.
405-943-4000
Not to be confused with Constantinople, Istanbul is a Turkish delight right here in Oklahoma City. Ease into something familiar like falafel or tabbouleh before diving headfirst into Istanbul's varied menu. Adana kebab blends ground lamb with red pepper, onion, garlic and parsley for a meaty dinner with a chargrilled flavor. Lahmacun is a Turkish spin on pizza with a thin crust topped with ground beef and lamb. For dessert, save room for sütlaç rice pudding with pistachios.
Garett Fisbeck
Devil Dog at Ingrid's Kitchen in Oklahoma City, Tuesday, May 12, 2015.
Ingrid's
3701 N. Youngs Blvd.
405-946-8444
Walking into Ingrid's, diners can expect to see long tables filled with happy diners eagerly chowing down on delicious bratwurst and German delicacies, including braunschweiger sandwiches and chicken schnitzel. But don't eat too much or there won't be room for Ingrid's ridiculous variety of cookies, cakes and pastries, including the cream-filled Devil Dog. Luckily, Ingrid's staff is happy to pack dessert to go.