May 29 is National Biscuit Day. Take advantage of the bevy of great biscuit options we have in the city. There are huge swaths of the country that are jealous of our easy access to buttery, flaky biscuits.
By Jacob Threadgill with photos by Jacob Threadgill, Gazette / file and provided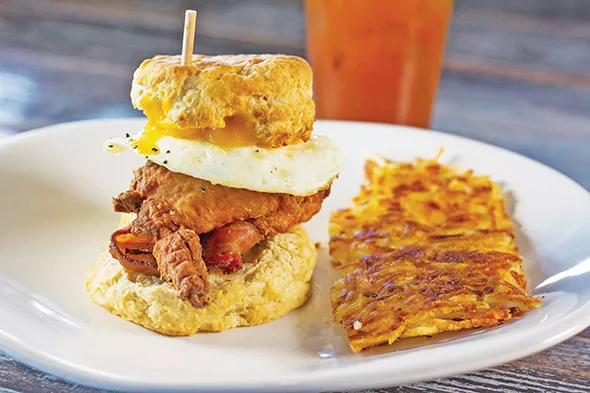 Neighborhood JA.M.
15124 Lleytons Court, Suite 103
thatsmyjamok.com | 405-242-4161
To keep up with customer demand, this breakout breakfast favorite has a dedicated person on staff to prepare biscuits throughout its service. It is a testament to Neighborhood JA.M.'s overall popularity and its tender and flaky biscuits that can be ordered by the basket with a choice of fresh fruit jam and apple butter.


The Press
1610 N. Gatewood Ave.
thepressokc.com | 405-208-7739
The biscuit option at The Press is large enough to be its own meal, but beyond its version of biscuits and gravy and a fried chicken biscuit sandwich with barbecue sauce, the biscuit serves as the world's great $2 side item. Use it to sop up some of The Press' gravy. Who does not love a great sop?


Aurora Breakfast, Bar & Backyard
1704 NW 16th St.
shinewithaurora.com | 405-609-8854
Customers can enjoy Aurora's signature crispy thyme biscuit as a composed dish on its own section of the menu. You are not just getting a biscuit on the side with dishes like Plaza Jam, which tops the biscuit with bacon, whipped cream cheese, scrambled egg and tomato jam. Aurora serves a smoky pepper gravy that tops its biscuits, or diners can order its spin on lox with cold-smoked salmon.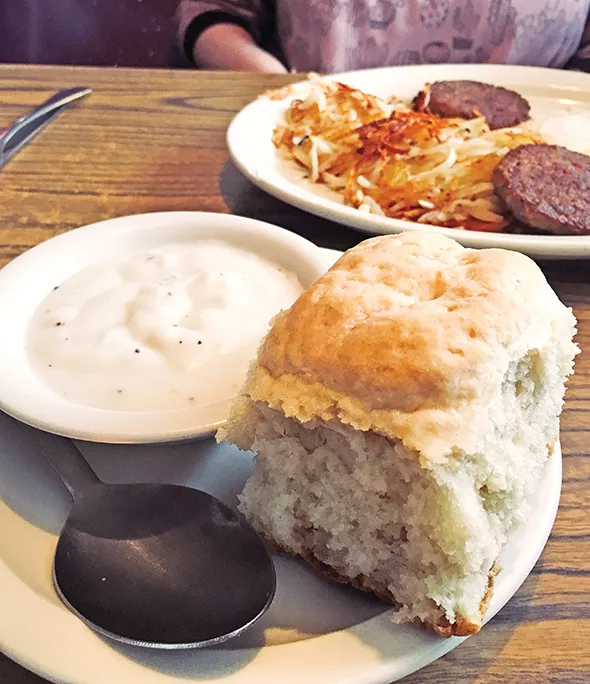 Hungry Frog Restaurant
1101 N. Pennsylvania Ave.
405-524-0686
This venerable diner has been around since 1972, and it is still firing on all cylinders, but you have got to act quickly to get there before its 2:30 p.m. close and find another option on Sundays, when it is not open. Its biscuits are more than 3 inches tall and are served with top-notch classic sausage gravy. There is no need to hide a subpar biscuit under a mountain of gravy at Hungry Frog like some other places.


HunnyBunny Biscuit Co.
429 NW 23rd St.
hunnybunnybiscuitco.com | 405-605-4395
The key to a flaky biscuit is to use cold butter that will retain its shape when making the dough to create steam during the baking process. The biscuits at HunnyBunny are perfectly flaky and have a brown but soft top. You can get them on either side of a sandwich, griddled on the flattop like French toast or as part of an entrée like chicken pot pie.


Buttermilk
605 NW 28th St., Suite A
buttermilkokc.com | 405-605-6660
The huge, black pepper buttermilk biscuits with crispy tops are perfect for the restaurant's oversized sandwiches. If you have not been to Buttermilk in a few months, it unveiled some new menu items for its one-year anniversary that include full plates and more sweet items like s'mores biscuits and strawberry shortcake.


Sherri's Diner
704 SW 59th St.
405-634-4796
Do not worry about pairing a biscuit with sausage gravy that is light on the meat at Sherri's, where the gravy is finished with crumbled sausage to increase the flavor of the dish. Sherri's baked goods keep people coming back to the effervescent and kitschy diner, and the biscuits are no exception. Filled with buttery layers and a crispy top, the biscuits are all you need.