We're not talking about cupcakes or a small cake bite. These are either full-sized cakes or decadent slices that will fully satisfy your craving for moist and sweet desserts that a pie can just never touch.
By Jacob Threadgill with photos by Alexa Ace and Gazette / file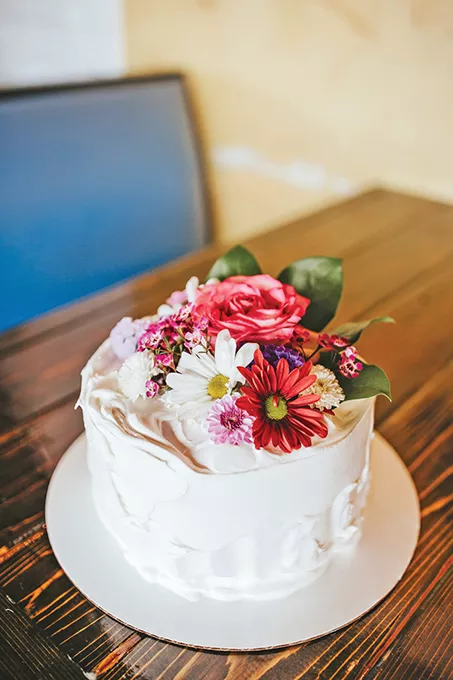 Raspberries 'n' Crème
2925 Lakeside Circle
raspberriesncreme.com | 405-755-3560
You'll be hard-pressed to find a more aesthetically pleasing cake than the flower-topped ones from Raspberries 'n' Crème, but the cakes are more than just for show. There are 14 cakes on the menu, but the signature cake is milk chocolate cake with a layer of raspberries and whipped crème. The ribbon cake is one chocolate cake, one sour cream white cake with a layer of Italian crème and strawberries between layers.
The Red Cup
3122 N. Classen Blvd.
theredcupokc.com | 405-525-3430
The Red Cup shows that you don't need eggs and butter to make a delectable dessert. Chef Patrick Clark has a rotating selection of cake slices for sale that can be eaten with coffee for breakfast, as a lunchtime treat or taken home if you're a stickler for waiting until after dinner.
Legend's Restaurant
1313 W. Lindsey St., Norman
legendsrestaurant.com | 405-329-8888
This venerable restaurant is anything but a relic, with new and inventive menu items right alongside the classic ones that have kept it in business for 50 years. Its cakes — particularly the lemon crème layer cake and Coca-Cola cake with vanilla ice cream — have earned national magazine recognition over the years, and for good reason.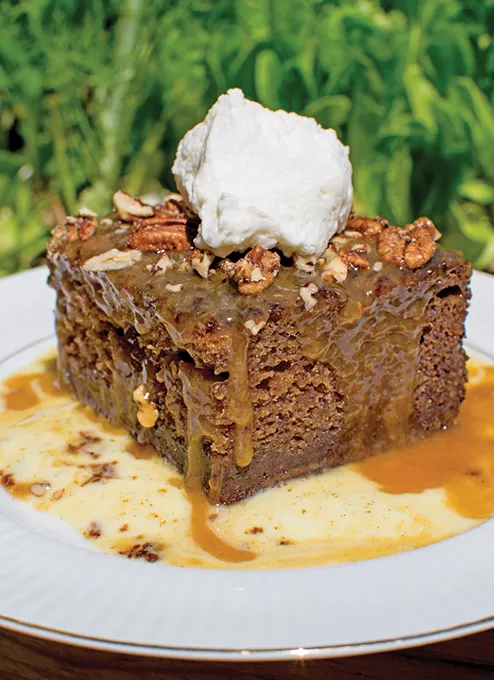 Whiskey Cake Kitchen & Bar
1845 Northwest Expressway
whiskeycake.com | 405-582-2253
One of Oklahoma City's most beloved restaurants is this locally owned franchise. It would be impossible to complete this list without including the restaurant's namesake dessert. A toffee torte is moistened with a bourbon anglaise, spiced pecans and whipped cream. The cake is served warm, but it's so good that you'll eat it all before the cream melts.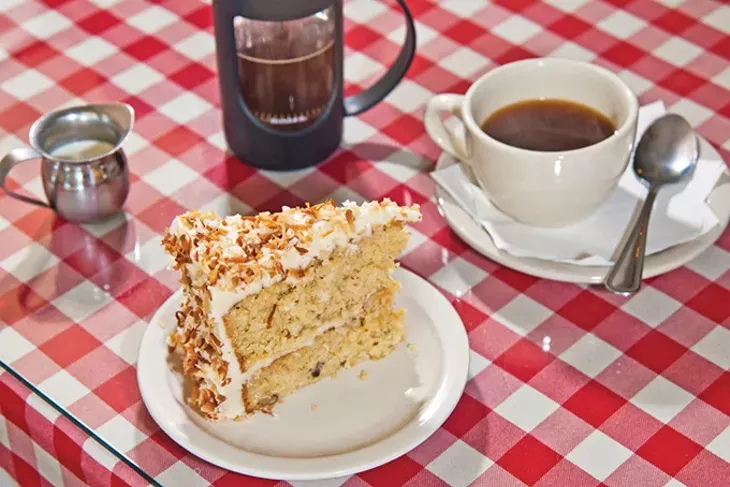 Gaberino's Homestyle Italian
400 Ed Noble Parkway, Norman
gaberinos.com | 405-310-2229
The Gaberino's Italian Cream Cake is so popular that it has been suggested that you order it first with your meal just to secure a piece before it runs out. The restaurant puts a spin on the classic cake by adding nuts for a texture contrast. Grab a piece with some French press coffee, and you might order a second piece rather than making your way to the entrees.
La Oaxaqueña Bakery
741 SW 29th St.
laoaxaquenabakeryokc.com | 405-635-0442
The confluence of evaporated milk, condensed milk and heavy cream used to soak a sponge cake in a traditional tres leches cake creates one of the most decadent bites in all of dessert land (Like Candy Land, but more substantial). La Oaxaqueña has tres leches cakes ready to go in its cooler, but you can also place special orders.
Cheever's Cafe
2409 N. Hudson Ave.
cheeverscafe.com | 405-525-7007
You might associate carrot cake with grandparents, but the dessert actually dates back to carrot pudding eaten in Europe during the Middle Ages. Cheever's Cafe shows that the classic dessert is still relevant and tasty in the 21st century with its huge slice of six-layer carrot cake with requisite cream cheese frosting. It's a group event unless you plan on making it your entire meal.