How do you feel about tentacles? Would you eat something that can stare back at you? Even in the midst of the safe and non-spooky chicken-finger craze, the metro area is home to plenty of foods not fit for the faint of heart. While some of the dishes in this list might sound suspect, every one of them is certifiably delicious. This Halloween season, picky eaters should challenge themselves and fearlessly tackle the foods from which others flee.
By Ben Luschen Photos by Garett Fisbeck and Gazette / file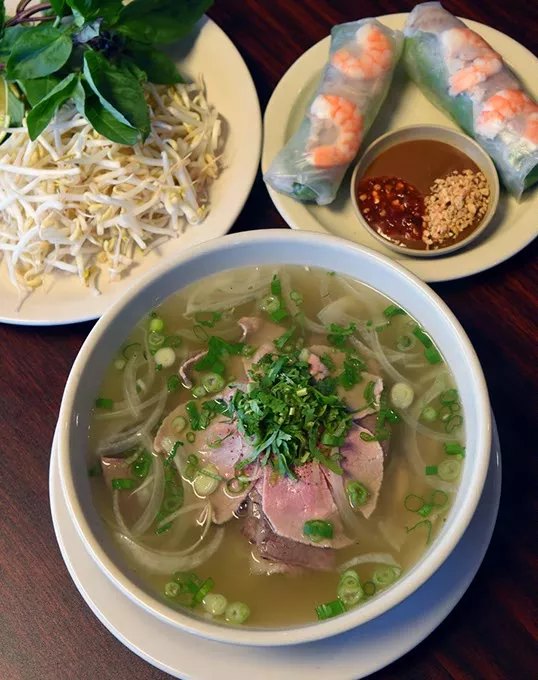 Mark Hancock
P1, Rice Noodle Soup with steak, Brisket, Tripe, Tendon, Flank and Fatty Flank at Pho Hieu, 11-5-15.
Cattlemen's Steakhouse
1309 S. Agnew Ave.
405-236-0416
The undead are not the only ones craving braaaains these days. In fact, the iron-bellied cowpokes that frequent Cattlemen's Steakhouse for breakfast have already been ordering calf brains and eggs for years. This is not a place that likes to waste animal parts. Cattlemen's is also famous for its specialty lamb fries, which are kind of like chicken nuggets except made with 0 percent chicken breast and 100 percent lamb testicle.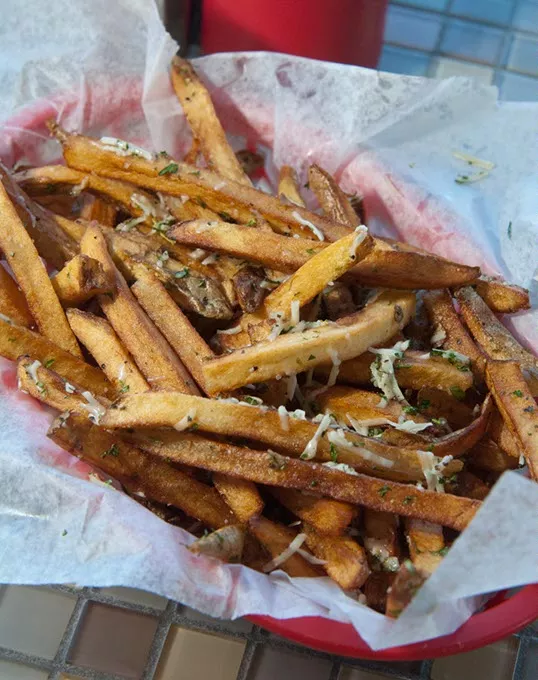 Duck Fat Fries at Mutts. mh
Golden Phoenix
2728 N. Classen Blvd.
405-524-3988
We Americans love our meat — well, as long as it does not resemble in any way the animal from which it came. But when one orders a whole Peking duck at Golden Phoenix, one gets the whole Peking duck, head and all. For those feeling bored or lonely, it can be nice to have an extra head at the table to talk to and gossip with during dinner. Give it a name, even! Or don't — whichever you're comfortable with.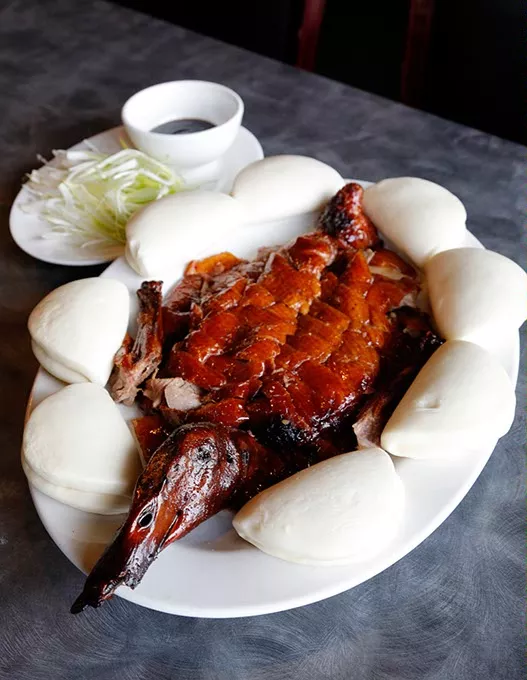 Garett Fisbeck
Peking Duck at Golden Phoenix in Oklahoma City, Thursday, May 14, 2015.
Mariscos Mazatlan
3326 S. Robinson Ave.
facebook.com/mariscosmazatlanok
405-631-1755
Ah, octopus. It's like the chicken of the ocean — if chickens were eight-armed, big-brained sea predators with the power of camouflage, that is. Many landlocked Okies have a hard time palliating the mollusk. (No one ever has to worry about suction cups on a cow.) But the seafood geniuses at Mariscos Mazatlan can change stubborn minds with their beautifully plated Mar y Tierra (sea and land), a combination of octopus, shrimp, beef and other meats.
Garett Fisbeck
Azada, Milaneza, and Lengua tacos at Carnitas Michoacan in Edmond, Thursday, May 26, 2016.
Mutts Amazing Hot Dogs & Burgers
1400 NW 23rd St.
405-525-3647
The first time someone sees duck fat fries on the Mutts menu, it's natural to feel a little skeptical. Duck fat certainly does not sound like something someone would want to eat. But the first bite of Mutts' duck-fat fried potatoes drizzled in truffle oil is always enough to convert even the most squeamish eaters. Order them covered with chili and cheese and they will come out from the kitchen in a shiny silver dog dish. But don't let the receptacle frighten you. This is people food at its finest.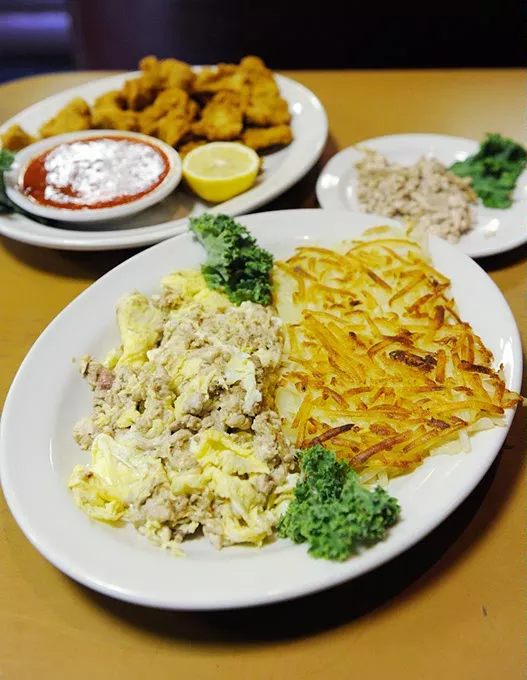 Garett Fisbeck
Calf brains and eggs, lamb fries, and a side of brains at Cattlemen's Steakhouse in Oklahoma City, Tuesday, Oct. 27, 2015.
Pho Hieu
1615 S. Mustang Road, Yukon
405-265-1220
Open up a restaurant in Oklahoma called International House of Cow Stomach, Tendon and Fatty Flank Soup (IHOCSTFFS) and no one is likely to visit the establishment. Open up a restaurant with pho somewhere in the name and patrons will flock from near and far for a bowl of the popular Vietnamese noodle dish. To be fair, there are plenty of less intimidating meats Yukon's Pho Hieu can include in its comforting soup bowls, but not much complements pho quite like the traditional odds and ends.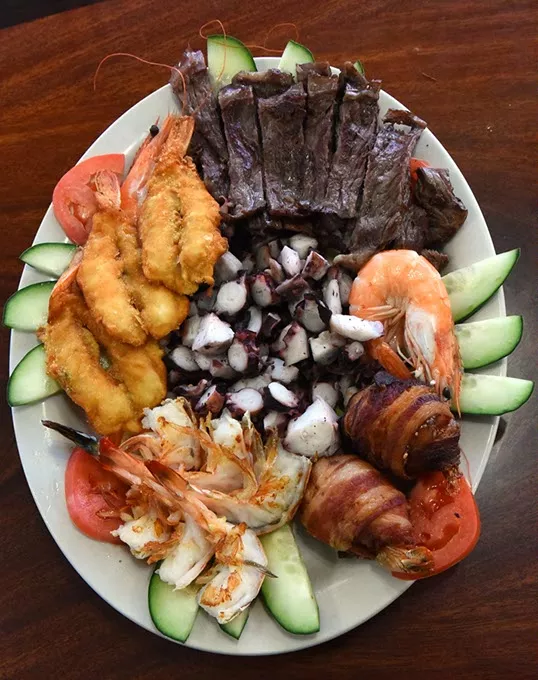 Mark Hancock
The Mar y Tierra, "land and sea" dish, with octopus in the center, surrounded by creatures from both land and sea, including shrimp wraped with bacon, at Mariscos Mazatlan on South Robinson Avenue in Oklahoma City, 1-27-16.
Taqueria Carnitas Michoacan
306 W. Edmond Road, Edmond
405-341-0356
We can't say what it is like to French kiss a cow, but if it is like eating the chewy lengua (beef tongue) tacos at Edmond's Taqueria Carnitas Michoacan, sign us up! The street taco is gaining popularity in the metro area after years of Tex-Mex dominance. With that, ideally, comes an appreciation for adventurous meats like lengua, cabeza (beef head) and buche (pork stomach). If none of those sound appealing, Carnitas Michoacan offers azada (steak) and pollo (chicken) varieties as well.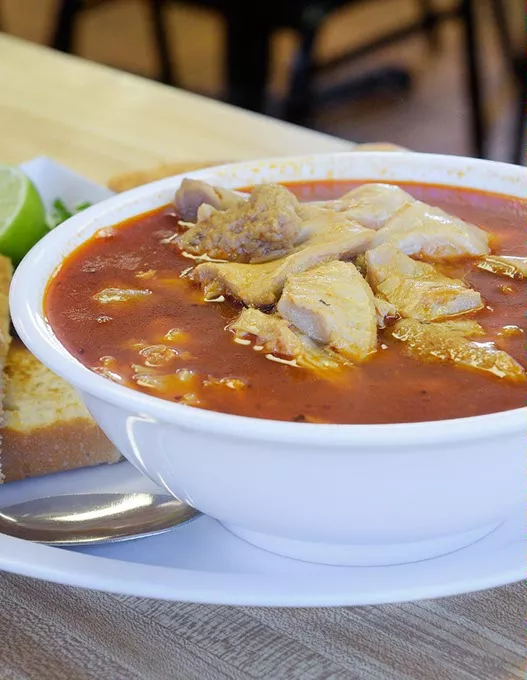 Garett Fisbeck
Menudo at Taqueria El Rey, Monday, Oct. 3, 2016.
Taqueria El Rey
100 S. May Ave.
405-270-7894
While the aforementioned pho is very much in Oklahoma City's culinary mainstream, there are members of the public who still turn their nose up at Mexican menudo, a soup dish similarly made with tripe (beef stomach). The red chili broth also includes hominy and onions. Time will tell if the soup gains as wide a popularity here as it already has in some other cities. Until then, Taqueria El Rey has an expansive menu of tacos, burritos and other options from which to choose.