Snow cones are a sweet summer treat, especially in Oklahoma, where average July temperatures are in the upper 90s. They come in different shapes and sizes, but whether you're a casual shaved ice fan or a devotee forever in search of that perfect flavor combination, Oklahoma City offers an array of spots to snow cone and chill.
By Megan Prather
Photos by Garett Fisbeck and Garett Fisbeck / file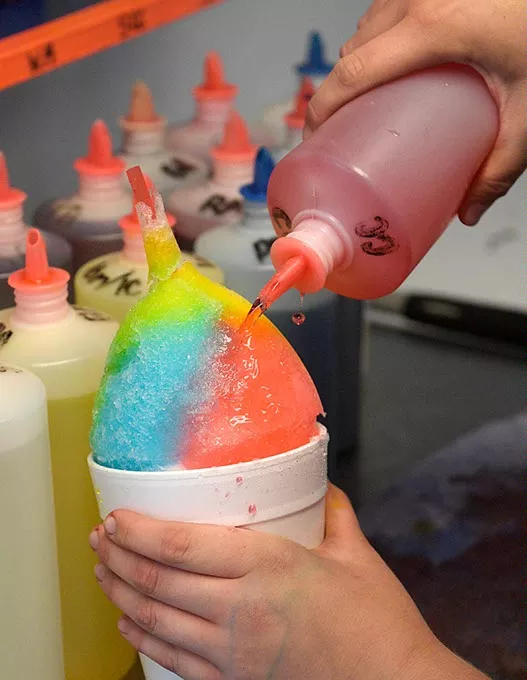 Garett Fisbeck
Snow cone at Shimmers Sno Cones Wednesday, July 12, 2017.
Shimmers Sno Cones
Multiple metro locations
405-471-1464
This is a little stand with a big flavor selection. Enjoy classics like cherry or grape or expand your lip-smacking repertoire with something from its specials menu like the Thunder (tangerine, Silver Fox and Polar Punch), Batman (banana and bubblegum) and Pistol Pete (orange, Silver Fox and cream). Cutting your sugar intake? Good! For you, we suggest trying sugar-free versions of black cherry or the ever-popular tigers blood.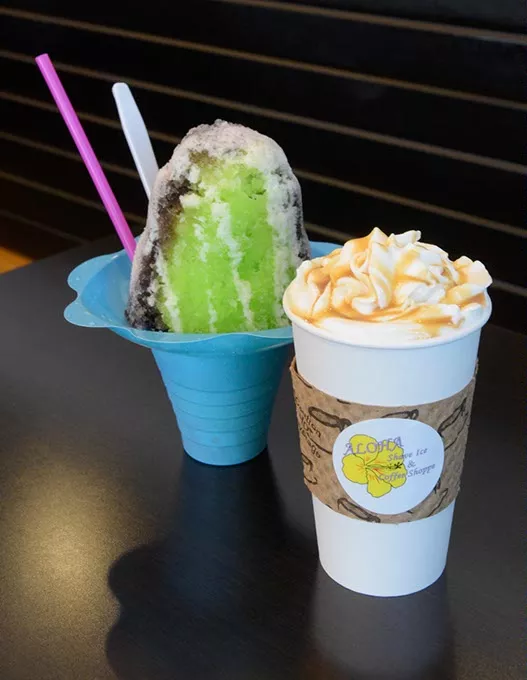 Garett Fisbeck
Snowcone and coffee at Aloha Shave Ice & Coffee Shoppe, Wednesday, Dec. 21, 2016.
Aloha Shave Ice + Coffee Shoppe
8000 NW 39th Expressway, Bethany
facebook.com/alohashaveicecoffeeshoppe
405-633-7778
This family-owned shave ice shop serves up freshly ground, locally roasted coffee and espresso as well as smoothies, tea, soups and sandwiches, bagels and muffins. Its shaved-ice snowballs are served with ice cream on the bottom and cream on top, making this an authentic Hawaiian-style treat, in flavors from cherry to German chocolate cake. Sizes range from kids to an 80-ounce pail. Yes, we just said a pail.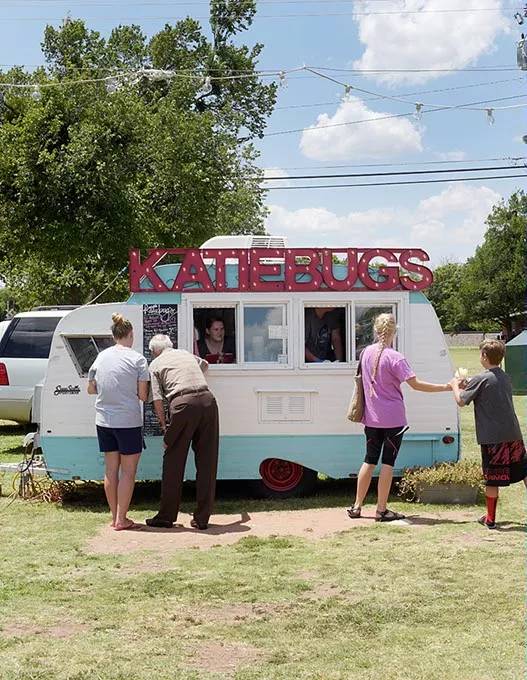 Garett Fisbeck
Katiebug's Shaved Ice in Edmond, Wednesday, July 12, 2017.
Katiebug's Trailer Park
103 N. Broadway, Edmond
405-397-4812
This mother-daughter duo run a food truck trailer park at 103 N. Broadway, and their vintage 1958 Cardinal "canned ham" travel trailer truck serves shaved ice and hot chocolate year-round. Everything Katiebug's makes is natural or organic, from the shaved ice's syrup to the hot cocoa's artisan marshmallows.All the syrups are handcrafted using pure organic cane sugar, fresh fruit, local herbs and locally blended teas. If you're want it on the go, check its social media accounts.
Garett Fisbeck
The Party at Snow S'more, Wednesday, July 12, 2017.
Snow S'more
Mobile
720-251-1156
This local food truck offers s'mores, craft coffees and, of course, its shaved ice served in a ball as big as your head. While the flavors offered do rotate, a must-try is its signature S'more Cone, a classic graham cracker, marshmallow and chocolate campfire treat with a chilled-out summer twist. You'll find this truck just about everywhere, from Edmond's Heard on Hurd monthly street festival to Midtown OKC's The Bleu Garten. Check its social media for updates.
Garett Fisbeck
Chamango at Raspados Hawaiian, Wednesday, July 12, 2017.
Raspados Hawaiian
5016 N. MacArthur Blvd., Warr Acres
405-440-0302
From Hawaiian burgers to Dorielotes, Raspados Hawaiian serves up a little bit of everything; however, its shave ice steals the show. The 40 flavors it serves are all-natural and made with fruit. Obispos are made with fresh fruit and come in four flavor varieties — mango, strawberry, pineapple and banana — and are topped with a scoop of vanilla ice cream. If Warr Acres seems like a bit far to drive (hey, it's closer than Hawaii), check out Raspados at 6041 NW 23rd St. in OKC.
Garett Fisbeck
Snowcone with gummy toppings at Mr. Chills Snow Cones Wednesday, July 12, 2017.
Mr. Chills Snow Cones
1004 SE 44th St.
405-763-2270
Open daily, this tiny Mr. Chills Snow Cones stand offers 50 flavors with tantalizing names like Peppermint Patty, tamarindo, Super Hero, Cry Baby, dill pickle, Maui Wowee, Pink Mermaid and Red-Hot Cajun. For 50 cents more, top it off with your choice of gummy bears, Skittles, whipped cream, ice cream, chili lime, cream, sprinkles, chamoy or Nerds. Visit its walk-up window during happy hour 2-4 p.m. Monday-Thursday for 50 cents off any snow cones (excluding extra small).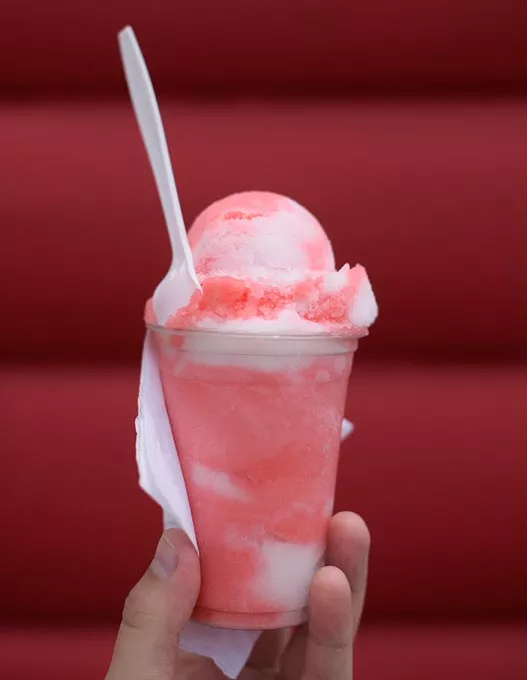 Garett Fisbeck
Cotton Cake at City Flavors, Wednesday, July 19, 2017.
City Flavors
4420 SE 44th St.
facebook.com/cityflavorswaterice
City Flavors brings authentic Philadelphia-style water ice to OKC-area shave ice fans. Now, you might be wondering, "What the heck is water ice?" "My editor would probably tell me that seems a little redundant," and/or "Is that just a clever name for snow cone?" A traditional snow cone has syrup poured over the ice, where water ice is made in more like ice cream and the ingredients are frozen while being mixed in. With 16 flavors to choose from, we bet you'll discover a new favorite frozen summer treat.