We are less than two weeks away from Valentine's Day, which means chocolate season is in high gear. Fulfill your chocolate craving at these seven locations.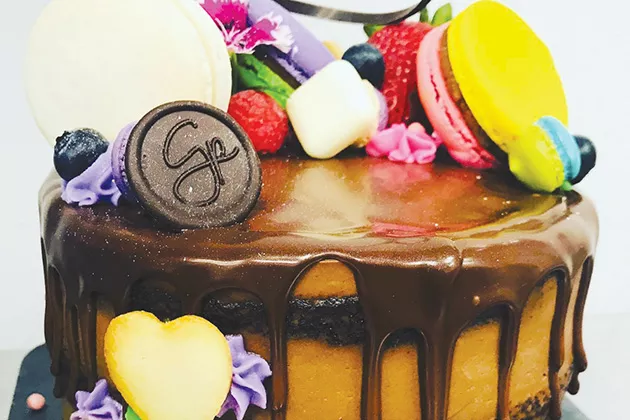 Ganache Patisserie
13230 Pawnee Drive, Suite 114
ganacheokc.com | 405-286-4068
Sometimes a name says it all. There is no finer stop for imported European chocolate than this true patisserie from classically trained owners. The amount of items working with chocolate at Ganache is almost endless. You can go big with a ganache-covered chocolate mousse cake or get or a chocolate pecan tart or a chocolate macaron or a chocolate croissant or a, well, you get the idea.
La Baguette Deep Deuce
100 NE Fourth St.
labaguette.com | 405-445-6272
Do not wait until the last minute to get a sweet treat for your sweetie on Valentine's Day. La Baguette in Deep Deuce offers a variety of cakes, pies and housemade chocolate treats. It offers cakes in three sizes, and you can order a double chocolate cake or something a little more interesting like a chocolate divine, which has a layer of white chocolate on the bottom.
Ava's Premium Toffee
1408 N. Portland Ave.
avaspremiumtoffee.com | 405-265-5986
Ava's puts the P in premium by using the finest ingredients. The toffee is made with butter from grass-fed cows, organic coconut and cane sugar and organic Madagascar vanilla and is topped with high-grade Belgian chocolate and Himalayan pink salt. In addition to the classic almond toffee, it also offers sea salt and pecan toffee and toasted coconut cashew toffee.
Pie Junkie
1711 NW 16th St.
piejunkie.com | 405-605-8767
Pie Junkie is rightfully one of the best dessert destinations in Oklahoma City. Even if you don't like regular pie it has crème-filled whoopie pies (which are more like cookies than pie). One of Pie Junkie's signature pies is the Drunken Turtle, which has a graham cracker crust, fudgy filling and salted caramel topping. The French Silk and S'more pies are also great chocolate options.
Flip's Wine Bar & Trattoria
5801 N. Western Ave.
flipswinebar.com | 405-843-1527
There are a lot of people that have the ability to forgo Flip's tasty selection of pizzas, pasta and other Italian favorites and go straight for the dessert menu. We can't blame them, either. Why deny yourself what you really want? The gooey chocolate pudding is topped with fresh whipped cream that will warm you up with comfort decadence.
Belle Kitchen
7509 N. May Ave.
belle-kitchen.com | 405-430-5484
Dark chocolate macarons have helped put Belle Kitchen on the proverbial map, along with its collection signature doughnuts and savory items. Using high-quality Belgian chocolate, the macarons remain one of the top-selling items. It allows the ganache to rest for 24 hours to ensure that characteristic macaron "chew."
Iron Star Urban Barbecue
3700 N. Shartel Ave.
ironstarokc.com | 405-524-5924
If it is possible to save room after a meal of high-quality barbecue, Iron Star offers a pair of desserts that will satisfy chocoholics. The double chocolate bread pudding is finished with a Grand Marnier glaze to make you feel fancy, and the giant chocolate cake lives up to its name, as it is big enough for two to eat.