The combination of booze and ice cream is nothing new. Junior's has made it a classic pairing at the venerable establishment, but ice cream has taken a different look in recent years, including the phenomenon of "stir-fried" or rolled ice cream, which started in Thailand and has gone worldwide thanks to viral videos. Whether you're looking for a cool treat with a buzz or a dessert that is all the buzz, here are seven places that have you
covered.
By Jacob Threadgill | Photos provided and file
11 Below Ice Cream Roll
2237 W. Memorial Road, Suite 112
facebook.com/11below | 405-309-9360
Rolled ice cream is sometimes called "stir-fried" ice cream
because it is formed on an anti-griddle, which flash-freezes instead of heating
up. 11 Below allows you to choose a base flavor and then select a secondary
fruit or even an Oreo to be chopped into the base while it freezes. Your final
rolled ice cream can even have whipped cream layered into its rolls for
something unique.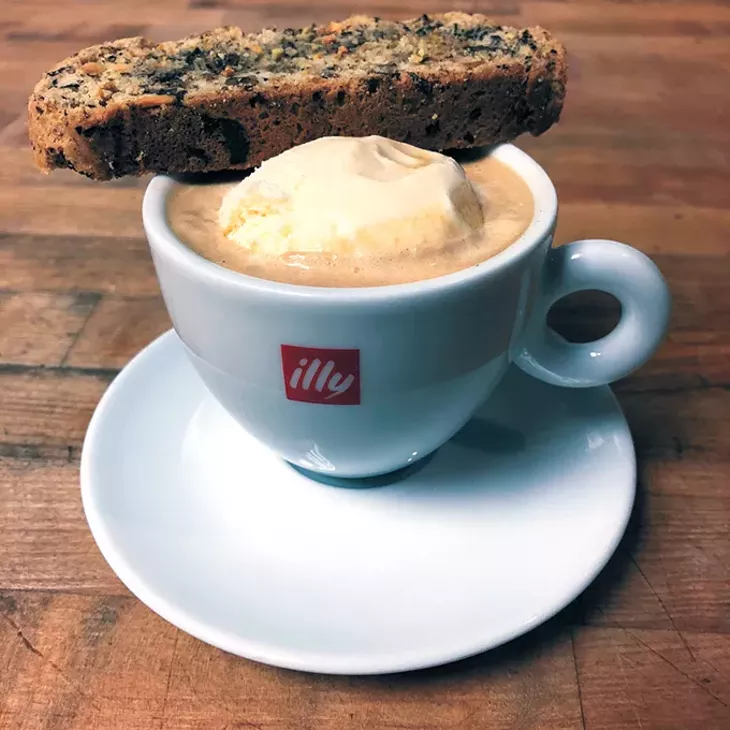 En Croûte
6460 Avondale Drive, Nichols Hills
encrouteokc.com | 405-607-6100
All of the ice cream used at En Croûte and its sister restaurant, St. Mark's Chop Room & Bar is made in-house. This is most certainly the case for the vanilla bean ice cream that is combined with Italian espresso and Frangelico hazelnut liqueur for the En Croûte Affogato, which comes with a biscotti cookie. En Croûte also offers a healthy selection of dessert wine.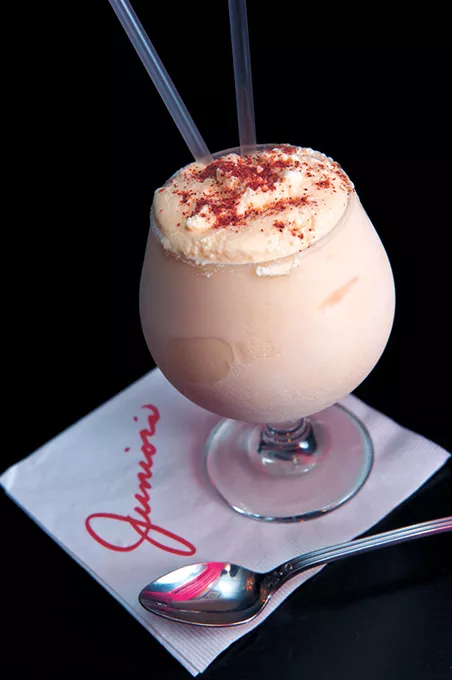 Junior's
2601 Northwest Expressway
juniorsokc.com | 405-848-5597
As if the red walls and red leather chairs weren't enough to transport you back in time, the menu will make you feel like you've entered into a Mad Men sequel. The Brandy Ice at Junior's is made the same way founder Junior Simon made it when he opened the restaurant in 1973. A blend of brandy, cacao, ice cream and nutmeg, it's a milkshake that is plenty big enough to share.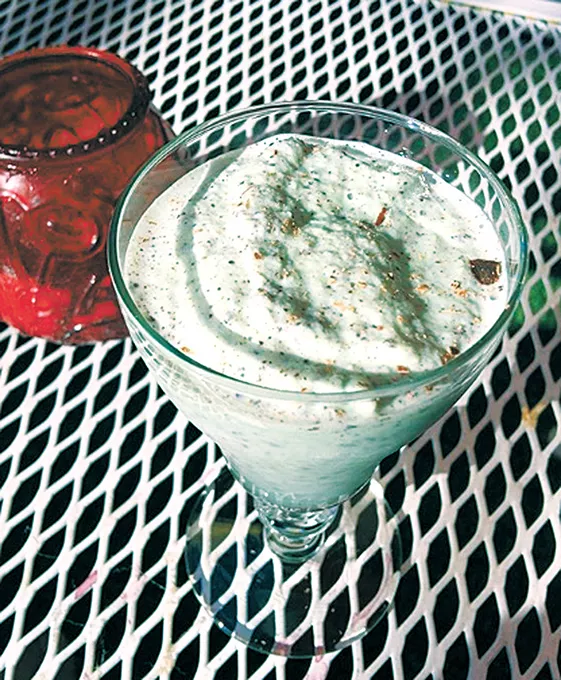 The R&J Lounge and Supper Club
320 NW 10th St.
rjsupperclub.com | 405-602-5066
The grasshopper is an iconic boozy milkshake. With shots of crème de
menthe and crème de cacao, it's like an alcoholic version of a Thin Mint. The
traditional drink is made with heavy cream, but R&J takes it to another
level by blending mint chocolate chip ice cream into the drink.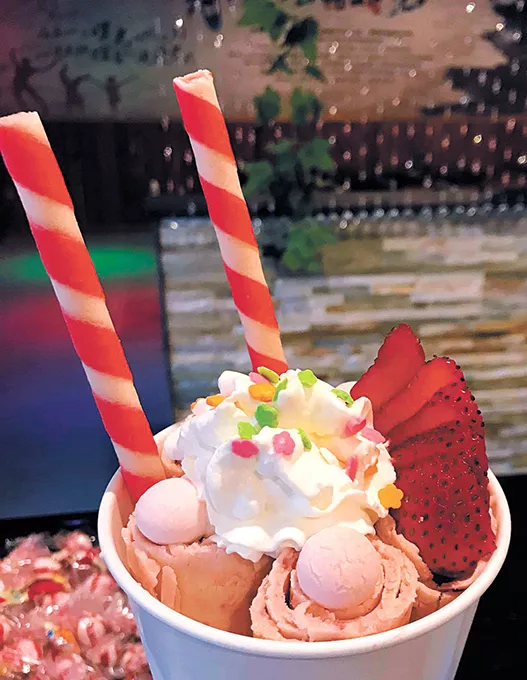 Party Base
3417 N. Classen Blvd.
405-609-2896
You might have seen the neon lights along Classen Boulevard, and while Party Base is certainly a place to have fun — it hosts karaoke every weekend night — it also offers rolled ice cream in addition to one of the best seafood selections in the city. You can choose from eight base flavors, which are then topped with fresh fruit and candy.


Snow Ice Cream Roll
Penn Square Mall | 1901 Northwest Expressway
snowicecreamroll.business.site
347-260-5068
Remember when Dippin' Dots was the "ice cream of the future" at mall kiosks? Snow has its own storefront and brings the latest ice cream craze to Penn Square Mall. It offers exotic flavors like purple yam, red bean and green tea in addition to fruit-forward base ice cream like banana, blueberry and mango. Top yours with fun treats like marshmallows, gummy berries and popping boba.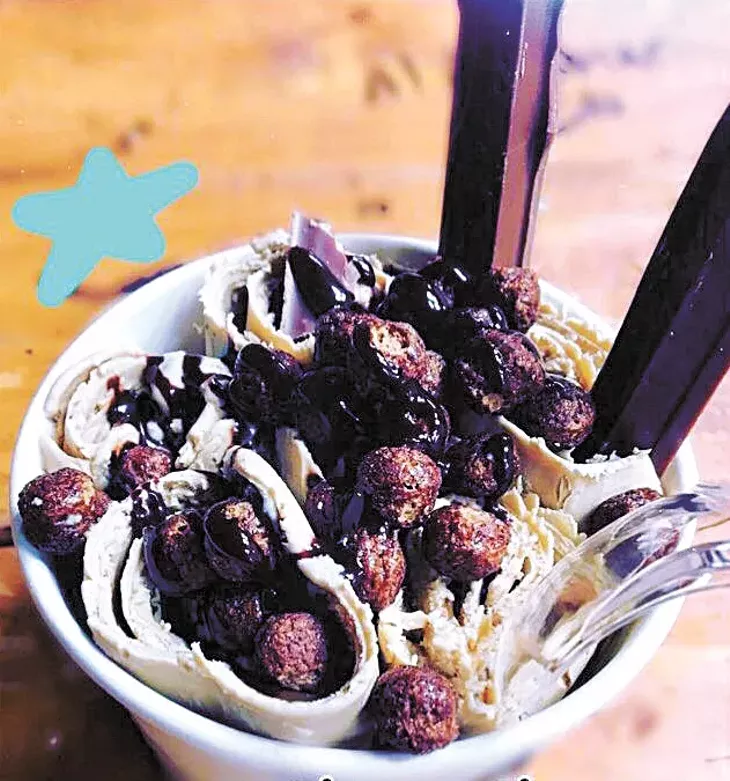 Roll N' Roll Ice Cream
7819 NW 23rd St., Bethany
facebook.com\rollnrollicecreamok | 405-519-4770

Located in western Oklahoma County, Roll N' Roll is an inventive take on rolling ice cream. While most places allow the user to make up their own concoction, Roll N' Roll also offers 10 ice cream combinations that are joined by two toppings of the customer's choice. Get the Funky Monkey (banana ice cream with animal crackers) or the Morning Java (coffee ice cream with crunchy Kit Kat bars chopped into the cream).