No one likes being the last to know. You say, "Have you heard this new band, The Ingrown Heirs?" and everyone stares at you because you just "discovered" a band that's three years past being cool. Well, now's your chance to put one in the win column. Here are some fresh new restaurants you can try before your so-called friends.
By Greg Elwell
Photos Garett Fisbeck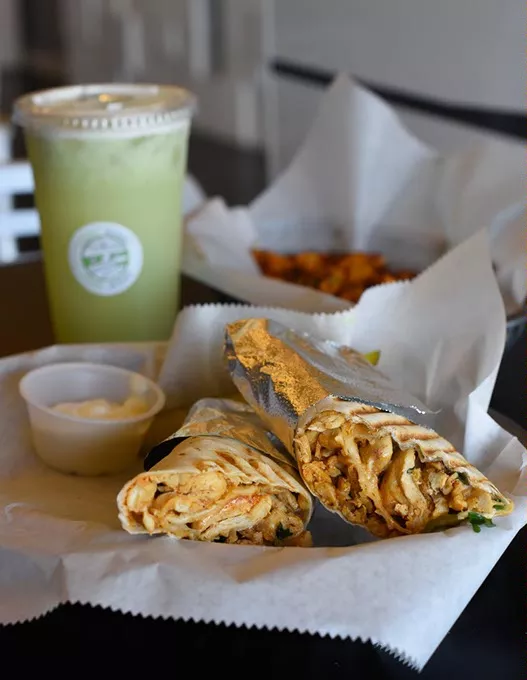 Garett Fisbeck
Chicken mummy wrap, spicy potatoes, Mental Madness (mint lemonade) at Yummy Mummy in Oklahoma City, Monday, April 25, 2016.
Yummy Mummy
13415 N. Pennsylvania Ave.
405-752-6055
If you missed the Ken Burns documentary about the wraps versus burritos debate that tore our country asunder, then I suggest you visit Yummy Mummy. Not only is it a historic battlefield in that pivotal war, it's also a good place to pick up a few stuffed grape leaves, a King Tut's salad and a Beef Mummy Wrap filled with marinated beef, melty mozzarella and tahini sauce.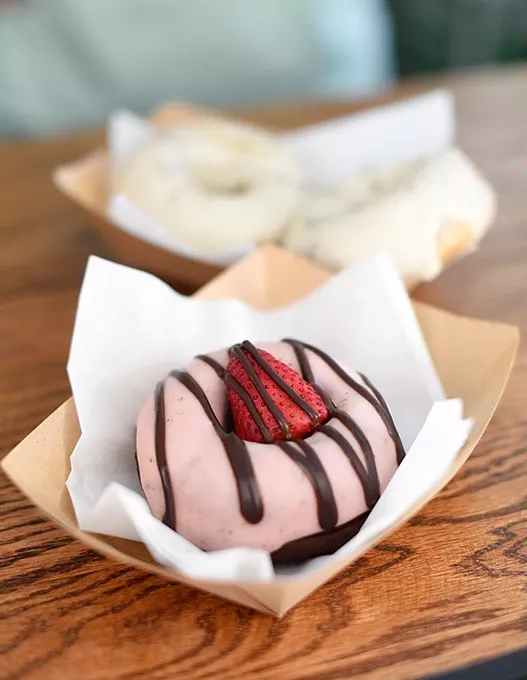 Garett Fisbeck
?Chocolate strawberry at Holey Rollers, Wednesday, April 27, 2016.
Holey Rollers
Mobile food truck
405-255-5337
Will you be seized by the spirit of heavenly baked goods when you visit Holey Rollers mobile doughnuts distribution center? It's not unheard of. When people on restricted diets learn that all the doughnuts are vegan and lots of them can be gluten-free, some are moved to dance, whoop with joy, collapse to the ground in celebration and, of course, order a few more for the road. That's what keeps the Holey Rollers rolling, after all.
Garett Fisbeck
Doggy style Fat Dog at Fat Dog in Oklahoma City, Monday, April 25, 2016.
Fat Dog Kitchen & Bar
1234 N. Western Ave.
405-609-3647
It's not hard to make a dog fat. I once had a pup with a penchant for eating entire loaves of bread and waddling around happy/miserable for a couple of days. But if you're a slightly more discerning pooch, you might stop in to the aptly named Fat Dog Kitchen & Bar, where you can lap up a bowl of beer and gnaw on a half-pound beef frank covered in chili and soft braised onions.
Garett Fisbeck
Andaman Thai Cuisin Sushi Bar in Oklahoma City, Monday, April 25, 2016.
Andaman Thai Cuisine Sushi Bar
12124 N. Pennsylvania Ave.
405-753-4197
The name Andaman probably carries a much higher significance to those who know a little about Thailand's geography and culture — and that's not me. Learning that the Andaman Sea is home to fisheries, coral reefs, jungles and plantation shores is awesome, truly, but for most of us in Oklahoma City, it's far more important to know that it's the name of a restaurant combining the best in Thai food and Japanese sushi.
Garett Fisbeck
Pho at Family Pho, Wednesday, April 27, 2016.
Family Pho
13325 N. MacArthur Blvd.
405-470-0648
Please join me in a moment of appreciative silence for the owners of Family Pho, the new and well-loved Vietnamese restaurant on the city's northwest side. It could have been named something terrible, like Pho-amily. Instead, owners concentrated on creating a menu full of traditional banh mi, vermicelli bowls and pho — the beef noodle soup so good, it must be eaten summer, spring, winter and fall.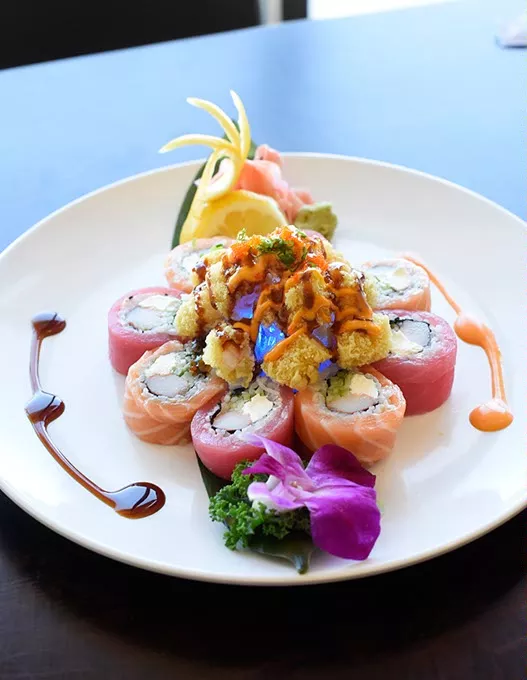 Garett Fisbeck
Rainbow Blossom at Uni Sushi & Hibachi, Wednesday, April 27, 2016.
Umi Sushi & Hibachi
5801 S. Sooner Road
405-601-0077
Umi means "ocean" in Japanese. That concludes today's lesson. Great work, everybody. Please collect everyone's workbooks, Donna. Trevor! The bell hasn't rung just yet! Have a seat. What do you mean this is a newspaper? Oh. OK. I guess you all can just go wherever you want. I'll be at Umi Sushi & Hibachi, enjoying a Spicy O My God Roll and maybe a bowl of chirashi.
Garett Fisbeck
Hound Dog at Bacon N' Cakin', Thursday, April 28, 2016.
Bacon N' Cakin'
Mobile food truck
405-761-7606
Perhaps the worst part about posting food pics on social media is the plaintive cry of your friends asking, "Do you deliver?" followed by some of those crying-laughing emojis. You got on Twitter, found out where Bacon N' Cakin' is parked today and walked there so you could get a pancake sandwich with candied bacon, bananas, a freshly cooked egg and peanut butter sauce. The only place you'll deliver it is your mouth.