It might be too late for this, but can we get a trademark for #EatEdmond? Say what you will about Oklahoma City's neighbor to the north, but Edmond's restaurant scene has come far since the 1990s, when Broadway was nothing but fast food chains and a good way to leave. Check out these delicious options for your Edmond explorations.
By Greg Elwell
Photos Garett Fisbeck and Gazette file
Garett Fisbeck
Super Fajita Nachos at 3 Tequilas Mexican Grill & Cantina in Edmond, Friday, Aug. 5, 2016.
3 Tequilas Mexican Grill & Cantina
315 S. Broadway, Edmond
405-216-0500
If you check the menu at 3 Tequilas Mexican Grill & Cantina, it's easy to see the restaurant is being modest. There are 30 tequilas and a margarita list with a 60-ouncer called La Mamasota. But even if diners aren't interested in the liquor menu, 3 Tequilas has a lot to recommend. The shrimp and spinach enchiladas are a wonderful light option, while La Reyna de Las Fajitas will load the table with beef, chicken, shrimp, chorizo, ribs and even cactus.
Garett Fisbeck
Mixed seafood grill at Bayou Grill & Bakery in Edmond, Friday, Aug. 5, 2016.
Bayou Grill & Bakery
1315 E. Danforth Road, Edmond
405-341-3700
The meanest thing about Bayou Grill & Bakery isn't the mouth-burning Creole hot sausage or the spicy jambalaya — it's that you can only get them for dinner. The unusual hours at Edmond's excellent Creole cookery mean you'll have to plan to be there between 5 and 9 p.m. Thursday-Saturday. But for a bowl of Martina's Seafood Gumbo or tasty N'Awlins Crab Cakes, it pays to think ahead.
Garett Fisbeck
16 oz. ribeye and Eddie's Wings at Eddie's Bar and Grill in Edmond, Friday, Aug. 5, 2016.
Eddie's Bar and Grill
930 E. Second St., Edmond
405-285-7725
Some "bar and grill" restaurants focus on the bar and let the grill turn out uninspired edibles. Not Eddie's Bar and Grill, where the dishes get just as much attention as the drinks. Look for big, juicy steaks, racks of ribs and the signature hot wings, which are slow-smoked before being tossed on the grill fresh for every order. If you're lucky, Eddie will come by the table himself to say hi.
Garett Fisbeck
Lamb shank at Jerusalem Mediterranean Cuisine in Edmond, Friday, Aug. 5, 2016.
Jerusalem Mediterranean Cuisine
38 E. 15th St., Edmond
405-285-0025
Please be sure you're in Jerusalem Mediterranean Cuisine (JMC) and not in Jerusalem Maximum Security Prison (JMSP) when you order the lamb shank. In prison, you'll meet Lionel "The Lamb" Lamkowitz. It's much nicer at the restaurant, where diners get a gorgeous plate of juicy lamb, rice and grilled vegetables. Or indulge in a dish of chicken tawook and hashwa. Whatever you choose, the food is much better in this Jerusalem.
Garett Fisbeck
The Thunder Pizza at Jo's Famous Pizza in Edmond, Thursday, February 4, 2016.
Jo's Famous Pizza
900 S. Kelly Ave., Edmond
405-340-7070
Jo's Infamous Pizza was going to be the gourmet pizza option for people on the FBI's Most Wanted list. While that concept fizzled, the heart of the business — great pizzas — lives on at Jo's Famous Pizza. Now the most wanted list includes Buffalo chicken and blue cheese on Jo's buttery crust on The Thunder and the intense heat of De Fuego, with pureed jalapeños in the sauce and roasted pulled pork and avocado on top. Or create your own and see if it becomes famous, too.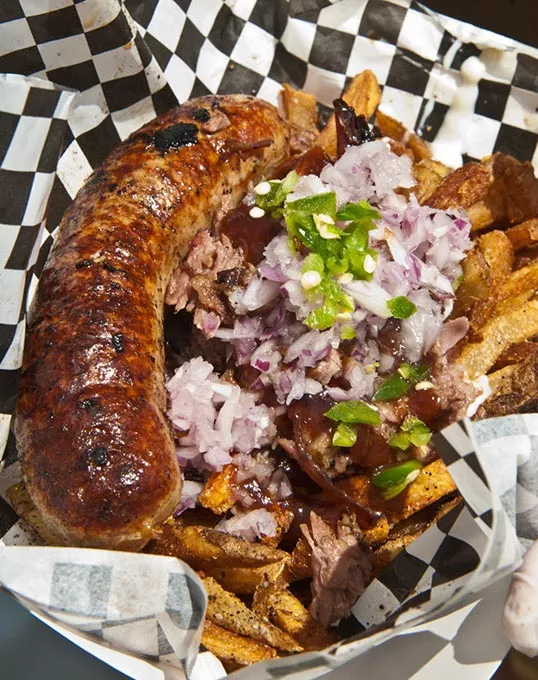 Smothered fries with a giant smoked sausage at Klemm's Smoke Haus. mh
Klemm's Smoke Haus
2000 S. Broadway, Edmond
405-562-8616
Generally, firefighters recommend you don't fill your house with smoke. But Edmond's food truck-turned-restaurant Klemm's Smoke Haus has special dispensation since the owners cook such delightful barbecue. Just thinking about that tender brisket, crispy sausage and fall-apart ribs is enough to get anyone to stop, drop and roll on over to Klemm's. For a taste of the old world, get a load of that perfectly cooked schnitzel.
Mark Hancock
A New York Strip steak hot off the grill is ready for delivery, at Oklahoma Steak and Grill Delivery in Edmond, 10-29-15.
Oklahoma Steak and Grill Delivery
76 E. 33rd St., Edmond
oksteak.com | 405-341-0001
The best part of a home-cooked meal is eating at home. The worst part? The cooking. That is why Edmond residents are so fortunate to have Oklahoma Steak and Grill Delivery. Enjoy the convenience of having perfectly cooked rib-eye steaks; big, juicy burgers; and enormous baked potatoes delivered right to the front door. Who needs a stove when Oklahoma Steak and Grill Delivery is right here? Just order from the website and dinner is served.