It's September in Oklahoma which means it's time for the Oklahoma State Fair. Now in its 114th year, people across the state will be swarming to the yearly attraction, and for good reasons — the rides, the fun, and the FOOD. But in case you feel like skipping out this year due to the increase of the Delta variant or other inherently introverted reasons but still feel the need to satisfy that fair food craving, here are seven alternatives that might just do the trick.
The Fried Taco

308 NW 10th St.
405-724-7680
While not quite the beloved Indian taco you'll find at the Oklahoma State Fair, a Fried Taco is a lot less messy, and you get more flavorful options. At their space in The Collective food hall, you'll find freshly prepared options like slow-cooked beef brisket or Caribbean Jerk chicken tucked in tortilla shells and fried to perfection. If you prefer your deep-fried goodness vegan, enjoy their delicious jackfruit taco. Add a side of tostones for a sweet twist of deep-fried plantains.
Tokyo Sushi
7516 N Western Ave.
405-848-6733
While Tokyo is undoubtedly best known for their sushi (and they have some fantastic fried options), they can't be dis- counted for the perfect fried dessert. Their tempura ice cream is a delicious treat of deep-fried ice cream drizzled in chocolate syrup and whipped cream, finished with a cherry on top. They even add lemon wedges for an extra fresh twist. This one definitely gives that deep-fried Oreo a run for its money and it's the perfect finale to any meal here.
Ponyboy
423 NW 23rd St.
405-896-2037
Fair schmaire. Who needs to walk around all hot and sweaty in this sweltering Oklahoma sun when you can get fried pickles, great beer, and fantastic music right here on historic Uptown 23rd with cold air conditioning. Ponyboy's limited menu of bar snacks includes a couple of our fried favorites including fried pickle chips and fried mac and cheese balls. Paired with a cold local craft brew and live music, you'll forget the fair ever existed.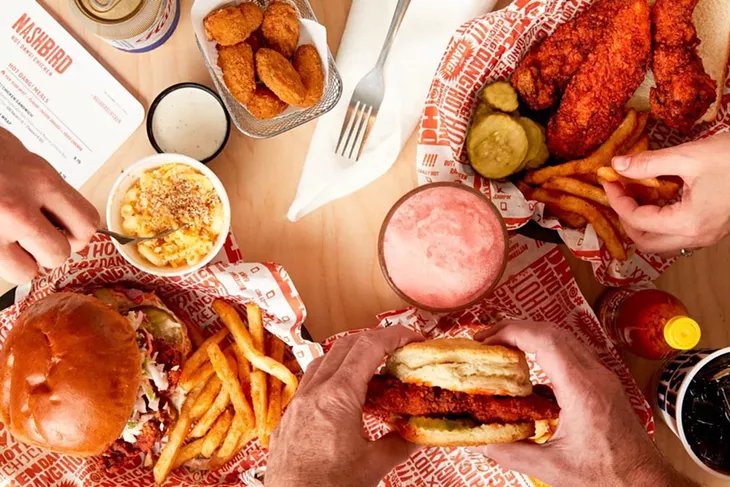 Nashbird Hot Dang Chicken
1 NW 9th St.
405-600-9718
It doesn't come on a stick, but it's way better, and they might just put it on one for you. Nashbird's chicken is loaded with flavor and they have several options from tenders to sandwiches. Make it sweet by trying their chicken and waffles, or if you're feeling healthy, you can even make it a fried chicken salad. If you don't want to stop at fried chicken, add some deep-fried pickles or try their mac and cheese poppers.
Hatch
1101 N Broadway Ave.

405-609-8936
Okay, so it's not really a funnel cake, but Hatch's made-from-scratch Belgian waffle is pretty darn close. In fact, this delightful waffle is topped with a cream cheese an- glaise, powdered sugar, and finished with house-made whipped cream, fresh berries, and warm syrup so it's actually way, way better. Alternatively, their monkey bread, when available, makes another suitable funnel cake substitute. Best of all, it's the perfect excuse to have dessert for breakfast. Plus, again, air conditioning.
Sasquatch Shaved Ice
1801 NW 16th St, Oklahoma City
405-431-5705
Okay, well, you have to go out in the heat for this one, but I promise it's worth it. I mean, what would summer or the Oklahoma State Fair even be without a sticky sweet snow cone? Sasquatch Shaved Ice claims to have the largest flavor selection not just in Oklahoma, but the world — stocking 112 individual flavors and offering 234,248 possible combinations. There are even 14 toppings to choose from. You won't find that at the fair.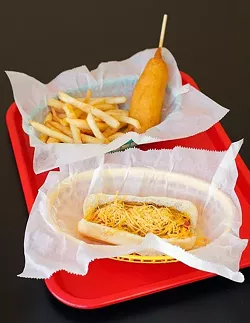 Coneys-N-More
1317 SE 44th St. Suite G Oklahoma City
405-677-8844
What is a fair without a corndog? This classic definitely had to make the list. You can find a fresh fair-style corn dog at Coneys-N-More. These aren't just any old boring corn dogs either; here you can find freshly battered and fried hotlink corndogs and sausage corn dogs. You can even make it gourmet by turning it into a coney. Not far enough? Add some fried pepper chips or some pickle chips, and you've found the quintessential state fair meal.