Keeping track of the city's food trucks can be difficult — there seems to be a new one every few weeks. With the help of the Oklahoma Independent Food Truck Association, we've compiled a list of seven of the best food trucks in the metro area to open in the last year.
By Jacob Threadgill | Photos provided


Sparxx Sliders
118 NE Third St., Moore
sparxxgoodeats.com
405-406-9276
With 30 years of chef experience, including catering for the Oklahoma City Thunder locker room, Chadrick Sparks and his wife were ready to become their own bosses. They opened Sparxx Sliders earlier this month and have hit the ground running. Get two sliders (classic beef, barbecue beef, peanut butter beef or pulled pork) and fries for $12. Fries come with a variety of dipping sauces or can be topped with chili and cheese for an additional $1.50.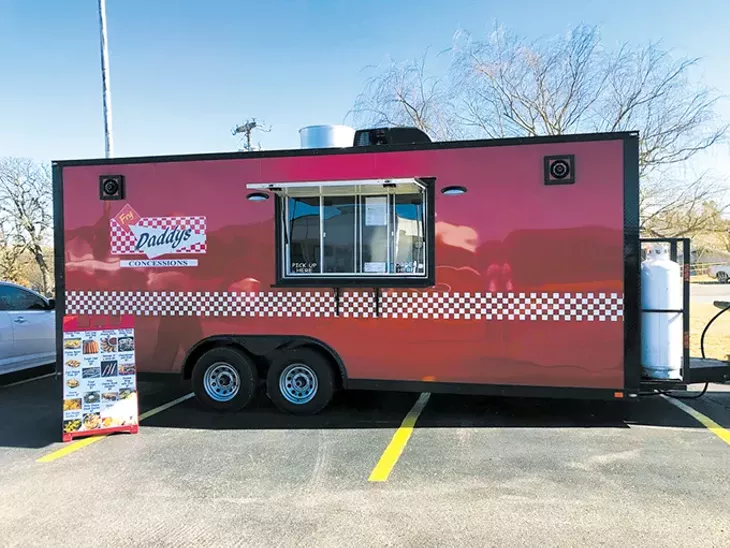 Fry Daddy's Concessions
35820 SW 1240 Road, Seminole
405-683-0557
Based in Seminole, Fry Daddy's is open seven days a week, but its schedule takes it to Oklahoma City and every town between the city and Seminole. Its most popular item is the Philly cheesesteak sandwich, but the truck also offers Philly cheesesteak fries and nachos in addition to a classic cheeseburger that can be topped with chili and bacon. There's also no reason to wait until the state fair to try funnel cake fries when they're available at Fry Daddy's year-round.
Chubby's Grill
S. Santa Fe Road & SW Fourth St., Moore
chubbysgrillokc.com
405-990-3424
Fresh onion burgers, fried Indian tacos and loaded fries are staples for Chubby's Grill, which has a home base in Moore and has served the metro, from Edmond to Norman, since opening last year. A burger combo (with fries and a drink) and a taco combo (choose two tacos from three varieties with a drink) can be bought for $10. The hot mess fries ($8.95) — fresh-cut fries topped with pulled pork, jalapeños and three cheeses — are its most popular side.
Healthy Eats & Shameful Cheats
facebook.com/healthyeatsandshamefulcheats
405-326-7506
Owner Keli Tabor offers healthy entrees with an island twist alongside indulgent snacks and desserts. Dig into a Nourish Bowl ($10) with island chicken, brown rice, black bean hummus, avocado, grilled zucchini, mushrooms, red bell pepper and toasted coconut. Cheats include Frito pie ($7), hot Cheeto pie or a quesadilla. Finish with a fresh fruit smoothie ($5) or a daily dessert.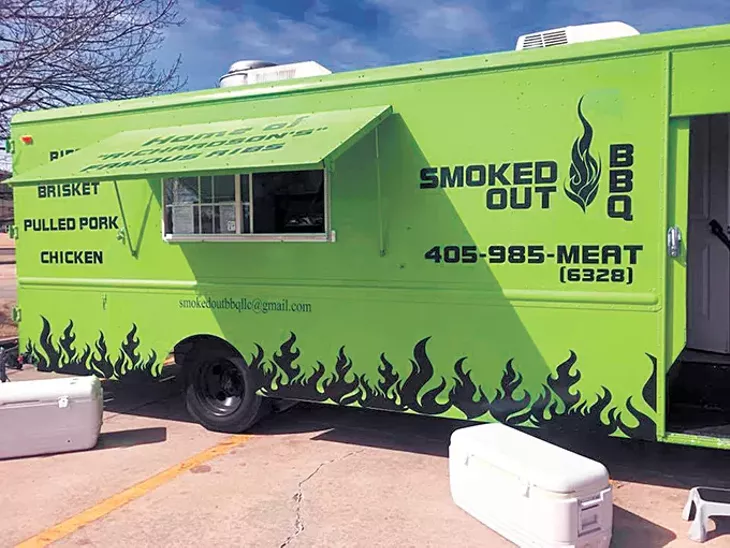 Smoked Out BBQ
S. Holly and Walnut avenues, Yukon
smokedoutbbq.green
405-985-6328
Dating back to matriarch Veola Richardson, the Richardson family has been synonymous for its rib recipe for over 75 years. LeRoy Richardson continues the family tradition in the giant neon green truck, which has integrated ordering on its Facebook page and website. Choose from ribs, smoked chicken, brisket or pork sandwiches, which can be ordered as a combination with a side and drink for $9. Based in Yukon, Smoked Out BBQ is in OKC often, including a consistent partnership at COOP Ale Works brewery.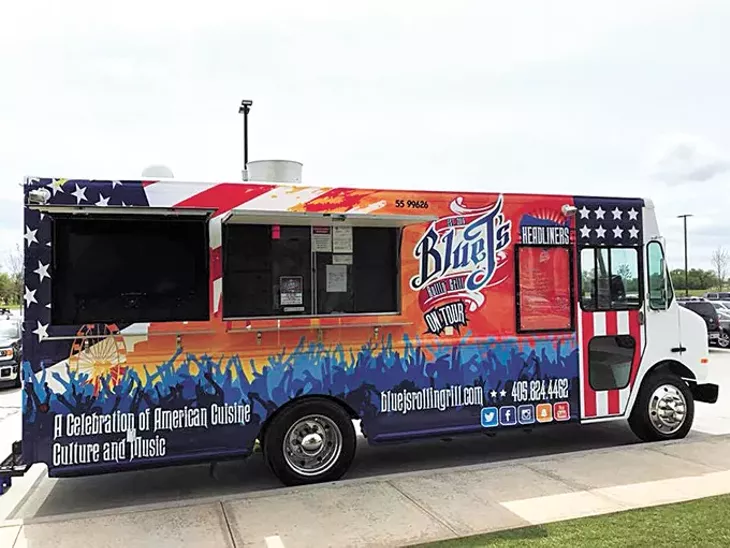 BlueJ's Rollin' Grill
Oklahoma City
bluejsrollingrill.com
405-204-7266
BlueJ's Rollin' Grill takes the atmosphere of a large sports bar mobile. Since opening last year, BlueJ's expanded into a second truck, the Happy Wagon, which comes complete with satellite television and surround sound. It is also licensed to sell alcoholic beverages, including cocktails and floats, and offers gourmet burgers, macaroni and cheese, Cincinnati-style chili and truffle fries.
Big Lenny's BBQ
Del City
facebook.com/biglennys100
405-863-0338
Pork is the star of the show at Big Lenny's, where the motto is "BBQ so good, you don't need the sauce." St. Louis-cut ribs, which are much larger in comparison to the baby-back cut, get the preference at Big Lenny's and are served with potato salad and baked beans. You can also get pulled pork stuffed in a baked potato for an epic meal.