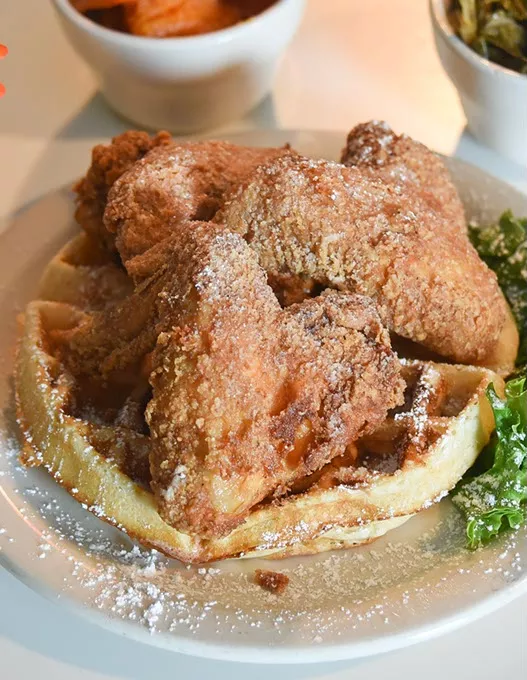 Mark Hancock
Mama E's Wings and Waffles, Oklahoma City, November 21, 2016.
Mama E's Wings & Waffles
3838 Springlake Drive
405-424-0800
If you don't understand the draw of fried chicken and waffles, then you probably haven't eaten at Mama E's, where the waffle and wing combo draws a crowd on the regular. From lawmakers to lawbreakers, fans of this eastside staple love the tasty fried chicken on top of sweet waffles. There's much more to the menu — including neck bones and macaroni and cheese — but the chicken is a must.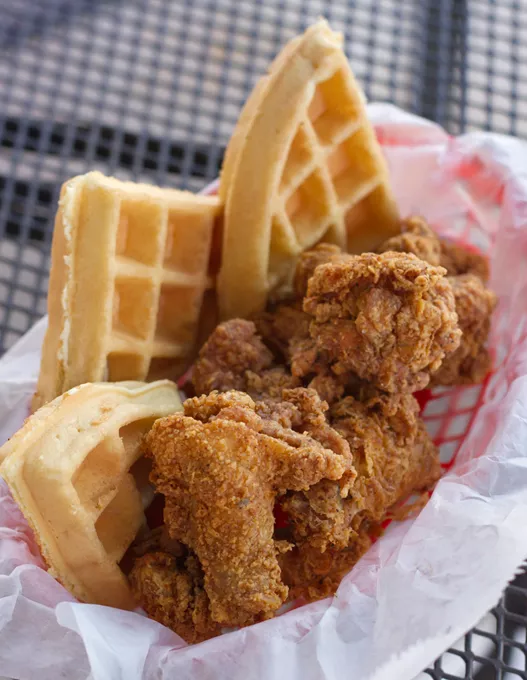 Erick Perry
Fried drummies at the Drum Room in Oklahoma City, Tuesday, June 28, 2016.
The Drum Room
4309 N. Western Ave.
405-604-0990
When people talk about the best fried chicken in Oklahoma City, it doesn't take long to hear The Drum Room mentioned. With a little sweet heat mixed into the flour dredge, this fried chicken beats out plenty of competitors. And if you're looking to speed up the tempo of your meal, grab an order of fried drummies in Flaming Lips hot sauce for a fast-paced chicken fix. Or snare yourself a whole bird and take it home to share with the rest of the band.
Erick Perry
Hot wings at Wing Supreme in Oklahoma City, Tuesday, June 28, 2016.
Wing Supreme
3925 N. Lincoln Blvd.
405-702-5464
It must have been a challenge coming up with a name for Wing Supreme. Good Wings doesn't come close to describing how delicious these hot wings are. And How Delicious These Hot Wings Are is more descriptive, but also way too long. Wild Buffalo-Style Wings is a lawsuit waiting to happen. In the end, there was only one name that would do for some of Oklahoma City's most superior chicken. And these wings are supreme.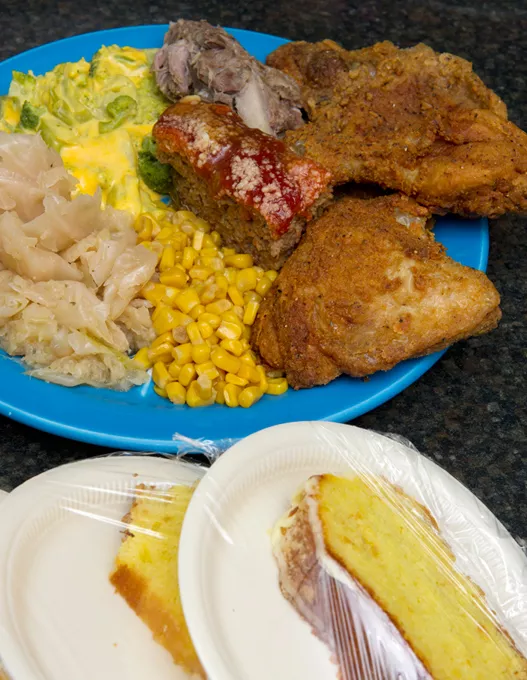 A Family Affair Restaurant
1742 NE 23rd St.
405-427-1919
It's almost impossible to choose just one favorite at A Family Affair. When you head down the buffet line, you will be tempted by all manner of tasty sides and a bevy of spicy soul food options. Catfish? Meatloaf? Gumbo? Lord have mercy; it's a challenge to pass them by. That is why you should get that Cajun fried chicken to eat in the dining room and then order a second entree to eat that night.
Emmy Verdin
JAX Soul Kitchen serves Smoked Fried Chicken with Dirty Rice, Fried Okra and a Basil Brazilian cocktail on Monday, June 27, 2016 in Norman, Oklahoma.
Jax Soul Kitchen
575 S. University Blvd., Norman
405-801-2828
Sooner or later, we all end up in Norman. Whether it's the college town of your dreams or nightmares doesn't matter — you'll get hungry either way. That's when you need to pull up a seat at Jax Soul Kitchen for a plate of smoked fried chicken. White meat chicken is smoked to infuse the meat with tons of flavor before it's lightly battered and fried crisp. Order sides of cheesy grits and collard greens and you'll be in heaven.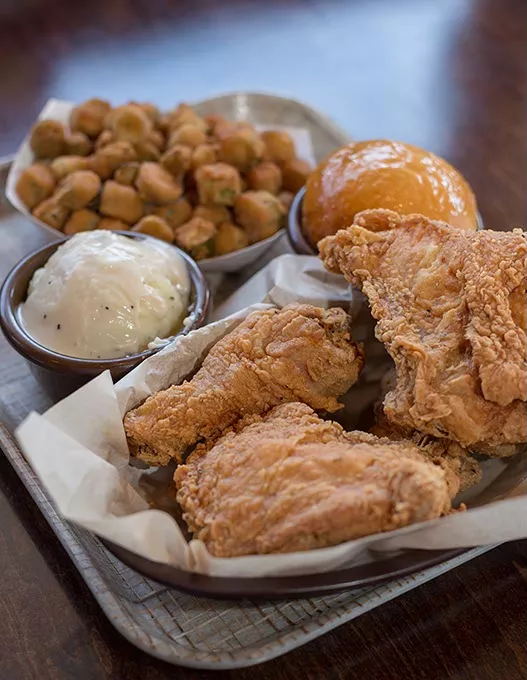 Emmy Verdin
Jim's Famous Chicken serves up "classic fried chicken" in Oklahoma City, June 16, 2016.
Jim's Famous Chicken
824 SW 89th St.
405-703-2704
People ask Jim how he got famous, and he tells them all the same thing: "I was the first man to successfully train a snake to be a mixed martial artist." That's not how Jim's Famous Chicken got famous, though. It got famous for serving some of the finest fried chicken in Oklahoma City — juicy and tender on the inside, crispy and tasty on the outside. And if you're looking for livers and gizzards, Jim's has those, too.
Pearl's Oyster Bar
5641 N. Classen Blvd.
405-848-8008
Long before oysters became de rigueur for OKC's fanciest restaurants, Pearl's Oyster Bar was shucking and serving bivalves for hungry customers. So why go there for fried chicken? Because it's tremendously tasty. Partially boned and fully delicious, Pearl's ultimate fried chicken is served with garlic mashed potatoes and some of the best gravy this side of the bayou.