One of the perks of enduring the heat of summer is access to fresh fruit that doesn't come from a hothouse. From drinks to dessert and salads, here are seven restaurants that are having fun with fruit this summer.
By Jacob Threadgill | Photos by Jacob Threadgill, Gazette / file and provided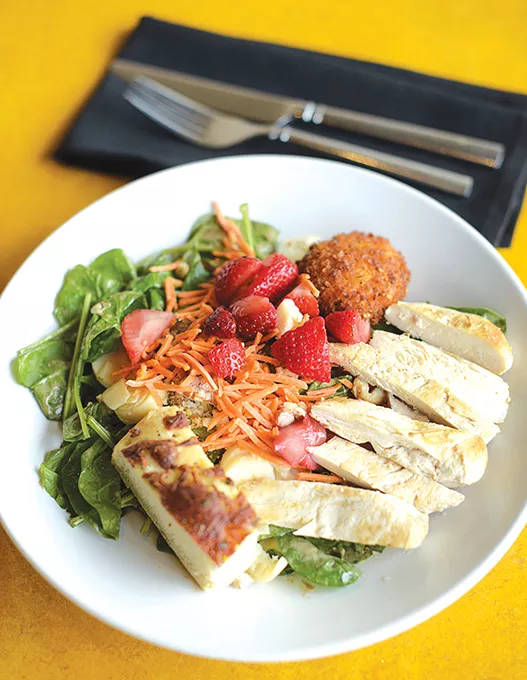 Cafe 501
5825 NW Grand Boulevard
hrgok.com/cafe-501 | 405-844-1501
What's more fun than combining fruit with fried goat cheese? That's what you can get on the lunch menu with Cafe 501's strawberry and spinach salad that also includes chicken, hearts of palm, carrots, sugared walnuts and balsamic vinaigrette. If you go for brunch, order the stuffed French toast that puts strawberries in walnut raisin bread.
Raspados Hawaiian
6041 NW 23rd St.
raspadoshawaiianokc.com | 405-603-3060
What started in a tiny shack in 2012 expanded to two locations in 2015. Raspados are the Mexican equivalent to shaved ice, but with over 40 flavors from which to choose, you can find plenty of options beyond your normal shaved ice stand. Obispos are made with fresh fruit in four flavors — mango, strawberry, pineapple and banana — that are topped with a scoop of vanilla ice cream.
Pie Junkie
1711 NW 16th St.
piejunkie.com | 405-605-8767
It's not summer unless you're watching baseball with a slice of apple pie, right? If outdated stereotypes aren't your thing, don't worry because Pie Junkie has much more than just apple. Dig into a slice of blackberry crumble with a scoop of ice cream or enjoy a whip cream-topped strawberry diner slice. Lemon cream is the pie of the month for June.
Cafe Kacao Latin Cuisine
3325 N. Classen Blvd.
cafekacao.com | 405-602-2883
The line that wraps around Cafe Kacao each weekend morning is there for a reason: one of the city's best brunch menus. Of course you can go savory with a giant breakfast burrito or a variety of Guatemalan specialties, but the sweet options like French toast and wild berry pancakes will leave you full and satisfy your fruit craving.
The One Cafe
122 E. 15th St., Edmond
405-340-0333
As one of Edmond's most beloved eateries, The One Cafe has such a varied menu with everything from pasta and poke bowls and sweet and savory crêpes. The Sweet Old Friend Crêpes are filled with fresh strawberries, banana, Nutella and whipped cream. The peach cheesecake features homemade sweet cream cheese and fresh peaches.
Grill on the Hill
324 SW 25th St.
grillonthehillokc.com | 405-634-9866 The fritter offering at Grill on the Hill has expanded over the years. It started with the somewhat traditional apple cinnamon, which is now joined by strawberry-pineapple, blueberry-lime and its more recent addition, peach. At just $1 for an order of two, they can be a start or finish to your meal at this Capitol Hill restaurant that recently celebrated its 10th anniversary.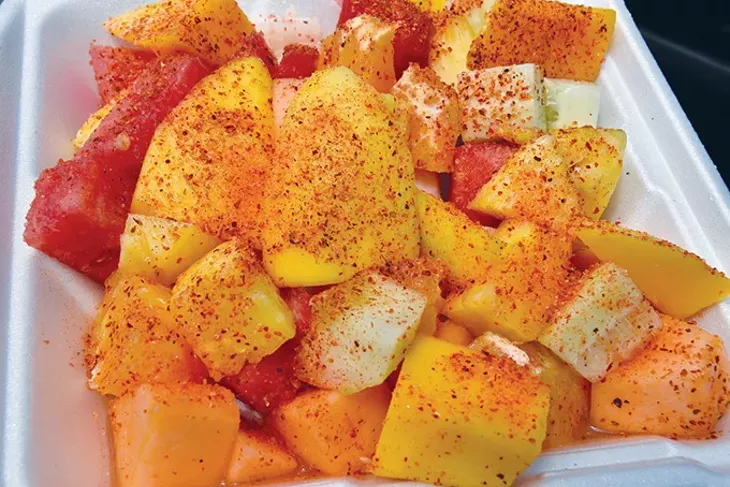 Neveria La Fuente de Michoacán
2316 N. MacArthur Blvd.
405-886-0306
Fresh fruit is displayed in a variety of forms at this Windsor neighborhood spot. It serves up fruit ice cream, raspados, and agua fresca, among other options. You can also get a fruit cocktail platter that is covered in lime juice and topped with chili seasoning for an acidic and spicy kick. The fruit cocktail includes watermelon, mango, cantaloupe, cucumber and jicama.