Whether it's an Oklahoma original hot dog from Schwab Meat Co. or a classic New York Nathan's frank, there are plenty of options to have the tasty treat that has been feeding Oklahomans nearly since statehood.
Anchor Down
30 NE Second St.
anchordownokc.com
405-605-8070
An upscale corn dog probably isn't the first thought you have of Oklahoma hot dogs, but the success of this Hungry Town Concepts (The Mule, The Press) Midtown eatery proves that it is what folks are craving. Get a vegan dog dipped in masa batter, an all-beef hot dog in its OG batter or something more adventurous like a wild dog. Its mega Coney hot dog comes with chili, cheese and queso.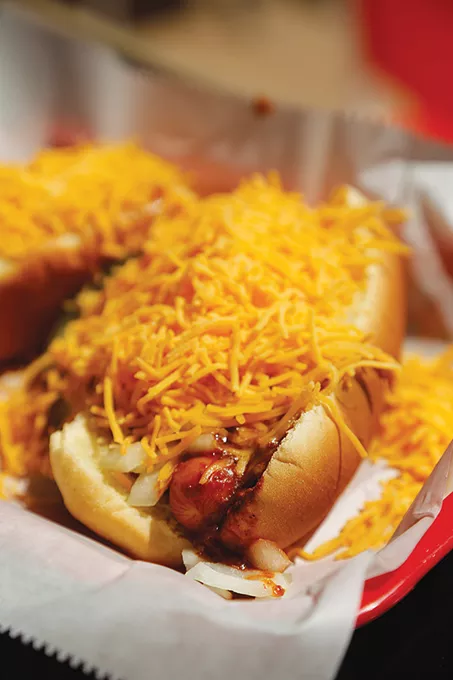 Chili Dog Express
329 NW Fourth St.
405-601-7516
This downtown lunch counter (open 10 a.m. to 3 p.m. Monday-Friday,) churns out more than just its eponymous chili dog. From the barbecue brisket dog topped with chopped brisket and shredded cheese to the BLT topped with bacon, lettuce and tomato, each of its specialty dogs are available in standard hot dog, Polish sausage or hot link.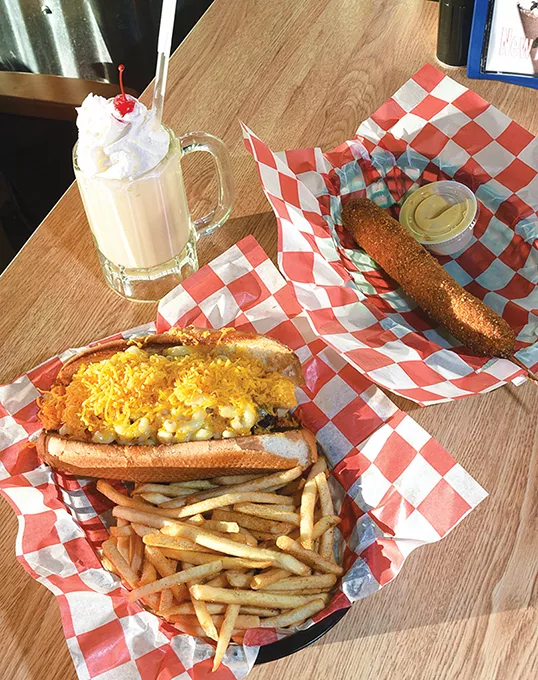 Diamond Dawgs
735 Asp Ave., Norman
diamonddawgsnorman.com
405-364-3294
Diamond Dawgs started as a food truck, and its fans have followed to its Campus Corner location for gourmet interpretations of hot dogs, all of which are served on La Baguette rolls unless otherwise noted. Specialty dogs include a version of a chicken-fried dog with mashed potatoes and gravy and a Cajun dog with andouille sausage, popcorn shrimp and fried okra. Its most popular item is the Wonderboy, a Cap'n Crunch-battered corn dog.
Coney Island
428 W. Main St.
405-239-8568
David Holt's first meal after being sworn in as mayor last week was at this Oklahoma City institution that has been serving customers since 1928. The interior at the original location is largely unchanged since current owner Bill Mihas took over in 1964, and the menu is untouched, relying on family recipes of Greek chili, Frito pie and chili spaghetti in addition to its famous dogs.
Mutts Amazing Hot Dogs & Burgers
1400 NW 23rd St.
mutts-hot-dogs.com
405-525-3647
The popular drive-thru on 23rd Street spawned a second location in Edmond at 285 S. Santa Fe Ave. Mutts elevates the drive-thru concept with such toppings as chipotle ketchup, cilantro-lime aioli and truffle aioli. You can also get specialty sausages like the Fuhgeddaboudit Dog with Italian sausage, provolone, marinara grilled onion, peppers, mushrooms and fried pepperoni.
Robert's Grill
300 S. Bickford Ave., El Reno
robertsgrill1.placeweb.site
405-262-1262
El Reno is on the map for its local burger and hot dog stands. Between Robert's Grill and Sid's Diner, it is worth the trip to Canadian County. Robert's Grill is a small establishment with only about 10 stools at the counter, but don't let its size fool you. In addition to its onion burgers, Robert's is famous for its slaw dog, which tops a bright red hot dog with chili and mustard-based coleslaw.
Stray Dog Cafe
722 NW 39th Expressway, Bethany
405-470-3747
Located in downtown Bethany, Stray Dog Cafe offers classic diner food for all-day breakfast, but its name shines through on the lunch and dinner menu. Nine "pedigree" dogs dot the menu at affordable prices. The mac and cheese dog and the tabbouleh dog are interesting standouts. Its signature dog is a Schwab's hot dog topped with chili, cheese and mustard.