How does a restaurant gauge success? There are happy customers, of course, or how many tables are filled and refilled each night. But the true test of a successful eatery is how long it keeps going. Through thick and thin, these Oklahoma City mainstays keep serving great food to hungry diners.
By Greg Elwell
Photos Garett Fisbeck and Gazette file
Garett Fisbeck
The Buster at Ron's Hamburgers and Chili, Thursday, May 5, 2016.
Ron's Hamburgers & Chili
351 N. Air Depot Blvd., Midwest City
405-733-7667
With 17 locations spanning three states, Ron's Hamburgers & Chili, established in 1975 in Oklahoma, has satisfied diners with big portions of filling favorites. What makes this burger joint so special? Maybe it's Ron's Special, a massive fried onion hamburger patty covered in bacon bits, a slice of Cure 81 ham and two kinds of cheese. It's the kind of sandwich that should come with a pillow and a blanket because anyone who finishes it will need a nap.
Garett Fisbeck
Chicken curry, Aloo Palak, garlic naan, at Sheesh Mahal in Oklahoma City, Thursday, Dec. 10, 2015.
Sheesh Mahal
4621 N. May Ave.
405-778-8469
Though it has only been in Oklahoma City for a few years, Sheesh Mahal has a reputation as one of the metro's best places for Pakistani and Indian food. First-time guests should try the exquisite butter chicken, which is a mild, creamy curry with ultra-tender pieces of chicken. Spoon it over zeera rice or dip chewy pieces of garlic naan into the luxurious sauce. Vegetarian or vegan? Halal? Sheesh has plenty of tasty options for every diet.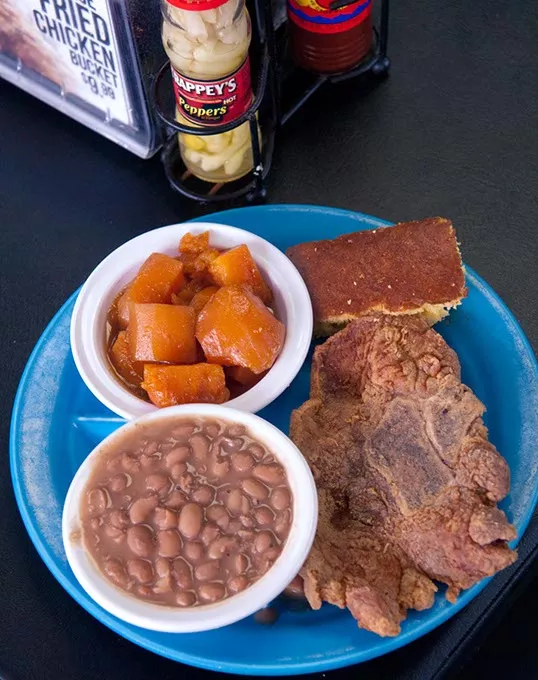 Pork chop-Sweet Potato, and brown beans, off the line at A Family Affair.
A Family Affair Restaurant
1742 NE 23rd St.
405-427-1919
Nothing satisfies like soul food, and the buffet at A Family Affair Restaurant gives customers plenty of options from which to choose. The sweet and spicy fried chicken is a must, but this old-school eatery is also known for crispy catfish, fried shrimp and peach cobbler better than anything your grandma ever made. It's practically an Oklahoma City rite of passage, so get a group of friends together and become part of the fully fed family.
Ann's Chicken Fried Steak with mashed potatoes and Corn. mh
Ann's Chicken Fry House and Gift Shop
4106 NW 39th St.
405-943-8915
"Bigger than your head" is a relative measurement, but even those with a large cranium will find the description of the chicken-fried steak at Ann's Chicken Fry is apt. Weighing in at half a pound, it's a hand-breaded taste of home with a heaping helping of mashed potatoes on the side and cream gravy over the top. The interior of Ann's is filled with eye-catching classic memorabilia, but the real collector's item is outside: a bright pink Cadillac.
Mark Hancock
Hotdogs and beverages were available at The Diner, 4-24-2015, during the 2015 Norman Music Festival.
The Diner
213 E. Main St., Norman
405-329-6642
Nobody likes waiting for breakfast, but folks at Norman's The Diner don't seem to mind. That's because they're already dreaming about the massive Eggarito, a pile of eggs scrambled with tomato, onion, green chiles and cheese wrapped snugly in a flour tortilla and covered in tasty ranchero sauce. Missed the breakfast window? Not at The Diner, where the kitchen serves up breakfast and lunch from open (6 a.m. weekdays and 7 a.m. weekends) to close (2 p.m.) daily.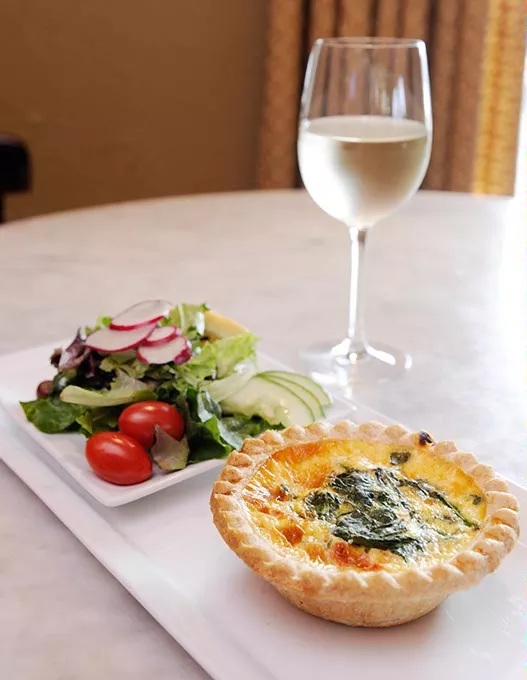 Garett Fisbeck
Quiche florentine, side salad, and white wine at La Baguette Bistro in Oklahoma City, Wednesday, Jan. 28, 2015.
La Baguette Bistro
7408 N. May Ave.
405-840-3047
Brothers Michel and Alain Buthion's La Baguette Bistro has been Oklahoma City's home for fine French cuisine since the 1980s. Guests who walk inside the well-trod front door find a small grocery stocked with exquisite meats, fresh bread and desserts so beloved other restaurants brag about serving them. Like a great Parisian cafe, La Baguette serves breakfast daily and delicacies, including lamb persillade and a slow-cooked veal cheek in mustard Madeira cream sauce, six nights a week.
Print headline: Longtime favorites