deadCenter Film Festival
Wednesday-Sunday
deadcenterfilm.org
See related stories and the festival program in this issue.
---
Staying at a hotel is kind of a big deal. Unless you travel all the time for work, sleeping in a luxury bed with super-soft sheets and a staff of nice people who clean up after you is a real treat. But don't snooze away your entire stay — plenty of Oklahoma City's nicest hotels also feature some of the city's best places to eat and drink. Best of all, if you overindulge, your bed is just an elevator ride away.
By Greg Elwell Photos Garett Fisbeck
Garett Fisbeck
Crab cake BLT sliders at Aria Lounge in Oklahoma City, Thursday, May 26, 2016.
1889 Land Run Café and Aria Lounge
at Sheraton Oklahoma City Downtown Hotel
1 N. Broadway Ave.
405-235-2780
Staying at the Bricktown Sheraton means there are two restaurants in close proximity. During the day, 1889 Land Run Café serves up a classic breakfast, and at lunch, there are gourmet burgers and express options for travelers on the go. At night, action shifts to Aria Lounge, where you can enjoy a glass of bubbly and a big New York strip steak or herb and potato-crusted salmon.
Garett Fisbeck
Tennessee Fire at the Bombay Club in Oklahoma City, Thursday, May 26, 2016.
Bombay Club
at Biltmore Hotel Oklahoma
401 S. Meridian Ave.
405-947-7681
Grab an old-school cocktail in an old-school bar at the Biltmore Hotel's long-lived Bombay Club. Don't worry about getting all dolled up unless you want to. Bombay is a club with a historic feel, but the atmosphere is definitely relaxed. But be sure to eat before you get there; the club used to serve the lunch and dinner menu from the hotel's Brandywine Room restaurant, but it's now only open for breakfast.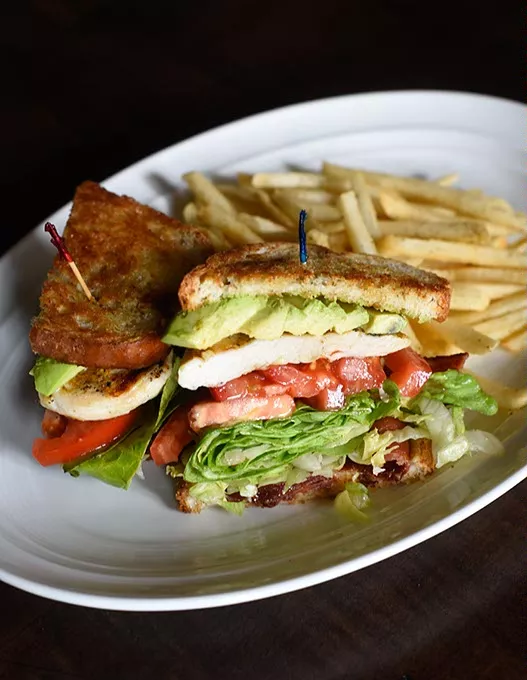 Garett Fisbeck
Chicken Club at Ember Modern American Tavern at the Waterford in Oklahoma City, Thursday, May 26, 2016.
Ember Modern
American Tavern
at Renaissance Waterford Oklahoma City Hotel
6300 Waterford Blvd.
405-858-2490
If you've got a burning hunger, then Ember Modern American Tavern in the Waterford will fuel the fire with menus that delight the senses. Prohibition Brunch on Sundays features brunch cocktails and delicacies including shrimp and smoked tomato grits. Or stick around at night and you'll be treated to even more options.
with potatoes, sauteed broccolini, and bone-marrow demiglace, at Flint. mh
Flint
at Colcord Hotel
15 N. Robinson Ave.
405-605-0657
The patio game has changed, and Flint, the house restaurant of Colcord Hotel downtown, took full advantage of the public's voracious appetite for al fresco dining. Immaculately appointed, Flint has an upper crust appeal with dishes that comfort and excite. Spicy pork rinds or the cheese and charcuterie plate? Charred cauliflower steak or roasted riesling chicken? You might have to go back to Flint a few times to decide.
Braised short rib benedict with kale and orange juice at Park Avenue Grill in the Skirvin. mh
Park Avenue Grill
at The Skirvin Hilton Oklahoma City
1 Park Ave.
405-702-8444
Thank goodness they built the Skirvin Hotel on Park Avenue. The food in the hotel's delightful restaurant, Park Avenue Grill, likely wouldn't have changed, but it's hard to imagine being as excited about eating the short rib chopstick with harissa honey or the edamame falafel if the restaurant had been named Shields Boulevard Grill. As it is, Park Avenue Grill has the perfect name and address. You can decide for yourself if the Scottish salmon is also perfect.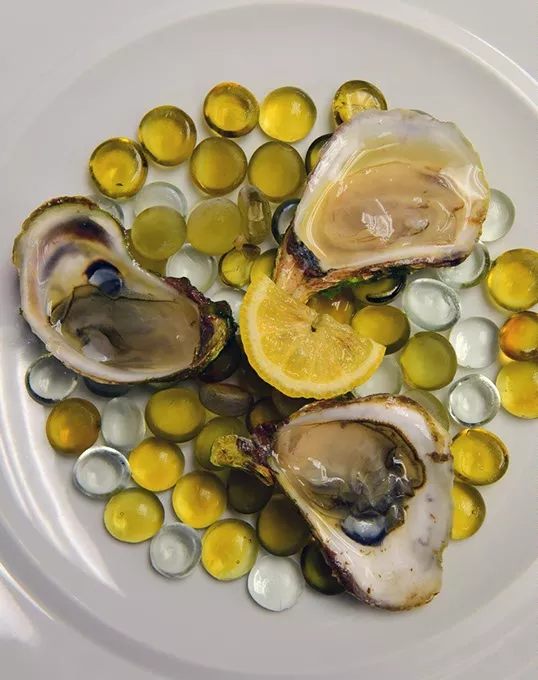 Mark Hancock
Oysters on the halfshell at Viceroy Grille, 9-4-15.
Viceroy Grille
at Ambassador Hotel
1200 N. Walker Ave.
405-600-6200
Formerly one of Oklahoma City's best-kept secrets, Viceroy Grille is now one of Oklahoma City's least-kept secrets. Too many people know that you can find a spot-on steak tartare, oysters Rockefeller and short rib sauerbraten on the first floor of the Ambassador Hotel. Too many people know that the prime flank steak stroganoff is a dream on your taste buds. So be quiet! Hush up! It's already hard enough getting a table.
Sadie pours the last ingredient into a Zombie Brain shot, at W XYZ Bar inside the ALoft hotel. mh
W XYZ Restaurant and Bar
at Aloft Oklahoma City Downtown-Bricktown
209 N. Walnut Ave.
aloftoklahomacitybricktown.com
405-605-2100
Start at Aloft, and then eat and drink your way down the alphabet to the W XYZ Restaurant and Bar. If you're just in the mood for drinks and snacks, check out the smoked salmon mousse or oven-fresh pretzel bites. If you're in the mood for something substantial, you might find the cherry blossom filet will fill you up for a night full of Zzzz.
Print headline: Haute-el cuisine