This year's Oklahoma City Memorial Marathon Race to Remember is Sunday, which means there will be thousands of hungry folks on the streets. Whether you're gearing up to race, recovering from a 5K or just hungry for a delicious meal, we have a few suggestions.
Mark Hancock
Grilled Salmon at Paseo Grill, in Oklahoma City, 5-9-16.
Paseo Grill
2909 Paseo St., Suite A
405-601-1079
The omega-3 fatty acids in fish are renowned for their health benefits, but they taste best when you get them from Paseo Grill. Up the stairs, diners find a relaxing atmosphere, a welcoming staff and tasty salmon. The cherry wood-smoked salmon appetizer is as delicious as it is good for you, and the grilled Atlantic salmon is especially flavorsome when topped with creamy beurre blanc.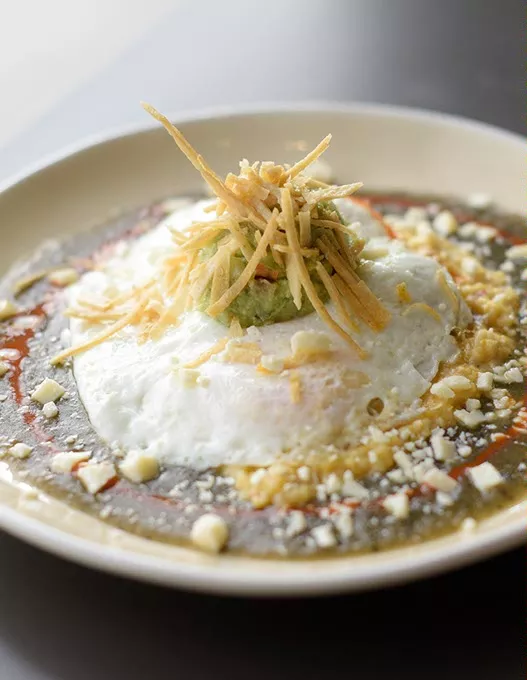 Garett Fisbeck
Chieiftain's Revenge at Hatch, Thursday, Feb. 2, 2017.
Hatch
1101 N. Broadway Ave.
405-609-8936
Eggs are incredible, edible dynamos of delectability. You'll get about 10 percent of your daily protein from one, in addition to vitamin K, which is necessary for building strong bones on which to run. Power up at Hatch with the marginally healthy chicken-fried eggs. Okay, maybe eggs are better for you when they're poached or hard-boiled, but it's unlikely you'll find more irresistible ovum than these. Batter-dipped and fried with a luscious runny yolk inside, nobody wants to eat just one.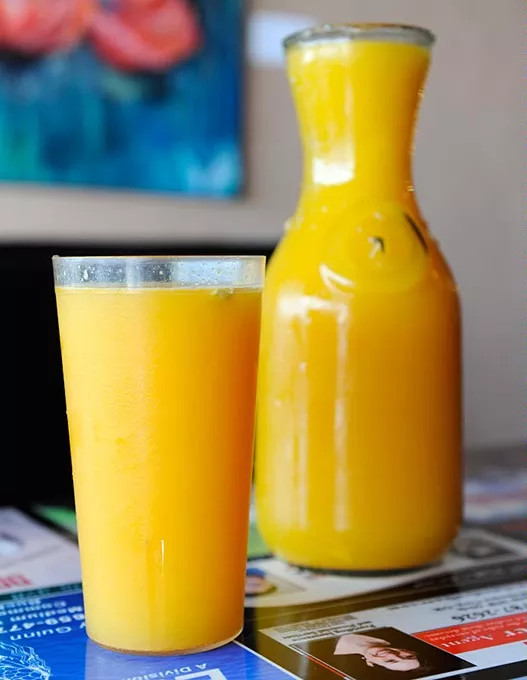 Garett Fisbeck
Fresh squeezed Orange Juice at Classen Grill in Oklahoma City, Friday, Sept. 18, 2015.
Classen Grill
4124 Classen Circle
405-842-0428
Squeeze yourself into the frequently packed Classen Grill for breakfast and you'll notice a lot of tables with nearly empty carafes of orange juice. The diner is well-loved for it's freshly squeezed OJ. Watch the staff dump buckets of oranges into a machine for their turn in the extractor. Each glass brims with vitamin C, an antioxidant that's shown to help alleviate muscle soreness. Science has yet to tell us if pancakes prevent shin splints, but it might be worth a try.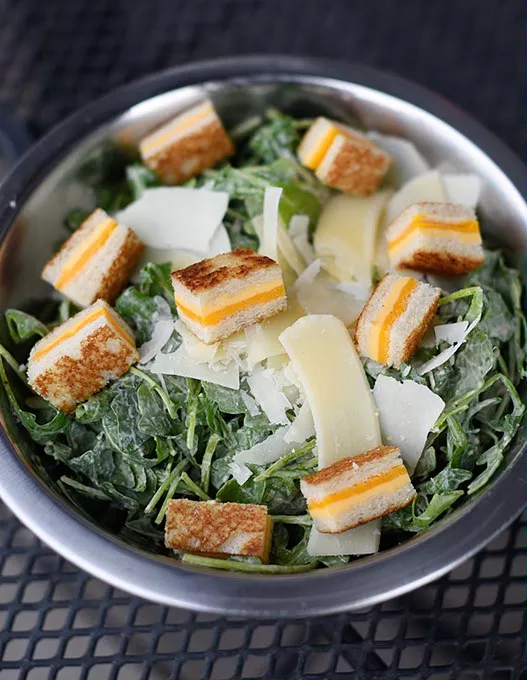 Garett Fisbeck
Caesar salad with grilled cheese croutons in Oklahoma City, Wednesday, April 13, 2016.
The Mule
1630 N. Blackwelder Ave.
405-601-1400
Broccoli, kale and Brussels sprouts get a lot of attention for their health benefits, but don't overlook arugula. The mildly bitter leafy green is a cruciferous vegetable, which means it might be helpful in preventing cancer, and its nitrates might enhance exercise endurance. It is also quite tasty in The Mule's arugula Caesar salad. Tossed with creamy dressing and topped with tiny grilled cheese croutons, it's one of the best in the metro.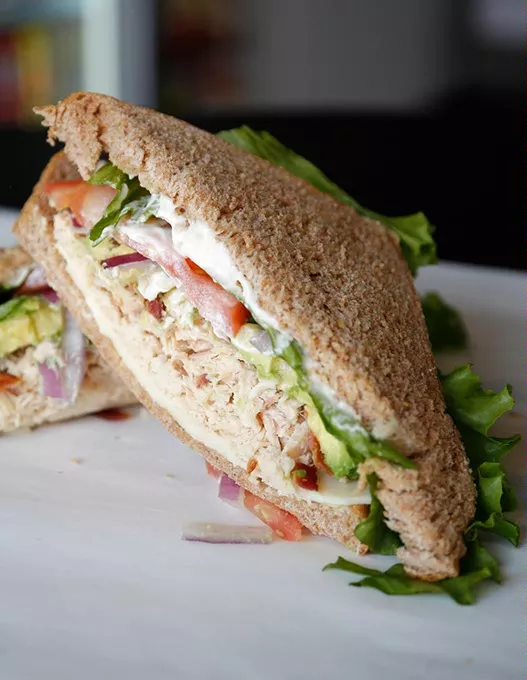 Garett Fisbeck
Bib Fortuna at The Sandwich Club in Oklahoma City, Wednesday, Oct. 7, 2015.
The Sandwich Club
3703 N. Western Ave.
405-525-0799
There is a practice among marathon runners known as "carb-loading," in which the athletes eat bread, pasta and the like to fuel their bodies with easy-to-burn glycogen energy. Plain bread is pretty boring, though, so why not run to The Sandwich Club and order the flavorful The Mix Tape, which combines chicken, Gouda, avocado, sprouts and pesto between two slices of bread. For an after-race treat, the folks at The Sandwich Club always pack a few Jolly Ranchers in your bag.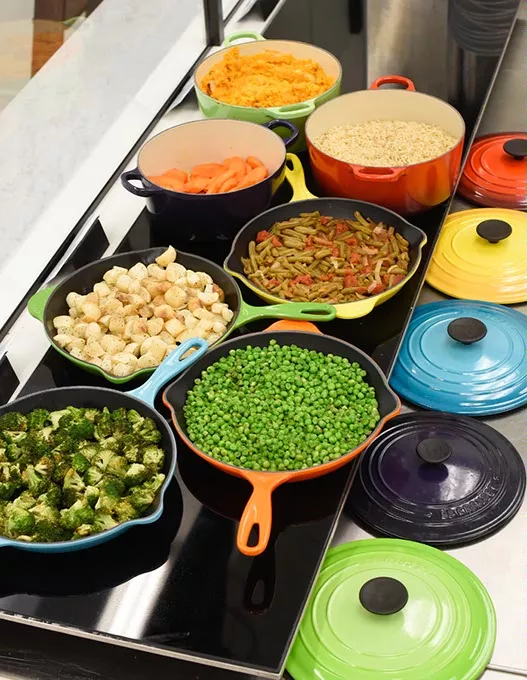 Garett Fisbeck
Hot bar at Provision Kitchen in Oklahoma City, Thursday, April 21, 2016.
Provision Kitchen
6443 Avondale Drive
405-843-2310
If you're in the mood for carbs, look no further than Provision Kitchen's daily hot bar. The restaurant is well stocked with healthy and tasty options, including energy-packed sweet potatoes and root vegetable mash. A cup of sweet potato contains almost 58 grams of carbohydrates to keep your engine running and so many vitamins you should probably be eating one right now.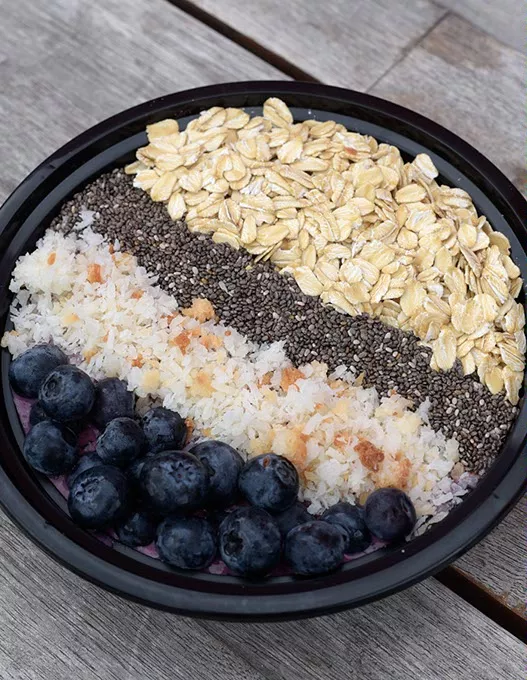 Garett Fisbeck
Lambda Lambda Lambda bowl at Wheeze the Juice, Wednesday, April 12, 2017.
Wheeze the Juice
30 NE Second St., Suite 1B
405-602-0102
Without bones, running would just be called oozing and marathons would last a really, really long time. So protect your bones with calcium-rich foods like yogurt, which can be found in Wheeze the Juice smoothies and bowls. Both Berry Bonds and Lambda Lambda Lambda use yogurt, filled with carbs and protein, as well as tasty strawberries and blueberries. Be sure to grab a bottle of juice to enjoy after the race.