It's starting to heat up, and we've got a long summer around grills ahead of us. Before stuffing our bodies with charcoal-kissed meats, check out a few of the best plant-based dishes in the city.

by Jacob Threadgill | Photos Gazette / file and provided
The Red Cup
3122 N. Classen Blvd.
theredcupokc.com | 405-525-3430
Everything on The Red Cup's menu is plant-based, and it's entirely vegan except for a few instances of an egg. The dish that showcases what it does best is the chorizo mac and cheese. Chef Patrick Clark could've easily used processed tofu for chorizo, but instead, it's a proprietary plant mixture that is sturdy and gives the dish a crunchy contrast from the smoky pasta that benefits from the acidity of tomatoes.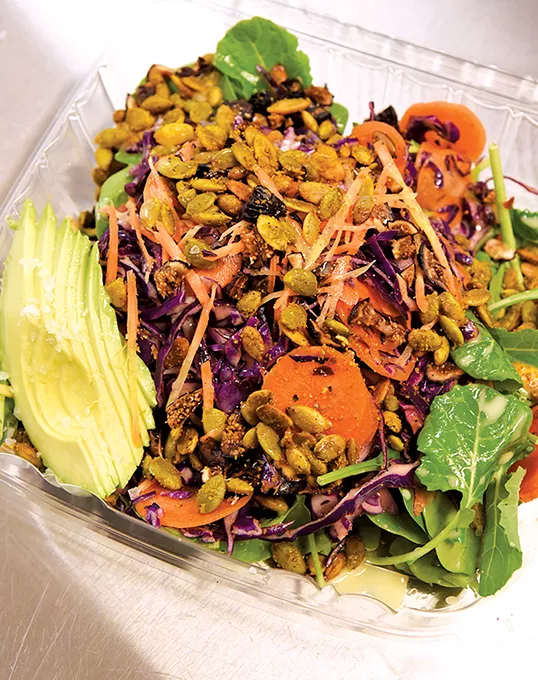 Nourished Food Bar
131 Dean A. McGee Ave., Suite 115
nourishedfood.co | 405-740-7299
As the facts around food science are ever changing, there are a few common denominators for a healthy diet: Limit processed foods and focus on nutrient-rich ingredients that haven't been cooked to death (preferably raw). The rotating food bar at Nourished is a direct link to local ingredients that will fill you up without weighing you down.
The Loaded Bowl
1211 SW Second St.
theloadedbowlokc.com | 405-820-9599
Freshness is the key to The Loaded Bowl's vegan nachos. Using the same cashew cheese as its macaroni and cheese that paved the way to a brick-and-mortar location, the nachos are highlighted by freshly fried chips, fresh pico de gallo and guacamole. Add in the crunch of cabbage, the smokiness of black beans and lentil chorizo, and the nachos will keep you coming back to the Farmers Market District.
The Pritchard
1749 NW 16th St.
pritchardokc.com | 405-601-4067
There are certain items at The Pritchard that will never rotate off the menu, like the crispy Brussels sprouts, but chef Shelby Sieg likes to introduce seasonal dishes about every six weeks. One of her newest creations is a beet risotto ($12) paired with local nasturtium leaf pesto and topped with crispy chickpeas. There is Pecorino Romano cheese in the risotto, so it's not vegan, but all the ingredients are mindfully sourced.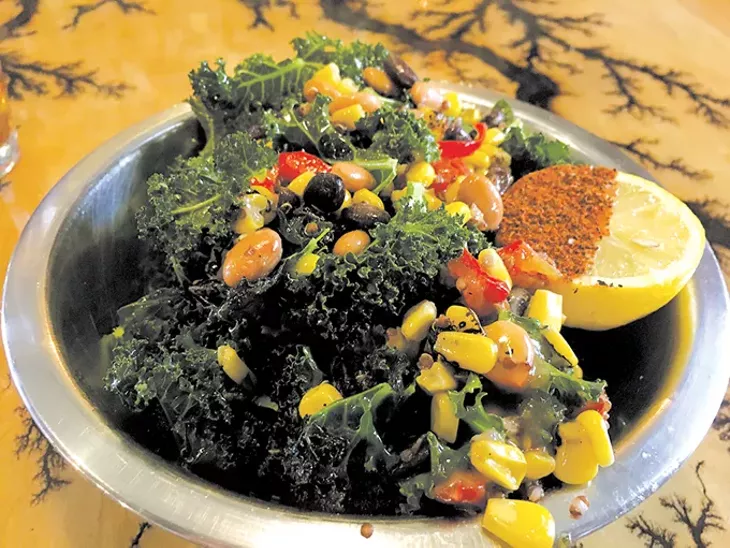 The Press
1610 N. Gatewood Ave.
thepressokc.com | 405-208-7739
The ethos of The Press is to present modern Oklahoman food. This means the same menu that features a chicken-fried rib-eye steak also features vegan dumpling soup, a vegan burger and an Indian taco. The dish that delivers with a light and refreshing house dressing is Greens & Beans. Kale is massaged to work out the nutrient-rich green's toughness, and the composed salad is one of the best things on the menu.
Stone Sisters Pizza Bar
2124 N. Broadway Ave.
stonesisterspizza.com | 405-609-6599
Stone Sisters Pizza Bar has become a haven for those with gluten intolerance because its options include sprouted spelt crust. Its commitment to organic toppings includes three vegan pizzas. The No. 1 Vegan Schmeegan pizza includes white bean hummus, nutritional yeast, vegan cheese, smoked eggplant, red onions, banana peppers, arugula pesto and potatoes and is finished post-baking with an arugula salad.
Tucker's Onion Burgers
5740 N. Classen Blvd.
tuckersonionburgers.com | 405-286-3331
You no longer have to eat meat to enjoy one of the best burgers in the country. Ranked by Thrillist as the 53rd best hamburger in the country, Tucker's signature onion burger is getting the Impossible Burger brand treatment. Recently introduced as a limited time offer, the veggie burger will be added to the permanent menu at Tucker's multiple metro locations if it receives enough support.