Whether you prefer to kick back with a cold beer or mingle with a glass of fine wine in hand, new places to grab a drink are cropping up around the metro. Ahead are some of the most anticipated openings. From complicated cocktails to basic brews, it's easier than ever to find a place to share a drink.
By Megan Prather and Rachel Schaub
Photos by Garett Fisbeck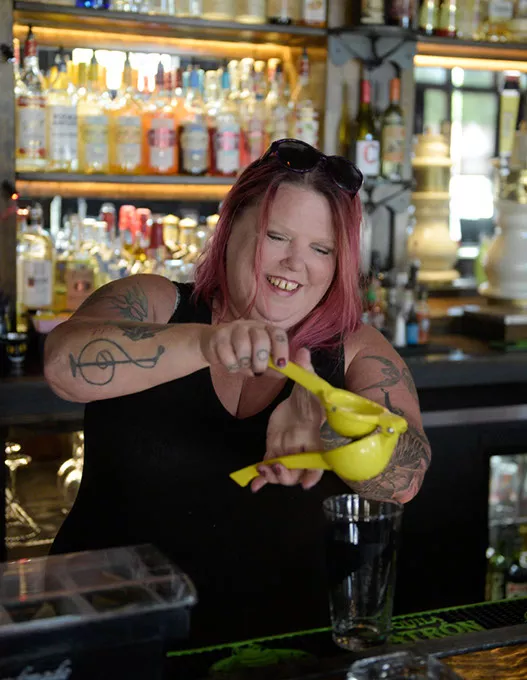 Garett Fisbeck
Misty Hunnicutt makes a fresh squeezed cherry limeade at the Lost Highway, Wednesday, July 19, 2017.
Lost Highway
1613 N. May Ave.
405-601-5606
Boasting live music, karaoke Mondays and margarita pitchers for $6 on Tuesdays, Lost Highway has something for folks of all kinds. Bartenders serve up local ciders and beers straight from the can or with a boozy Deep Eddy twist on classic brews. Starting at 7 p.m., Tamale Tuesdays at the Highway bring together the bar's unique concoctions and free tamales with a drink purchase. Get there early to grab a tamale before they're gone. Trust us; they go fast.
Garett Fisbeck
Rewind Pub, Wednesday, July 19, 2017.
Rewind Pub
1203 SW Second St.
405-839-8088
Enjoy a beer and a blast from the past at Rewind Pub. This new, groovy bar and eatery offers 25-cent video games and classic pub food alongside an extensive beer selection, both tap and bottled. Pair one of more than 40 brews with a build-your-own or BBQ chicken pizza for $13 and $11, respectively, and order some pretzels ($6) or mini corn dogs ($7) to snack on while you take on Defender and Q*bert.
Garett FIsbeck
Strawshitaw at Parks Bar and Grill, Monday, April 10. 2017.
Parks Bar & Grill
322 NE Second St.
405-839-8190
Sit down with a signature drink at Parks Bar & Grill. You'll be glad you did. For the bolder among us, the place's packed daily specials listings offer weekly Fireball Fridays, with the titular drink priced at $3. Go forth and be brave. If you're looking for a milder drink, order The Carlton ($8), a vodka sour mixed with Apple Ciroc for a modern update on a classic drink, or The No Pressure ($8), a sweet and fruity drink stirred with Skyy citrus and grape vodka that tastes, according to the menu, like "drinking a SweetTart, only better."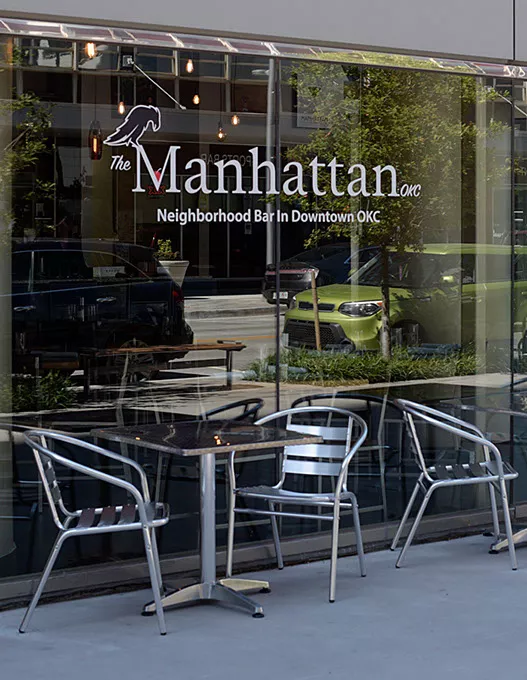 The Manhattan OKC
210 Park Ave., Suite 150
405-605-5300
In the center of downtown Oklahoma City is a casual place to grab a bite to eat and a drink to go along with it. It has an extensive menu of sandwiches ranging from the warm lobster roll ($19) to Zach's Classic Reuben ($12) that pairs nicely with its extensive drink menu. The Classic Manhattan ($10) is made with Old Overholt rye, Martini & Rossi vermouth, Angostura bitters and Maraschino cherry. It also serves brunch 11 a.m.-2:30 p.m. Saturdays and Sundays.
Garett Fisbeck
Kong's Tavern, Wednesday, July 19, 2017.
Kong's Tavern
1016 N. Walker Ave.
405-602-2074
With TVs, games and a wide array of drinks, Kong's Tavern is a great place to kick back with friends. Its extensive menu includes Bombritos ($10), a delicious combination of Latin and Asian cuisine wrapped in a jalapeño cheddar tortilla with your choice of Korean short rib, pork belly, chicken or tofu. Or cool off with a Cookies & Cream ($14) made with bourbon, vanilla milkshake, chocolate chip cookie, cookie ice cream sandwich, chocolate Rice Krispies, Oreo crumbles and whipped cream.
Garett Fisbeck
Thomas Kimbrough makes a Firefly at The Union@SOSA, Wednesday, July 19, 2017.
The Union@SOSA
616 NW Fifth St.
405-601-2857
The Union@SOSA opened this spring, transforming a former electricians union hall into a unique space with two levels of seating on the inside and an outdoor patio for friends to gather, eat and drink. Enjoy grilled cheese and drinks on the patio, where a live band will most likely be performing, then move to the speakeasy located in the basement for cocktails.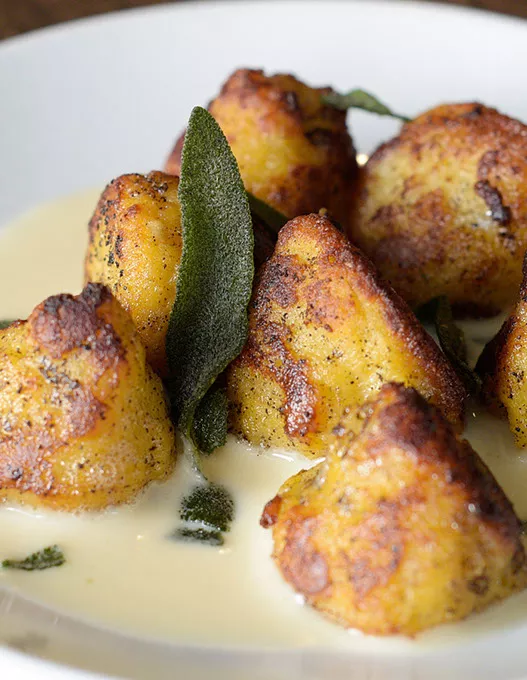 Garett Fisbeck
Butternut squash gnudi at The Pritchard, Wednesday, March 22, 2017.
The Pritchard Wine Bar
1749 NW 16th St.
405-601-4067
The Pritchard Wine Bar is the perfect spot for any wine lover. Its wine list features seasonal favorites that can be ordered by the glass, carafe or bottle. It also offers a selection of summer cocktails and beers that are certain to please. Try the Day Man, Fighter of the Night Man ($10) made with Few Breakfast Gin, tonic syrup, citrus juices and mint. The Pritchard also features a menu with ingredients sourced as locally as possible and serves brunch 10 a.m.-4 p.m. on the weekends.