The unheralded cousin of the chicken, duck is even outshined during the holidays with the arrival of turkey at dinner tables around the country. It's past time to give duck its due and enjoy the rich, tasty bird just for the heck of it.
By Jacob Threadgill Photos Gazette / file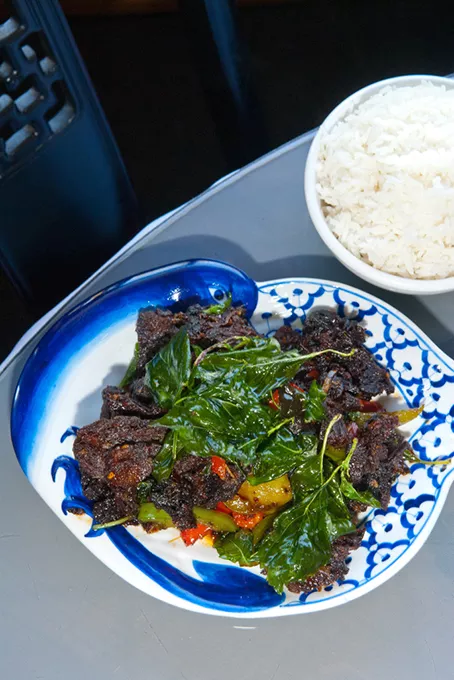 La Baguette Bistro
7408 N. May Ave.
405-840-3047
Just look for the little Eiffel Tower to fulfill all of your dreams of delectable duck. The miniature version of the French landmark has become its own beacon for high-quality French breakfast, lunch and dinner. Duck is available for lunch or dinner. A good choice is the breast and leg in an orange cranberry glaze paired with Brussels sprouts and risotto.
Paul Ly and one of their best customers, Phil Roberts. mh
Paseo Grill
2909 Paseo St.
405-601-1079
The trendy eatery named after the artsy neighborhood has duck served two ways: as a salad or as an entrée. The salad version tops mixed greens and blue cheese dressing with a duck breast and duck cracklings for good measure. The entrée is a boneless duck breast in a raspberry bourbon sauce with toasted pine nut orzo and sautéed green beans.
Fung's Kitchen
3321 N. Classen Blvd.
fungskitchenoklahoma.com
405-524-4133
The wall of ducks getting crispy as fat drips off of the whole bird are pretty hard to miss at Fung's Kitchen. Also called pei pa duck, those ducks hanging by the window are served four ways, including the classic Peking and even duck tongue in salt and hot pepper, which is a chef's specialty.
Garett Fisbeck
Maple Leaf Duck Salad at Paseo Grill in Oklahoma City, Thursday, May 14, 2015.
Lido Restaurant
2518 N. Military Ave.
405-521-1902
One of the city's oldest Vietnamese restaurants also serves American-style Chinese dishes. Perhaps most interesting between the Chinese-style dishes is the quarter duck with mushrooms served with rice noodles. Enjoy the duck or one of Lido's famous vermicelli bowls.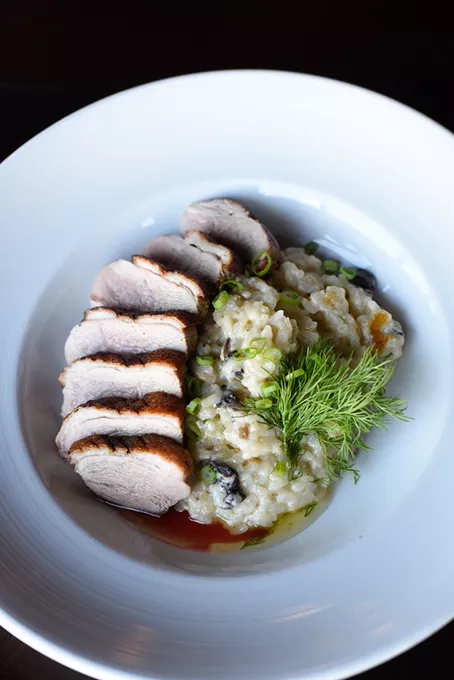 Musashi's Japanese Steakhouse
4315 N. Western Ave.
405-602-5623
What better way to enjoy the show put on by Musashi's hibachi chefs than with an appetizer of grilled duck wings marinated with scallions? The dish is a good starter for an exciting Musashi's meal that is sure to entertain and satiate.
Thai House II
500 NW 23rd St.
405-524-0503
Thai House II has perhaps the most unique interpretations of duck in the Oklahoma City area. The bird comes two ways. The crispy duck is made by dredging the bird in flour and frying it before pairing it with red chili paste, red bell peppers and Thai basil. The gaeng phed ped yang is grilled duck in red curry. No matter which dish you choose, you won't be disappointed.
Shannon Cornman
Duck and Scallion robata at Musashi's.Photo/Shannon Cornman
Whispering Pines
7820 E. State Highway 9, Norman
405-447-0202
This modern bed and breakfast with the feel of an early 1900s mansion is open 6-8:30 p.m. Tuesday-Saturday for dinner. The restaurant tops seared duck breast with a crème de cassis (black current) sauce is served alongside fresh vegetables and scalloped potatoes.