Who doesn't love pie? Americans love it so much we made apple pie our national dessert. Sweet or savory, hot or cold, for breakfast or for dinner, there's a pie for every meal of the day. Here are seven spots where you can find a fantastic pie in any flavor in Oklahoma.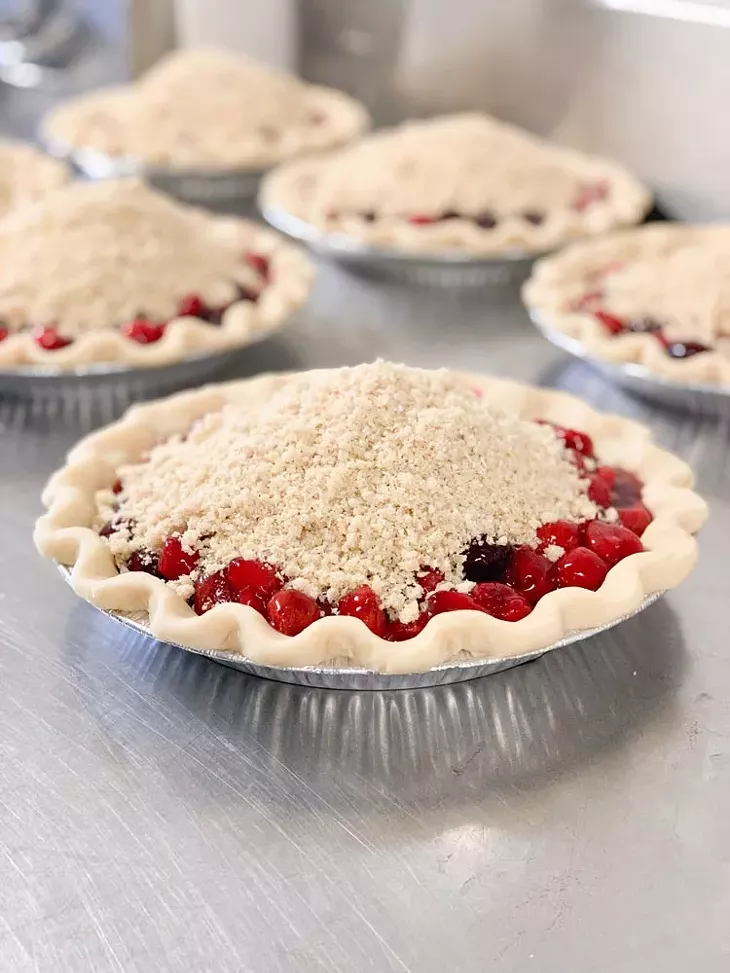 Pie Junkie
405-605-8767
1711 NW 16th St.
It could be because of the name, but Pie Junkie is probably one of the most well-known spots for pie in OKC, and not without good reason. Whether you're craving something sweet or savory, you're sure to find what your taste buds are looking for. They have a pretty extensive selection of flavors, and you can even grab a single slice to enjoy while you're perusing the Plaza District. Savory options like their poppy seed chicken casserole make a hearty and delicious meal, and you can preorder to pick it up on the way home.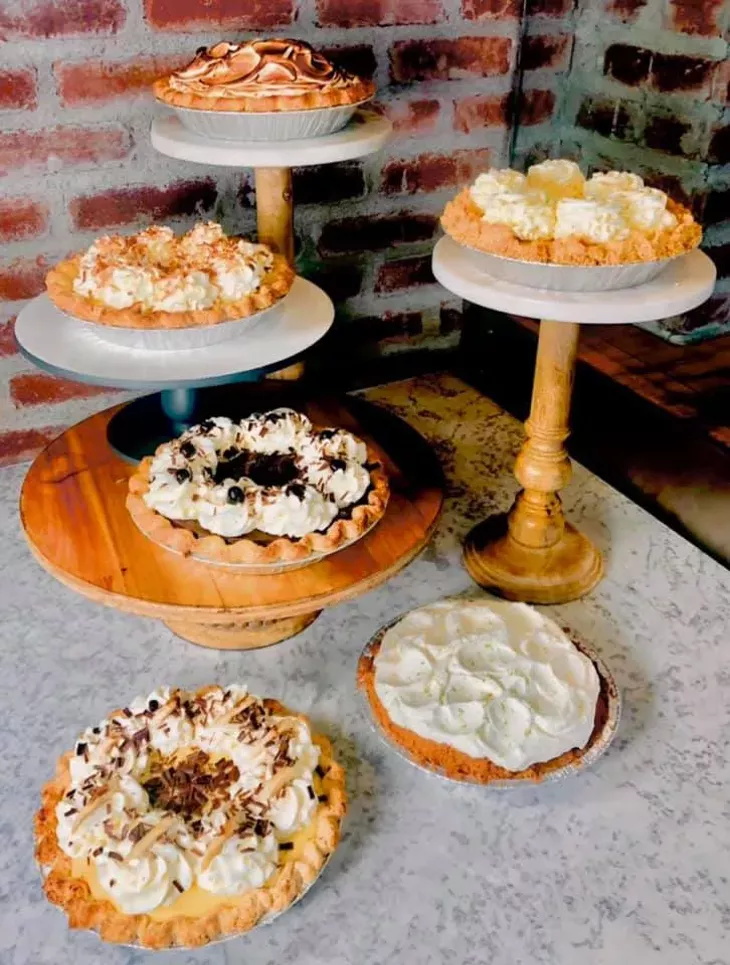 Railyard Pie Co.
405-920-6192
19 W. 1st St., Suite 150, Edmond
Railyard Pie Co. is a relatively new concept from chef Lynn Muir and Happy Plate Concepts located in the Edmond Railyard. Each day, Muir bakes pies from scratch based on her grandmother's recipes. For some uniquely sweet options, try the black bottom banana cream, a delicious combination of chocolate ganache, bananas, vanilla pastry cream, whipped cream, and shaved chocolate. Or the Atlantic Beach, which features a saltine cracker crust, citrus custard, whipped cream, and lime zest.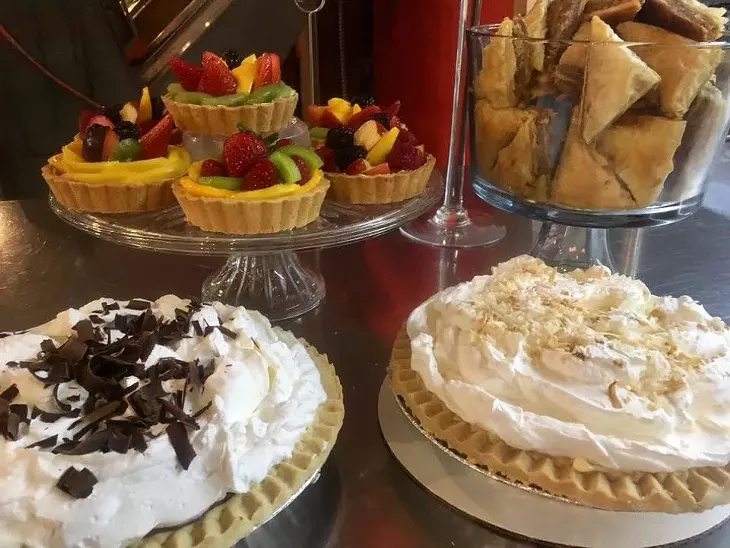 Ingrid's
405-946-8444
3701 N. Youngs Blvd.
For over 35 years, Ingrid's has been an Oklahoma City favorite, known for its authentic German cuisine and incredible bakery. Their menu boasts an assortment of cobblers, danishes, and other fruit-filled pastries, including all your favorite pie flavors. It's rumored that Ingrid's has the best strawberry rhubarb pie in the state, but if that's not your jam, perhaps their traditional Boston cream pie is. This flavorful classic features two layers of yellow cake filled with pastry cream and topped with a rich chocolate ganache.
Arbuckle Fried Pies
405-946-1300
3721 NW 50th St.
You don't have to drive all the way
to the mountains to get an Arbuckle Fried Pie, though you can if you want. At locations in Davis, Tonkawa, and Oklahoma City, you can find freshly made, personal-sized pies with flakey, flavorful crust fried to perfection. They've got pies for breakfast, lunch, and dinner. If you're feeling sweet, choose from flavors like cherry, pineapple, or blackberry, and for more savory options, try the chicken and vegetable or the spinach and mushroom.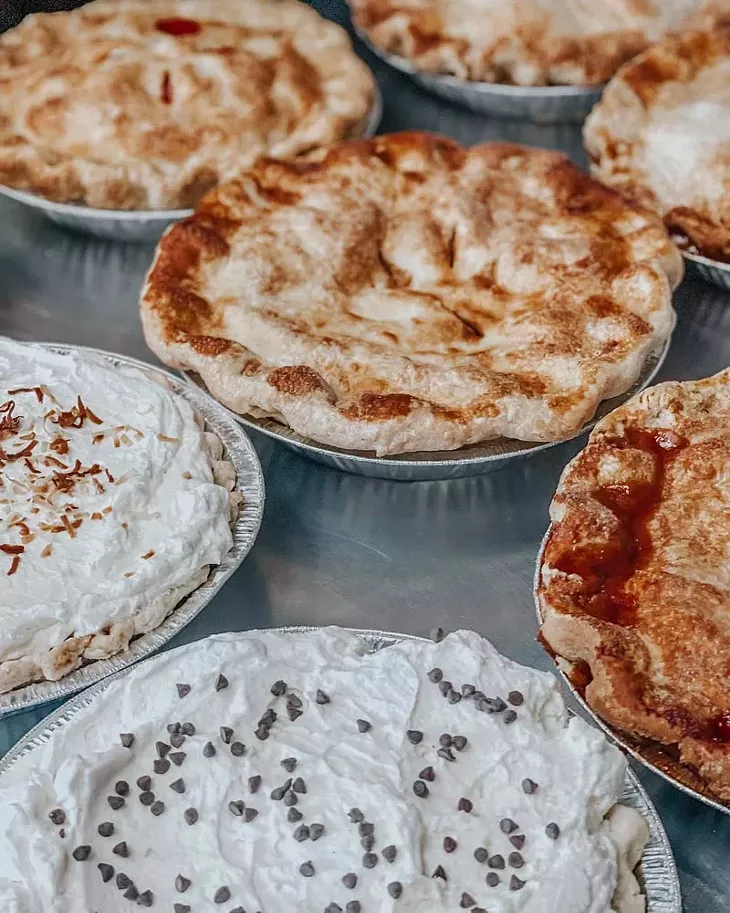 Little J's Bakeshoppe
(918) 995-7979
10032 S. Sheridan Road l, Tulsa
Little J's Bakeshoppe is a cozy little spot in south Tulsa where you'll find an impressive array of made-from-scratch pies, pastries, cookies, and other heavenly baked goods. Their quiche makes the perfect breakfast pie, and when you pair it with a fresh cup of their locally roasted coffee, your day might just be off to a fantastic start. If you're looking for some sweeter options, they've got them, and with selections like key lime, peanut butter and apple crumble, there is a pie to hit the spot.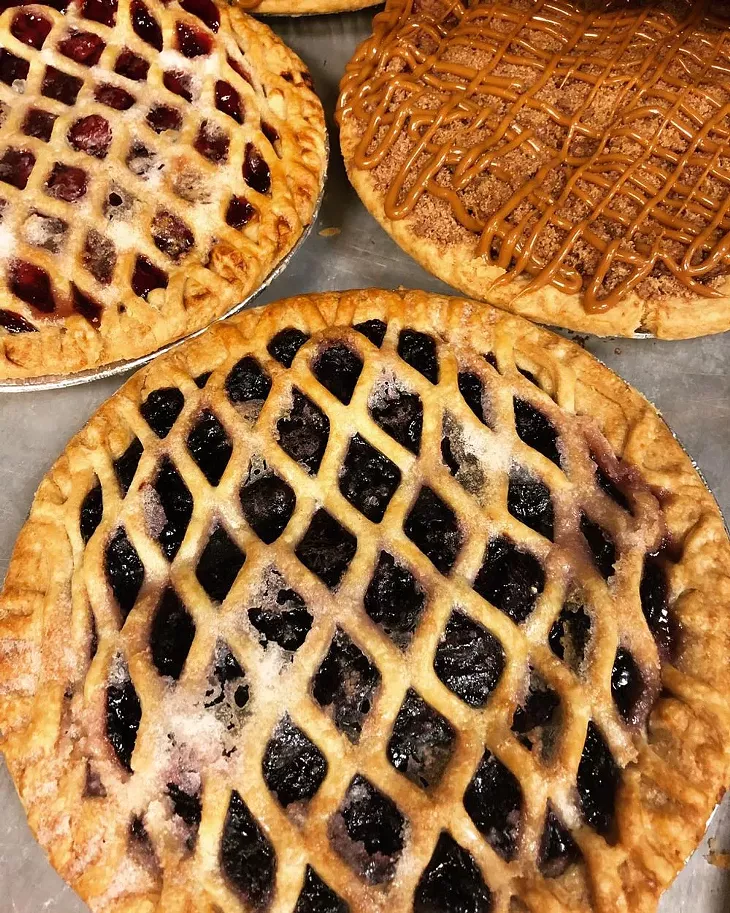 Merritt's Bakery
918-747-2301
3202 E. 15th St. Tulsa
Merritt's Bakery is a fantastic place to enjoy breakfast or lunch. From pastries to sandwiches, their impressive menu boasts a variety of treats throughout the day and, of course, a fabulous selection of pies. They may be most well known for their pecan pie, but here you'll find all the freshly baked classics, including pumpkin, peach, apple, and cherry. Or enjoy a cooler option like key lime, banana cream, or chocolate cream. They now have multiple locations throughout the Tulsa area to make satisfying your sweet tooth a little easier.
Antoinette Baking Company
918-764-8404
207 N. Main St. Tulsa
A Tulsa staple, Antoinette's is well known for their freshly baked treats, and their pies are definitely something to write home about. Their robust menu of delicacies is filled with so many amazing pies, they even offer a "pie night" twice a week. With new and ro- tating flavors, patrons can sample a sweet new treat each visit. Enjoy classic favorites like lemon meringue and coconut cream or experience unique options like lavender lemon chess, mile-high chocolate, and butterscotch caramel meringue.