It is a peak time of the year for fresh fruit. Summer salads using fruit are a great way to fill up with nutrients without carrying a food baby while you're moving quickly from your car air conditioning to office air conditioning. These seven salads pack in the fruit.
Charleston's Restaurant
224 Johnny Bench Drive
charlestons.com | 405-778-8868
Charleston's is an Oklahoma City institution that now has 20 locations in six states, including six in the OKC metro. Walt's Champagne Chicken Salad gets a summer boost with the inclusion of strawberries and pineapples. According to a company spokesperson, the "Walt" refers to Walt Disney because the salad is inspired by the magic of Disney. It is summery, sweet and savory all at the same time.
Stuffed Olive Cafe & Catering
12215 S. Pennsylvania Ave.
stuffedolivecafe.com | 405-735-7593
In addition to offering some delicious and inventive sandwiches, Stuffed Olive offers nine salad variations that range from a spinach salad with fresh fruit to a broccoli salad that also has cauliflower, carrots, onion, cheddar and tomatoes. If you don't like spinach, go for the Bonsai salad that pairs mixed greens with oranges, spiced nuts, apples and feta with ginger sesame dressing.
Saturn Grill
6432 Avondale Drive, Nichols Hills
saturngrill.com | 405-843-7144
With eight salad offerings and about half of its menu comprised of vegetarian and vegan options, Saturn Grill is a go-to for eaters who don't want to be weighed down. The strawberry spinach salad adds coconut and a sweet lime-poppy seed dressing. The Asian broccoli salad combines green beans, carrots, soba noodles, sesame and sunflower seeds with a sweet soy dressing.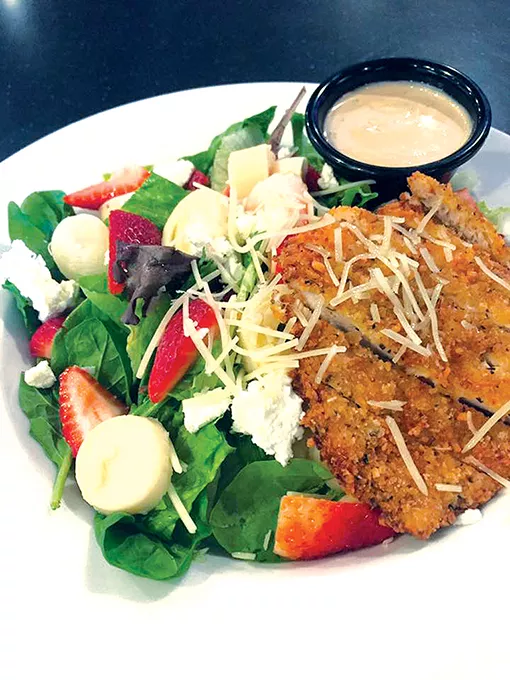 Zorba's Mediterranean Cuisine
6014 N. May Ave.
zorbasokc.com | 405-947-7788
Zorba's menu features a wide range of cuisine from across the Mediterranean. Its salad game is on-point as well. Its eight salads include traditional tabbouleh and Persian mixtures, but its signature is truly unique. Combining greens with grape tomatoes, hearts of palm, apple slices and feta cheese, the salad is topped with champagne vinaigrette and a strip of crisp bacon.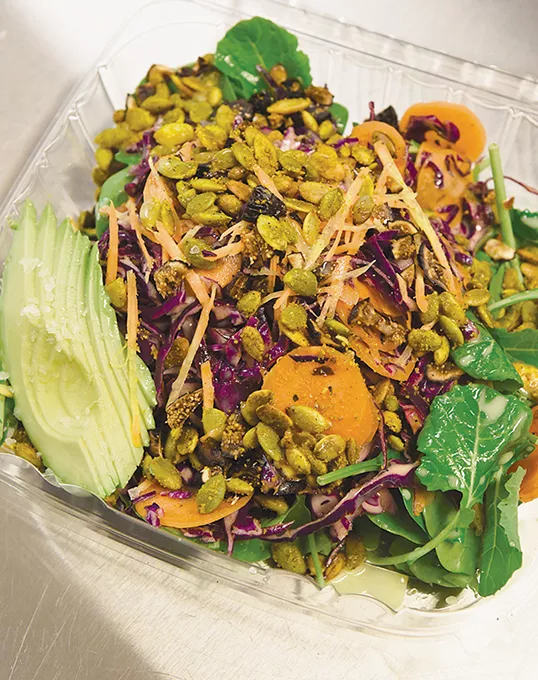 Nourished Food Bar
131 Dean A. McGee Ave., Suite 115
nourishedfood.co | 405-740-7299
You never know what kind of tasty specials the owners of Nourished Food Bar will unveil each day, but four salads are among the staples. One of the most popular is the cabbage, carrot and fig salad that tops the fresh ingredients with chili-spiced pepitas and lemon vinaigrette. The beet salad will make you rethink beets as a feature by pairing them with roasted chickpeas, fresh greens and avocado.
The Hall's Pizza Kitchen
1004 N. Hudson Ave., Suite 106
thehallskitchen.com | 405-600-1991
Much like another sign of the summer, fresh gazpacho, a panzanella salad is like summer on a plate. Each dish shares many ingredients: bell peppers, tomato, cucumber, red onion and bread (bread is used to thicken gazpacho), but the panzanella puts each individual ingredient in the spotlight. Hall's offers a fresh panzanella in addition to its excellent pizza.
All About Cha
100 E. Main St., Suite 101B
allaboutcha-cafe.com | 405-604-2996
Lunch and dinner at All About Cha offers a mix of two Korean marinated meat wraps and a few other more traditional wraps and sandwiches with freshly made sushi. Its orange chicken pairs spinach and romaine with fresh citrus, onions, feta cheese and toasted walnuts. The "All About" Salad gives guests the option of added shrimp, scallops or chicken to a hearty mix of green and vegetables.