While everyone else is worried about hitting the gym three times a week and "practicing mindfulness" or whatever, you have chosen a truly worthy resolution for 2017: Eat at more new restaurants. Every time a new place opens up, you think, "That sounds good! I ought to check that out." But months go by, and then it has been a year and you still haven't walked through the door. No more! This year, we're making it easy by giving you a list of new restaurants to love.
Garett Fisbeck
Wicked Piston Bar & Grill in Edmond, Tuesday, Dec. 27, 2016.
Wicked Piston Bar & Grill
309 S. Bryant Ave., Edmond
wickedpiston.com
405-285-1484
Drive too fast and you might miss Edmond's Wicked Piston Bar & Grill. Climb the stairs to the second-story eatery and park in one of those cozy booths with tall glass of beer. Piston's menu is sure to set some hearts racing. Piston lamb sliders are a good appetizer right off the line, but so is Wicked Saganaki, a flaming dish of Greek cheese with lemon and brandy served with pita points. Adventurous palates might be drawn to NOX (N2O) "death by fire" wings with a root beer float to put out the flames.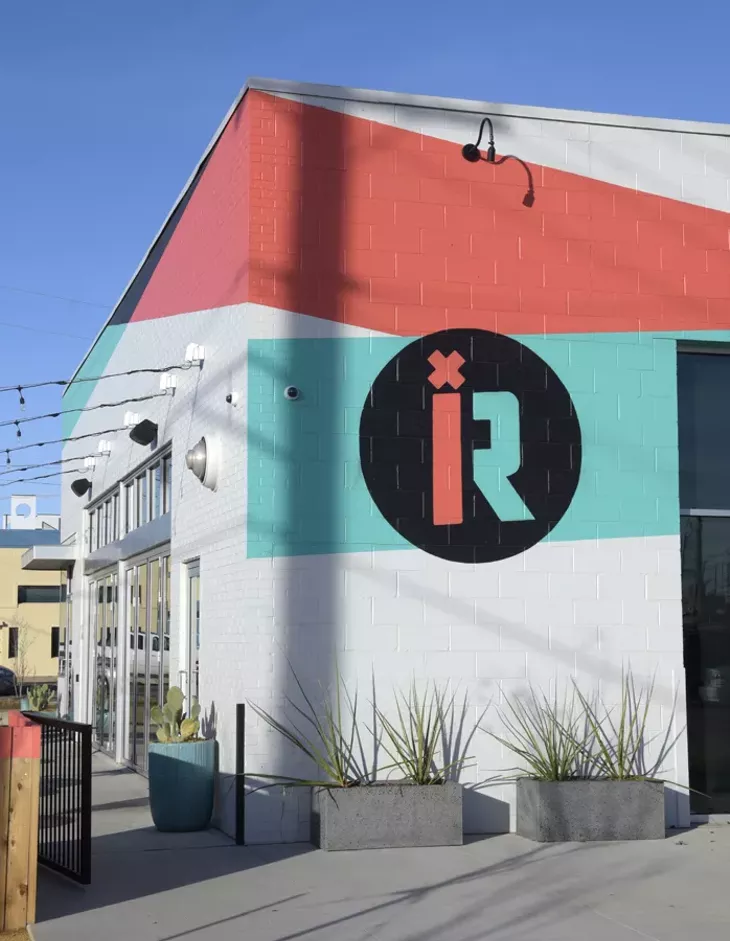 Garett Fisbeck
Revolucion in Oklahoma City, Wednesday, Dec. 28, 2016.
Revolución Taqueria & Cantina
916 NW Sixth St.
revolucionokc.com
405-606-6184
After conquering the worlds of pizza and ramen with Empire Slice House and Gor? Ramen + Izakaya, the owners of 84 Hospitality Group took on a new challenge: tacos. Revolución Taqueria & Cantina is open until midnight Monday-Saturday, making it a good place for lunch, dinner and late nights with crave-worthy including pork carnitas and beef barbacoa tacos or wilder options like chicken tinga and cauliflower al pastor.
Garett Fisbeck
A pizza goes into the custom-built Italian oven at Volare in Norman, Tuesday, Dec. 27, 2016.
Volare
315 White St., Norman
volarepizzeria.com
405-310-3615
Ninety seconds. Nine-hundred degrees Fahrenheit. Those are two key ingredients in the extremely tasty pizza napoletana (Neapolitan-style pizza) served at Volare pizzeria. It cooks in a minute and a half, but that doesn't mean you have to eat that fast. Volare serves flavors worth savoring, including fungi di lemon with fontina and taleggio cheeses, roasted mushrooms, artichokes and lemon oil and Wilson with roasted zucchini, red peppers and eggplant, basil, spinach and cheese over red sauce.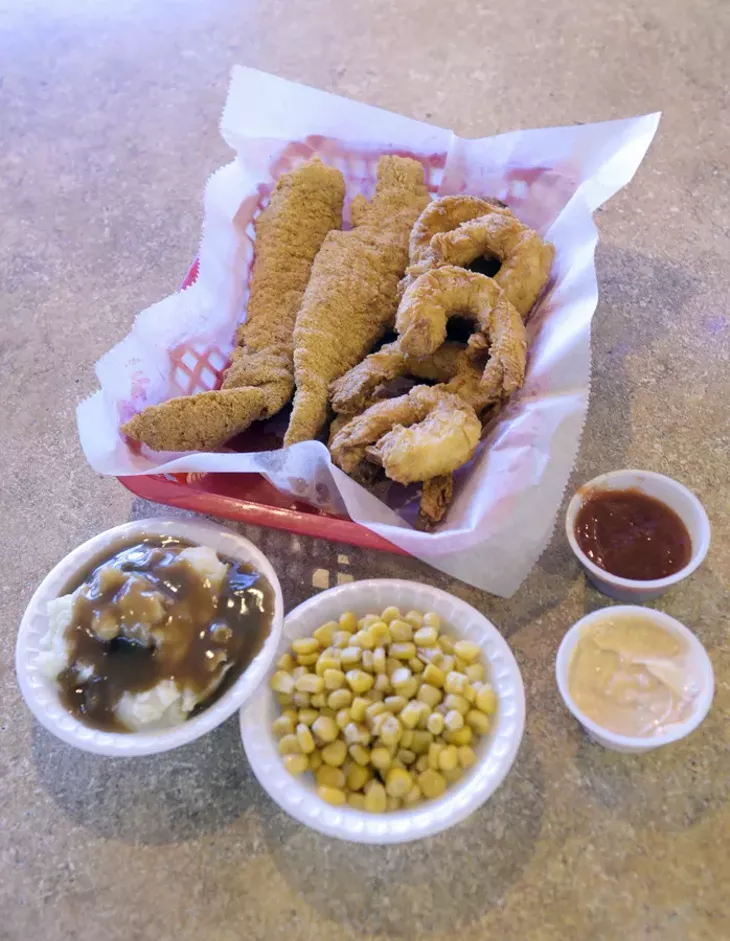 Garett Fisbeck
Number 19 combo with mashed potatoes and corn at Sam's Southern Eatery in Oklahoma City, Wednesday, Dec. 28, 2016.
Sam's Southern Eatery
2336 NW 23rd St.
samssoutherneatery.com
405-605-5252
Perhaps the most difficult part of visiting Sam's Southern Eatery is leaving any corner of the menu untouched. A really tasty piece of fried fish is always great, and the crab cakes sound appetizing and, ooh, is that a po'boy with gyro meat? Or maybe this is a good time to order those Buffalo wings and try the fried livers and gizzards. Sam's bills itself as "home of the jumbo shrimp," so it's rude not to try at least a couple of those. The Shreveport, Louisiana-based franchise came to Tulsa in 2014 and recently expanded to Oklahoma City.
Garett Fisbeck
Shrimp and chicken pad see ew at Thai or Pho in Yukon, Tuesday, Dec. 27, 2016.
Thai or Pho
722 S. Mustang Road, Yukon
facebook.com/thaiorpho
405-265-1969
It's about a 16-hour drive to get from Bangkok, Thailand, to Ho Chi Minh City, Vietnam, or an hour and a half by plane. Meanwhile, it takes only 20 minutes to get to Yukon's Thai or Pho from midtown Oklahoma City. That's a much shorter trip with the same rewards — enjoying delicious Thai and Vietnamese cuisines side by side. Indulge in pad see ew with thick, stir-fried noodles, broccoli and carrots in a sweet Thai sauce or a big bowl of steaming hot pho with rare steak and meatballs all in the same restaurant.
Garett Fisbeck
Carnitas egg rolls, mango salsa with season wonton chips at El Toro Chino in Norman, Tuesday, Dec. 27, 2016.
El Toro Chino
2801 36th Ave. NW, Norman
eltorochino.com
405-708-9472
Take the Chinese bull by the horns. The Latin-Asian fusion restaurant already garners a lot of love from Norman diners with carnitas eggrolls that mix slow-roasted pork with Korean hoisin sauce, pepper jack cheese, caramelized onions and roasted corn and veggie enchiladas full of artichoke hearts, mushrooms, spinach and cheese and covered in mango salsa and citrus sour cream. At lunch, El Toro Chino offers make-your-own combos with a mix of Latin and Asian ingredients to experiment with.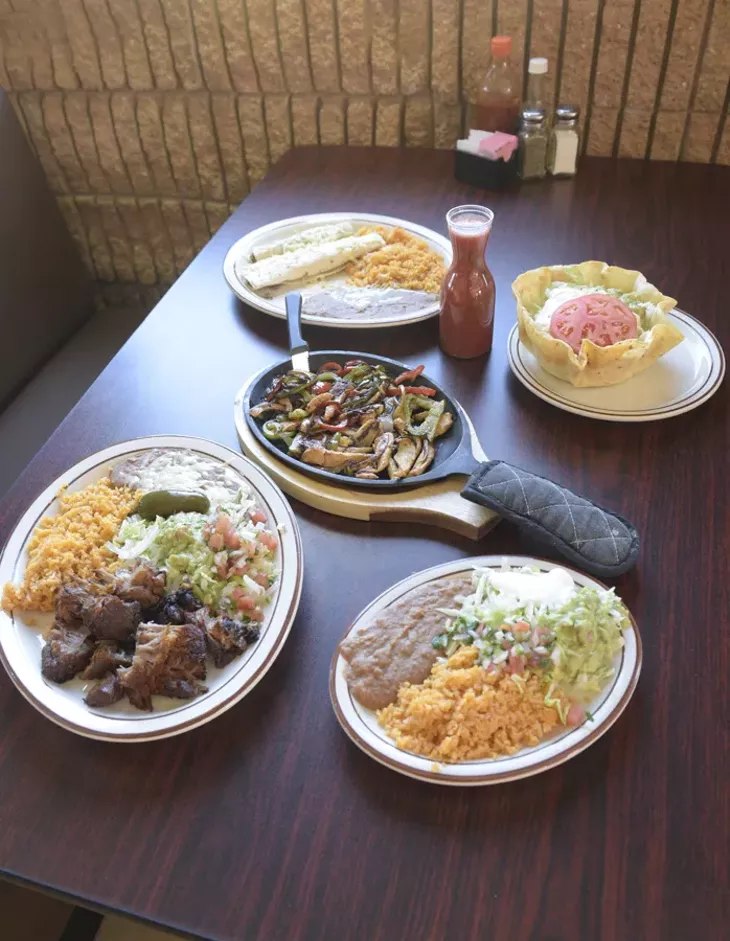 Garett Fisbeck
Food spread at Los Perez in Oklahoma City, Wednesday, Dec. 28, 2016.
Los Perez Mexican Restaurant
7011 W. Hefner Road
facebook.com/losperezmex
405-498-3460
Everybody deserves to feel special now and again, which might be why Los Perez Mexican Restaurant carved out an entire section of its menu for special dinners. That's where customers will find quesadilla de chile Colorado stuffed full of spicy rib-eye and cheese and slathered in red sauce and filete diablo, which is tilapia filet cooked in a spicy chipotle sauce.
"Print Headline";
Restaurant resolutions,