Friday is National Bagelfest Day. Many of the food holidays are simply the name of the food followed by "day," but the bagel gets "fest" because it's worthy of celebration.
By Jacob Threadgill with photos by Alexa Ace and provided
Stitch OKC
229 E. Sheridan Ave.
stitchokc.com | 405-652-1322
Now with two locations — one in Bricktown and the other near The Jones Assembly — Stitch offers a variety of drinks and entrees, both of which are adaptable for morning or evening. In the morning, dig into Stitch's selection of Bagel n' Schmear by combining marble rye, jalapeño, everything or seven-grain bagels with a choice of spread: honey almond, herb, plain and seasonal berry.


The Red Cup
3122 N. Classen Blvd.
theredcupokc.com | 405-525-3430
The sesame bagel is the No. 2 selling bagel in the country, right behind the standard plain bagel. The Red Cup uses its own sesame bagel as the foundation for its Bagelwich, which also includes scrambled tofu, tomato, onion, peppers and cashew cheese sauce.


Ingrid's
3701 N. Youngs Blvd.
ingridsok.com | 405-946-8444
Bagels are the only baked products that are boiled before hitting the oven to create their signature chewy texture. Ingrid's even refers to them as "water bagels" and has an extensive selection: banana-nut, blueberry, cheddar-onion-garlic, cherry, cinnamon raisin, cranberry-orange, date-nut, egg, everything, jalapeño cheddar, orange, poppy seed, sesame seed, plain and plain with raisins.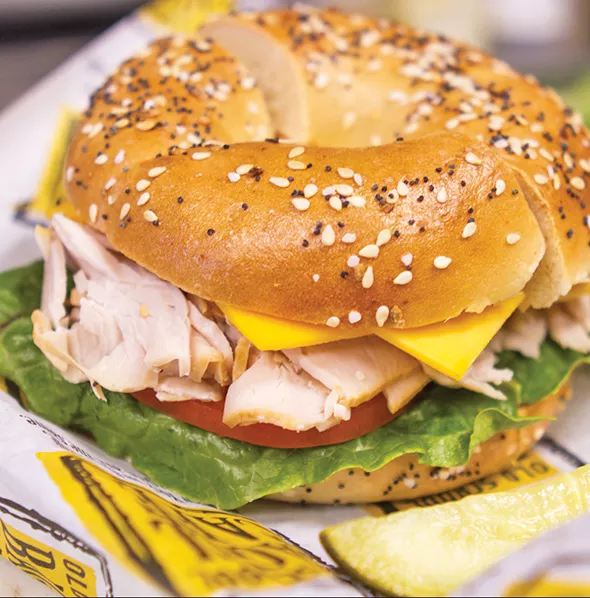 Old School Bagel Cafe
511 NW 23rd St., Suite 101
oldschoolbagel.com | 405-602-3447
Founder Danny Cowan spent 20 years in the bagel business before moving back to Oklahoma and starting Old School Bagel Cafe. The 11 locations offer 16 varieties of bagels with an assortment of cream cheeses, dressing and garnishes. They can be enjoyed as a breakfast sandwich (six varieties) or for lunch or dinner when the options expand to 21 choices.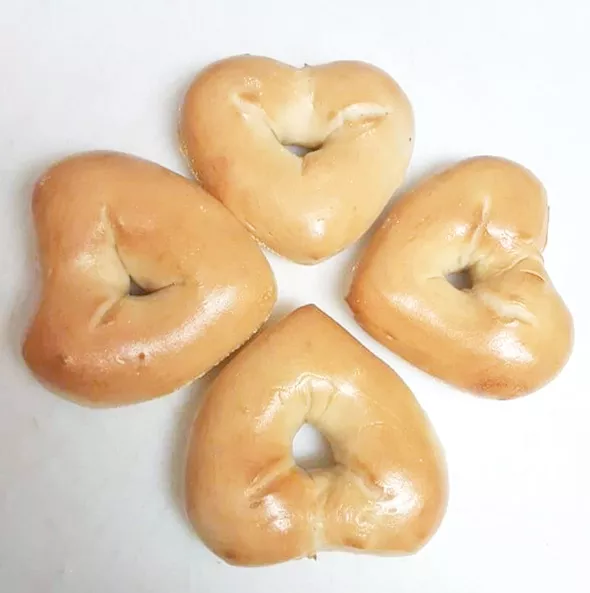 Brown's Bakery
1100 N. Walker Ave.
facebook.com/brownsbakeryokc | 405-232-0363
Brown's has served Oklahoma City since 1946, long before the bagel became a common sight in Oklahoma, but this venerable bakery has adapted to the times by offering plain, blueberry and cinnamon raisin varieties daily for a sweet treat to start the morning.

Kitchen No. 324
324 N. Robinson Ave.
kitchen324.com | 405-763-5911
Lox and a bagel is a combination that goes together like Russell Westbrook and Paul … let's try that again. It's a combination like Shai Gilgerous-Alexander and Steven Adams. Kitchen No. 324 offers its smoked salmon on a hearth-baked bagel with whipped cream cheese, capers, red onion and salmon roe with a side of crispy potatoes.


Kamp's 1910 Café
10 NE 10th St.
kamps1910cafe.net | 405-230-1910
Kamp's makes its own bagels every morning and offers four varieties: plain, wheat, everything and blueberry. The Rise and Shine sandwich ($4.99) is scrambled eggs with American cheese with a choice of ham, bacon or sausage. You can go a healthier route with the Fresh Start Sandwich made with a whole-wheat bagel, turkey sausage, egg white and low-fat cheese.