Whether the school cafeteria brings back good memories (your first kiss) or bad memories (your first fight), unfortunately, one thing most everyone remembers is the food. But don't let the plastic trays of plastic-tasting cuisine mar your view of some otherwise-great dishes. Take a culinary journey through the lunch line and reclaim those halcyon days with great versions of cafeteria classics.
By Greg Elwell Photos Garett Fisbeck and Gazette file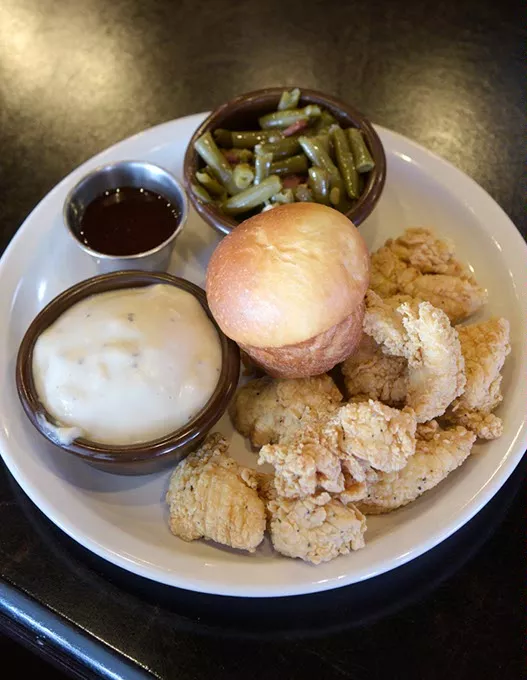 Garett Fisbeck
Chicken nuggets at Jim's Famous Chicken, Monday, Dec. 5, 2016.
Jim's Famous Chicken
10811 NE 23rd St., Nicoma Park
405-769-4412
The chicken nuggets of our youth were more nugget than chicken. That's why adult nugget connoisseurs forgo minced meat pressed into molds in favor of Jim's Famous Chicken. Diners are treated to big chunks of breaded-and-fried chicken tenderloin. Juicy and tender, Jim's nuggets are more than sauce delivery vehicles. Each one is a miniature labor of love with all the flavor of fried chicken and none of the bone.
Garett Fisbeck
Chicken fried steak with jalapeno gravy at Cheevers in Oklahoma City, Tuesday, Dec. 22, 2015.
Cheever's Cafe
2409 N. Hudson Ave.
405-525-7007
Much as one might have trouble locating the nugget on a chicken, many a child pondered precisely where on the cow the fingers might be found. As adults, however, we know steak fingers are just a lesser version of chicken-fried steak and some of Oklahoma City's best are found at Cheever's Cafe. They come smothered in savory jalapeño gravy and served with a side of red-skinned mashed potatoes as well as Cheever's famously gracious hospitality.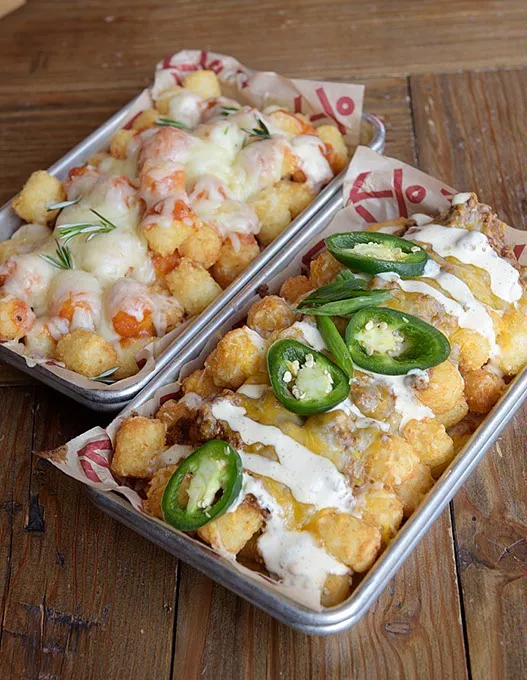 Garett Fisbeck
Chili cheese and pizza tots at Anchor Down, Tuesday, Dec. 6, 2016.
Anchor Down
30 NE Second St.
405-605-8070
Getting tots loaded is illegal if you're talking about children. Do not do that. But if you're talking about appetizers at Anchor Down, a purveyor of all sorts of delicious fried comestibles, loaded tots are a must. Choose from chili-cheese tots drizzled in the housemade ghost pepper ranch dressing or pizza tots served in tomato gravy with Swiss cheese melted on top. Anchor Down's tots are crispy outside, creamy inside and built to share.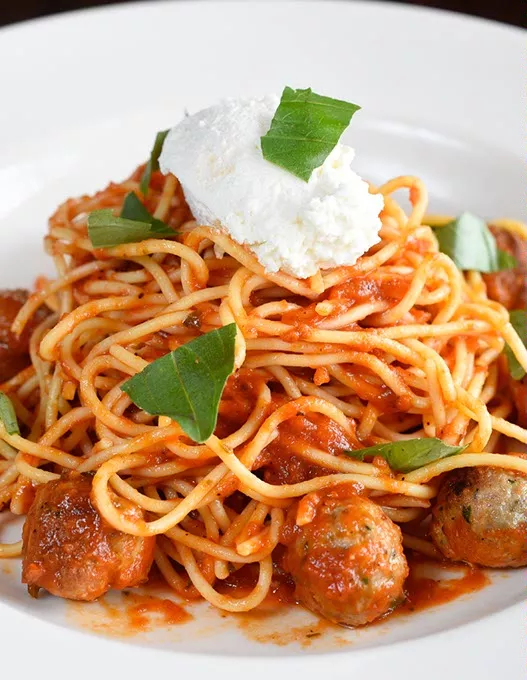 Garett Fisbeck
?Spaghetti polpettine at Patrono, Tuesday, May 17, 2016.
Patrono Italian Restaurant
305 N. Walker Ave.
405-702-7660
Do not confuse Patrono's excellent spaghetti polpettine with the weekly Death Star cafeteria feature Spaghetti Palpatine. Polpettine literally translates as "little meatballs," which Patrono serves with perfectly al dente noodles; a sauce of tomato, garlic and basil; and a dollop of ricotta cheese on top. Spaghetti Palpatine was just dry spaghetti Stormtroopers had to "force" themselves to eat. Alderaan over to Patrono and eat until you forget that last pun.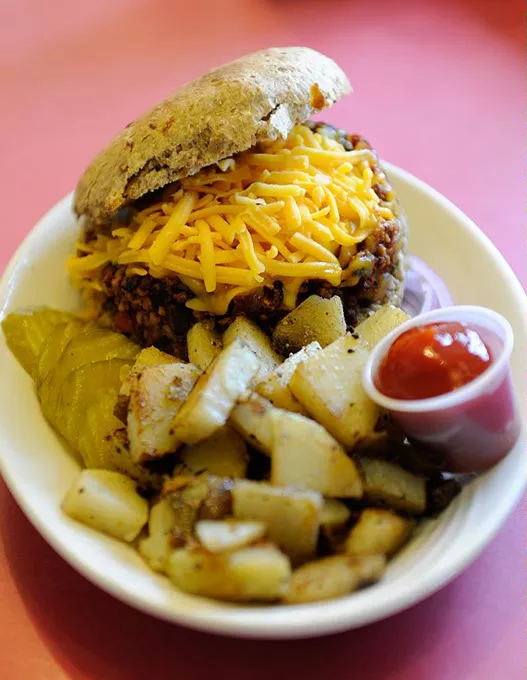 Garett Fisbeck
Sloppy Jane sandwich at The Red Cup in Oklahoma City, Monday, March 2, 2015.
The Red Cup
3122 N. Classen Blvd.
405-525-3430
If you still have difficulty believing it's not butter, The Red Cup's Sloppy Jane will really throw you for a loop. It's vegetarian through-and-through, like everything else the coffee shop and restaurant serves. The Sloppy Jane tastes so meaty, it's difficult to fathom that there isn't ground beef in every hearty, filling bite. The texture is perfect — a little sticky and a little crumbly — so you'll feel like a kid again.
Garett Fisbeck
Hot chocolate at Junction Coffee Wednesday, Dec. 7, 2016.
Junction Coffee
Mobile
303-898-4229
It's far from the best part of Junction Coffee's hot chocolate, but it is nice that customers don't have to struggle with that cardboard spout that comes on cafeteria chocolate milk cartons. Was there even chocolate in that milk? There surely is in Junction Coffee's delightful hot chocolate. Climb aboard the double-decker bus and you'll find that each mug of the cold weather antidote is made with steamed milk and rich chocolate and served with a warm smile.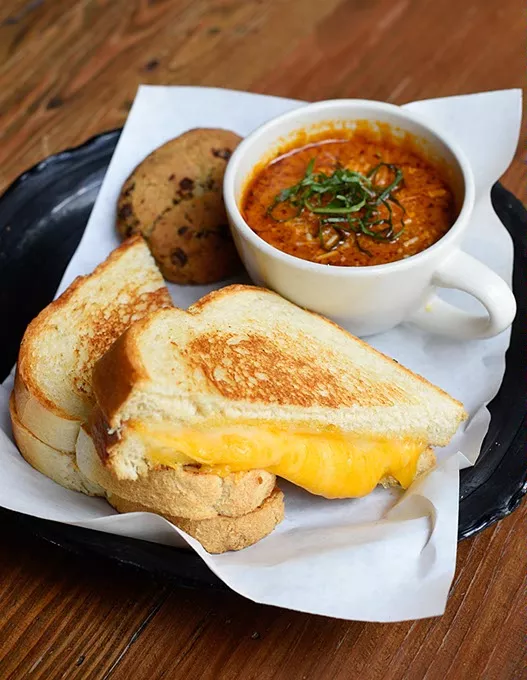 Garett Fisbeck
Uncle Joe's Lunch Box at Slaughter's Hall in Oklahoma City, Wednesday, April 13, 2016.
Slaughter's Hall
221 N. Central Ave.
405-606-6063
What is more glorious than a perfectly cooked grilled cheese sandwich? Nothing can beat crisp, buttery bread with gooey, melted Colby-Jack and Swiss cheeses inside. Well, nothing but Uncle Joe's Lunch Box at Slaughter's Hall, which pairs that excellent grilled cheese sandwich with a cup of tomato soup that is just right for warding away the winter chill. For dessert, there's even a fresh chocolate chip cookie. I'm not sure who Uncle Joe is, but his lunch box proves he's living his best life.
Print headline:
Childhood favorites