Sebastian was, by all accounts, the most annoying character in The Little Mermaid. That little red jerk rooted against love for Ariel and snitched on her to King Triton, but he did have one thing right: Baby, it's better down where it's wetter, under the sea. So while the temperature outside is still a few degrees shy of a boiling lobster pot, take a dip in this tasty selection of aquatic eats.
By Greg Elwell Photos Garett Fisbeck
Garett Fisbeck
Toro-tartar hand roll at Okura Sushi in Oklahoma City, Wednesday, Nov. 11, 2015.
Okura Sushi & Grill
7508 N. May Ave.
405-842-3764
Take a roll on the wild side at Okura, where you'll find traditional nigiri and flavorful maki galore. The adventurous should check out the selection of hand rolls, which are little cones of seaweed filled with all sorts of tasty treats. Tuna lovers must order a Toro-Tartar (pictured) full of chopped tuna, soy sauce, sesame oil, ginger and masago. Pop the raw quail egg that comes on top for a luscious and unforgettable bite.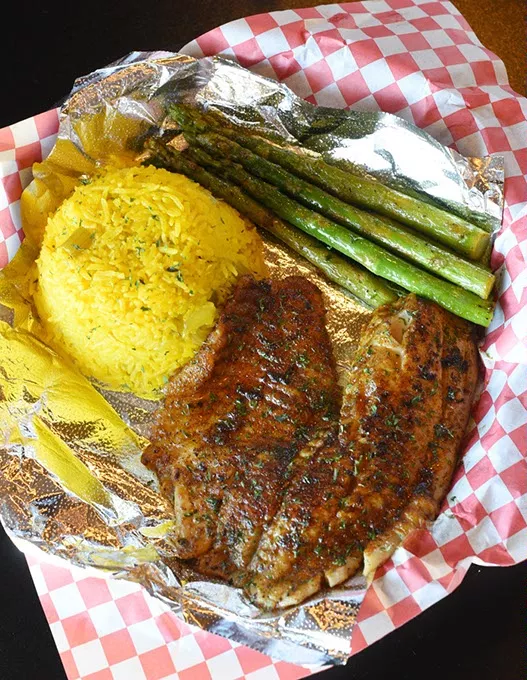 Garett Fisbeck
Grilled Tilapia basket at Off The Hook Seafood and More in Oklahoma City, Thursday, July 21, 2016.
Off the Hook
Seafood & More
125 W. Britton Road
405-840-3474
When will the owners of Off the Hook Seafood & More realize they're primed for a few spinoff businesses? Off the Hoof is clearly a burger joint waiting to happen. Off the Chain could be either a good place to buy jewelry or a fence installation business. Of course, they'd be off their gourds if they even consider closing Off the Hook, which has a menu full of seductively spicy fish that rivals any other metro venue.
Garett Fisbeck
stir-fried Chinese bok choy, salt and pepper sliced fish, double cooked pork, egg roll and egg drop soup at Szechuan Bistro in Oklahoma City, Tuesday, Aug. 25, 2015.
Szechuan Bistro
1010 W. Memorial Road
752-8889
Long before Salt-N-Pepa was here, there were salt and pepper. You think Cheryl "Salt" James and Sandra "Pepa" Denton know how to push it? Then you need to get acquainted with Szechuan Bistro's salt and pepper sliced fish (pictured). The simple preparation has a spicy kick and a light and crispy crust that will make you shoop, baby. Find it in the back of the menu with other authentic dishes.
Garett Fisbeck
Tawa fish at Tikka Craze in Edmond, Tuesday, July 19, 2016.
Tikka Craze Grill
301 S. Bryant Ave., Edmond
405-341-8888
"Tawa Fish, I choose you!" is something you might say when you mistakenly think the new Indian restaurant Tikka Craze Grill is some kind of all-you-can-fight Pokémon gym. It might not be a tiny animated brawler, but you won't be disappointed when you discover it. Tikka Craze's tawa fish is a spicy visitor from the East that gives your taste buds a tussle and leaves you feeling victorious. Wash it down with a yogurt salted lassi to cool the fiery flavor.
Garett Fisbeck
Seafood jambalaya at The Shack in Oklahoma City, Thursday, July 21, 2016.
The Shack Seafood & Oyster Bar
303 NW 62nd St.
405-608-4333
Many saw the lawsuit that forced Shackuille O'Neal to change his name as a turning point for the superstar. But while "Shaq" went on to a middling career as an almost- famous basketball player, the victors were The Shack and the lucky customers who eat there. This Oklahoma City-based Cajun outpost is filled to the gills with delicious underwater denizens, including a jambalaya so tasty we bet Shaq is probably a fan.
Garett Fisbeck
Grilled shrimp and crispy fish tacos at Mama Roja in Oklahoma City, Thursday, July 21, 2016.
Mama Roja Mexican Kitchen
9219 Lake Hefner Parkway
405-302-6262
Sitting at Mama Roja with a view of Lake Hefner shimmering against the sunset, you'll face many choices for your evening repast. Fajitas are delicious. Enchiladas are muy tasty. But let your teeth sink into the friendly tides of the grilled shrimp or crispy fish tacos (pictured) and you might never want to come up for air. Topped with slaw, tomatillo salsa and spicy aioli, these light options leave room for a sopapilla.
Garett Fisbeck
Cajun crab and shrimp boil at Crabtown in Oklahoma City, Thursday, July 21, 2016.
Crabtown
303 E. Sheridan Ave.
405-232-7227
Few people remember the merman invasion of 1931, but Oklahoma City still bears the scars of the scaly interlopers from the sea. Nobody saw it coming, what with Oklahoma being landlocked, which made the flooding of Bricktown all the more insidious. After being fought back by the National Guard, all that remains of our briny conquerors is Crabtown, where you can have your revenge with a table filled with Cajun crab and shrimp boil (pictured).