Very few people laugh when they're hungry. Laughing a lot leads to hunger eventually, but then your abs hurt from all that giggling. Here are a few restaurants that earn chuckles when you order and make you smile after every bite.
By Greg Elwell Photos Garett Fisbeck and Gazette file
Garett Fisbeck
Dirty bowl at Big Truck Tacos in Oklahoma City, Thursday, Nov. 10, 2016.
Big Truck Tacos
530 NW 23rd St.
405-525-8226
The quick wits at Big Truck Tacos have always had a way with words when it comes to the menu. A Flaming Lips taco is made with beef tongue. Every day, the 5th Amendment is stuffed with secret ingredients and you have to eat one to find out what's in there. Perhaps no item more smile-inducing than Dirty Bowl, a heap of refried beans, queso, tortilla chip pieces, beef picadillo, fresh pico de gallo and guacamole. Order one and it'll quickly become an empty bowl.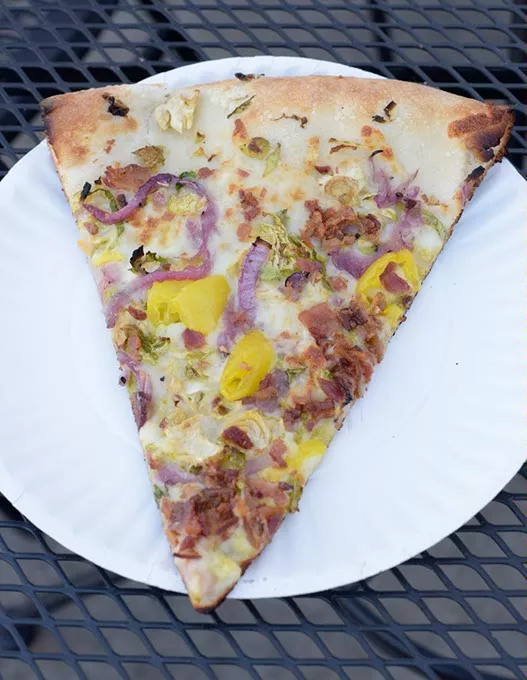 Garett Fisbeck
Brussel Westbrook at Empire Slice House in Oklahoma City, Thursday, Nov. 10, 2016.
Empire Slice House
1734 NW 16th St.
405-557-1760
It's entertainment overload at Empire Slice House as you try to decide on which slice to order as you're also watching TV, checking out the neighborhood pizza joint's clientele and examining the pop culture collages that cover the walls. The menu hits you with deliciously clever specialty pizzas such as Uncle Buck and Notorious P.I.G. If it's game night, your best choice is a slice of Brussell Westbrook topped with bacon, fennel, onions and Brussels sprouts.
Garett Fisbeck
Korean Cowboy at Guernsey Park in Oklahoma City, Thursday, Nov. 10, 2016.
Guernsey Park
2418 N. Guernsey Ave.
405-605-5272
Whoopee ti yi yo! Get along to Guernsey Park for a steak that still has some fight in it. After chicken lollipops and black garlic salad appetizers, diners should order the Korean Cowboy rib-eye topped with housemade ssamjang butter. The steak might arrive at your table still sizzling, but the heat is in the ssamjang, a sweet and spicy Korean dipping sauce mixed with creamy butter.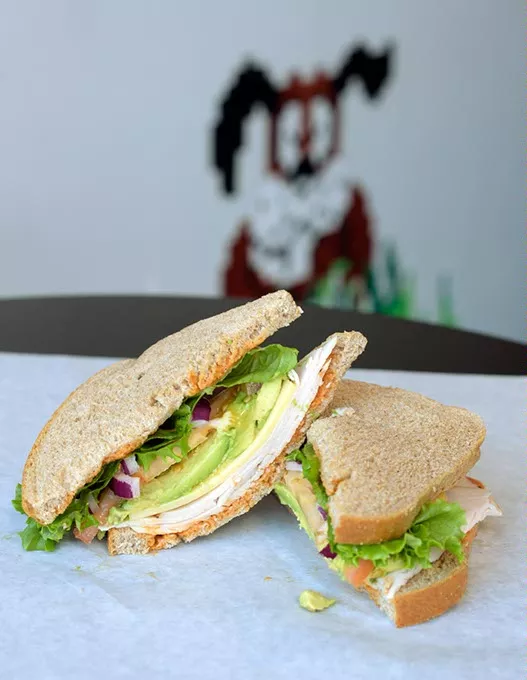 Garett Fisbeck
SPAULDING! at The Sandwich Club in Oklahoma City, Thursday, Nov. 10, 2016.
The Sandwich Club
3703 N. Western Ave.
405-525-0799
Fore! I mean four! That's how many Spaulding! sandwiches the Caddyshack character it was named for would probably order. It doesn't include a hamburger, a cheeseburger, a hot dog and a milkshake, but The Sandwich Club's delicious creation is stacked with sliced turkey, Gouda cheese, creamy avocado and French dressing. It even comes with a bag of chips. You better get there before closing time at 4 p.m. or you'll get nothing and like it!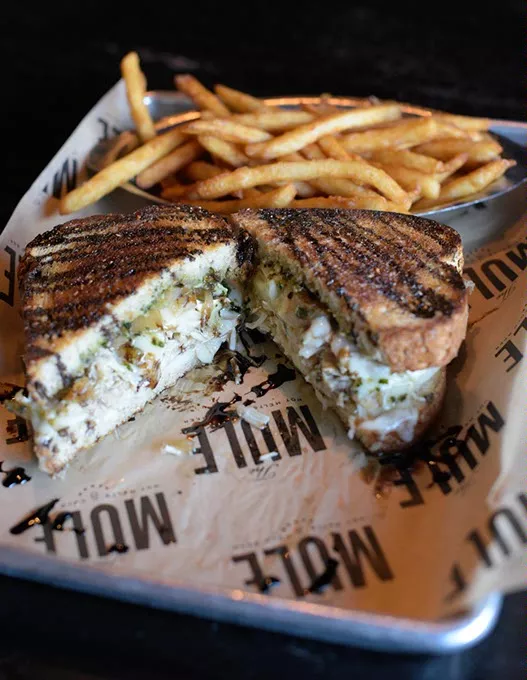 Garett Fisbeck
Fancy Pants at The Mule in Oklahoma City, Thursday, Nov. 10, 2016.
The Mule
1630 N. Blackwelder Ave.
405-601-1400
A sandwich filled with roasted chicken, Gruyere and Brie cheeses, pear, pesto and a balsamic vinegar reduction definitely earns its Fancy Pants name. The Mule's hot melts menu is replete with funny monikers for outstanding sandwiches like the Macaroni Pony and the accurate, if a bit crass, Big Ass Grilled Cheese. Fancy Pants is one you must try on. The creaminess of Brie balances out the intense flavors of basil and vinegar to make a supremely satisfying sammie.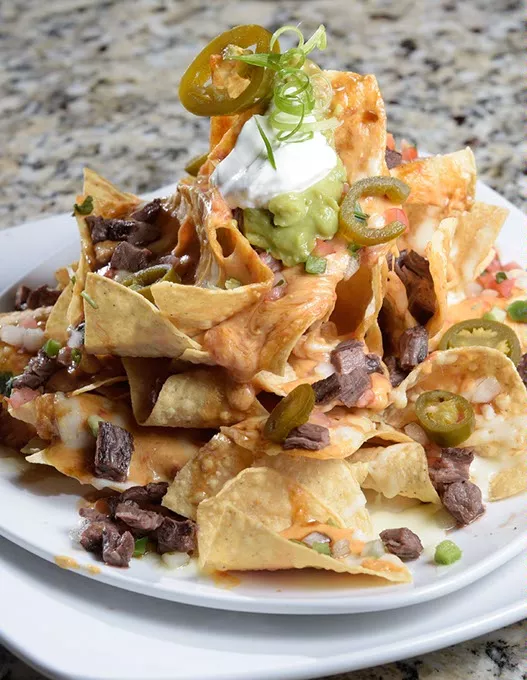 Garett Fisbeck
All Mine, Nachos (w/ steak) at Gigglez Bar & Grill, Monday, Sept. 19, 2016.
Gigglez Bar & Grill
1016 N. Walker Ave.
405-602-2074
It's easy to see the combination bar, restaurant and comedy club doesn't take itself too seriously with menu options like Hey Mocharena chocolate flourless cake and All Mine, Nachos covered with queso and a balsamic caramel. But the food, unlike the comedy club's entertainment, is no laughing matter. Pay close attention to the daily special, especially Thursday's Vietnamese beef noodle soup ph?, which sells out quickly.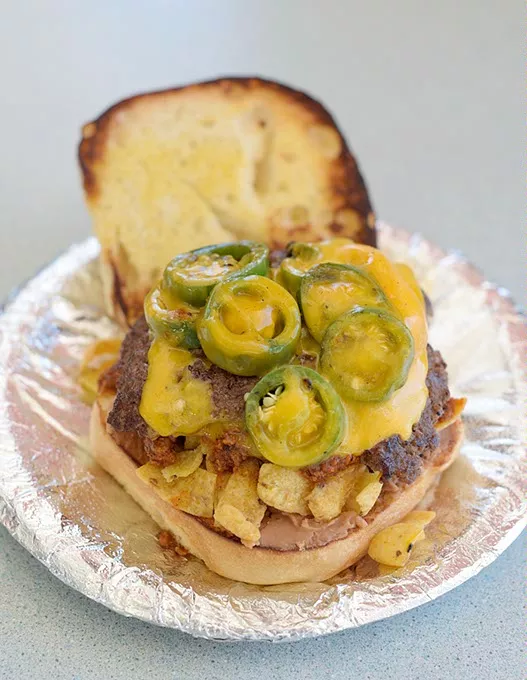 Garett Fisbeck
Beanie Burger at Patty Wagon in Oklahoma City, Thursday, Nov. 10, 2016.
Patty Wagon
3600 N. May Ave.
405-917-1711
A plain Patty Wagon burger is tasty, but when those griddle geniuses mix up ingredients, the results are mouth-wateringly delicious. Order a Beanie Burger and see for yourself. The all-beef patty is stacked between a buttery toasted bun filled with corn chips, melted cheese, chili, sliced jalapeños and a thick layer of bean dip for a spicy sandwich that sticks to the ribs (and the roof of your mouth).
Print headline: Seriously silly