Soup with soul
Paired with a grilled cheese or a meal on its own, soup is the seasonal food that crosses ethnic culinary lines with ease. No matter your craving, there is a hearty bowl of soup waiting to warm you up this fall.
By Jacob Threadgill | Photos by Garett Fisbeck, Garret Fisbeck / file and Gazette / file
Garett Fisbeck
Tortilla soup at Alvarado's in Edmond, Wednesday, Aug. 26, 2015.
Alvarado's Mexican Restaurant
11641 S. Western Ave.
405-692-2007
A good tortilla soup isn't called that just because of a few crunchy tortilla strips dumped on top of the broth. The name comes from tortillas that are used to thicken the broth, like it's done at Alvarado's in Oklahoma City or at its Edmond location.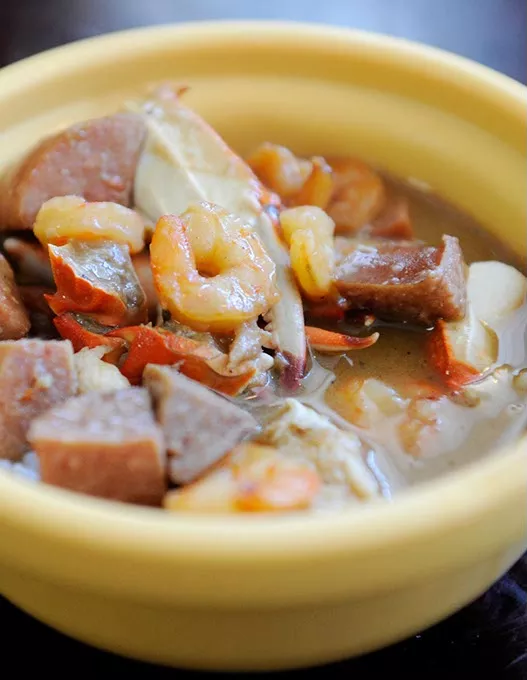 Garett Fisbeck
Gumbo at Cajun King in Oklahoma City, Monday, Dec. 14, 2015.
Cajun King
5816 NW 63rd St., Warr Acres
405-603-3714
There are so many options at Cajun King that it's easy to miss one of the buffet's best offerings: gumbo. If there's any downside, it's that the thick soup — full of crab, shrimp and sausage — weighs you down. That might a problem if you're trying to set records, but if it's between a fourth plate or gumbo, get the gumbo.
Garett Fisbeck
Oxtail Soup at Chae Modern Korean, Wednesday, May 11, 2016.
Chae Modern Korean
1933 NW 23rd St.
405-600-9040
Of all the restaurant additions along NW 23rd Street, Chae Modern Korean is among the best. The kitchen, which blends traditional Korean recipes with modern flair, has three tantalizing soups on its menu. The oxtail soup is creamy with thick udon noodles, the jjambbong is served with seafood and soondubu is a spicy soup served with tofu.
Garett Fisbeck
Kenyan Chapati and Beef Stew at Haiget's in Edmond, Wednesday, Feb. 11, 2015.
Haiget's Restaurant
308 W. Edmond Road, Edmond
405-509-6441
Both Kenyan and Ethiopian cuisine is available at this Edmond eatery. The beef stew is served with chapatti, a Kenyan sweet flatbread. The stew is stocked with beef, potato and tomato and is packed full of flavor. The stew is also available with rice (pilau masala) or mukimo, a mixture of mashed potatoes, peas, spinach and onions.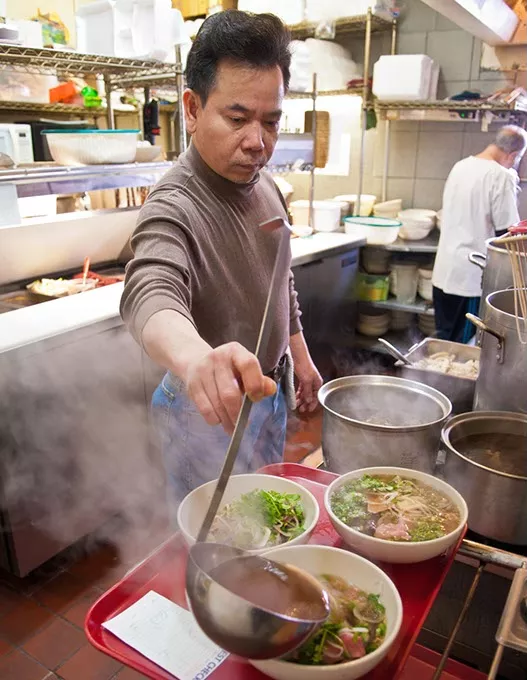 Duy Tran cooks everything from scratch in the kitchen at Pho Cuong. mh
Pho Cuong
3016 N. Classen Blvd.
405-524-5045
Oklahoma City and the surrounding area has no shortage of pho, but Pho Cuong earns recognition for its commitment to soup, leaving non-soup dishes to other restaurants. The broth is the star of the show. Flavored with lots of bone marrow and a melody of spices including star anise, coriander pods, cloves and much more, it cooks the thinly sliced beef as it is served.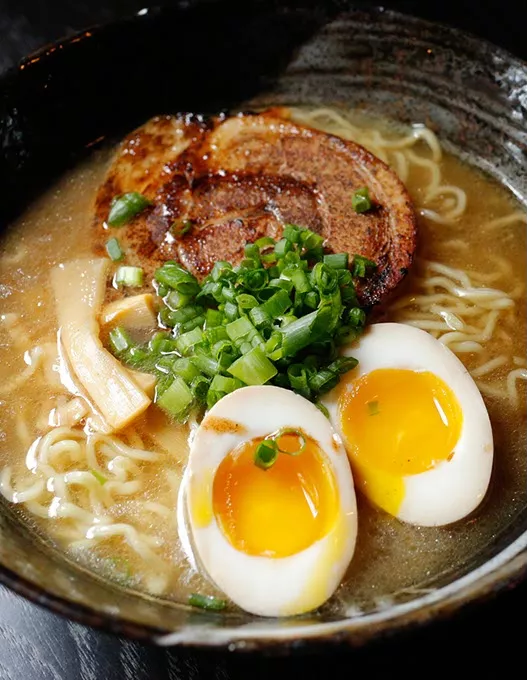 Garett FIsbeck
Tonkotsu at Tamashi Ramen in Oklahoma City, Friday, June 12, 2015.
Tamashii Ramen House
321 NW Eighth St.
405-517-0707
A visit to Tamashii will make you forget the ramen that comes in a packet. The creamy and luxurious broth can only be achieved through hours of attention, and the al dente bite of the noodles resembles nothing like soup in a cup. Get a bowl of tonkotsu topped with pork belly and marinated bamboo or opt for a vegetarian variety with miso butter and corn.
The Mule
1630 N. Blackwelder Ave.
405-601-1400
Is there a better combination than a grilled cheese and tomato soup? Maybe peanut butter and jelly — maybe. In OKC, there is no place better for the combination than the Plaza District's The Mule, where grilled cheese is a way of life, but the soup earns plenty of credit on its own.