Bacon is good. Bacon is good because it tastes good. Oklahoma loves bacon. This is good because bacon is good. Because Oklahoma loves bacon, here are some good places in Oklahoma to find good bacon — which isn't hard because all bacon is good bacon. Well, except turkey bacon.
By Ben Luschen
Photos by Garett Fisbeck and Gazette/ file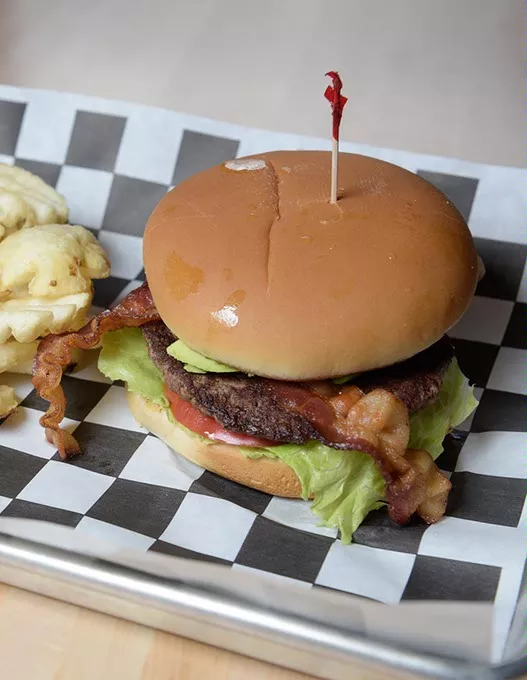 Garett Fisbeck
Aikman Bacon Avacado Burger with Waffle Fries at 1907 Burgers & Brews in Moore, Friday, Sept. 23, 2016.
1907 Burgers & Brews
1035 SW 19th St., Moore
405-912-1907
During the Dallas Cowboys' Super Bowl heyday in the early 1990s, there were few combinations as good as quarterback (and Henryetta High School graduate) Troy Aikman and wide receiver Michael Irvin. Though the bacon and avocado on 1907's Aikman Bacon Guacamole Burger have no championship rings of their own, they form a similarly dynamic pairing — particularly when served alongside the burger joint's delicious waffle-cut french fries.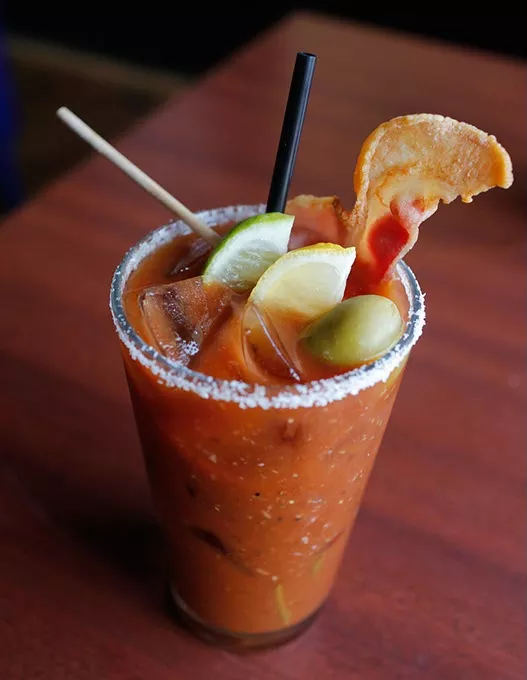 Garett Fisbeck
Bacon Bloody Mary at Bacon, Tuesday, Oct. 3, 2017.
Bacon
7523 N. May Ave.
405-848-4868
Can you guess this restaurant's specialty? While some eateries throw playful nods to the meat candy in their recipes, aptly named Bacon eats, sleeps and — yes — drinks bacon. Bacon serves all-bacon everything, its cocktail menu included. The Bacon Bloody Mary is made with a house-infused vodka and the restaurant's own Bloody Mary mix featuring a sweet and salty strip of the good stuff as the world's best garnish. Please don't ask to see a vegan menu.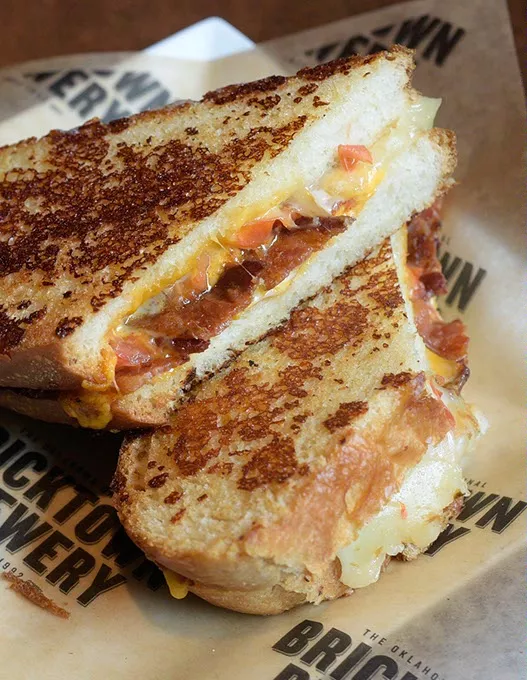 Garett Fisbeck
Extreme Bacon & Tomato Grilled Cheese Sandwich with Tomato Soup at Bricktown Brewery, Wednesday, Aug. 30, 2017.
Bacon N' Cakin'
Mobile
405-761-7606
For some, getting adventurous with pancakes means throwing a few chocolate chips in the batter or buttering both sides of the flapjack. Onboard the Bacon N' Cakin' food truck, these treatments are mere child's play. Take the Hound Dog, for example. It includes two pancakes stuffed with candied bacon and a freshly prepared egg in between. The savory stack is topped with a bit of sweetness, adding sliced bananas and a drizzle of homemade peanut butter sauce.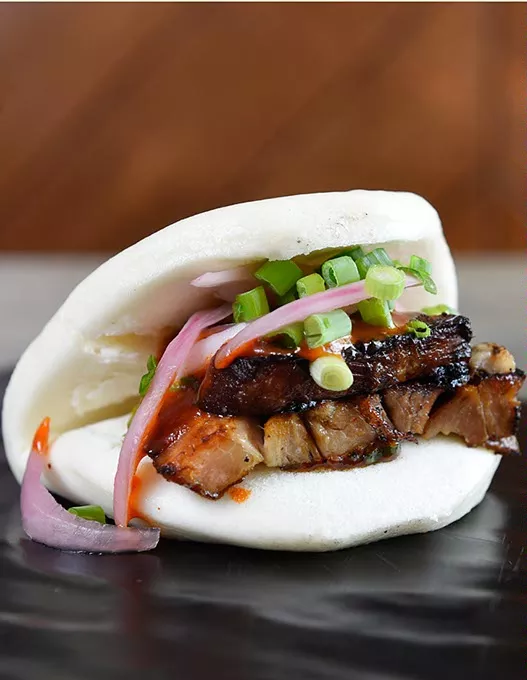 Garett Fisbeck
Pork Belly Bun at Chae Modern Korean, Wednesday, May 11, 2016.
Bricktown Brewery
1 N. Oklahoma Ave.
405-232-2739
OK, we can guess what you're thinking. What could possibly make Bricktown Brewery's Extreme Bacon & Tomato Grilled Cheese Sandwich so "extreme"? While you won't find this comfort food staple on a halfpipe or ski slope near you, its flavors are pretty rad in their own right. Aside from bacon, which is spectacular in nearly all contexts, the sandwich includes an impressive five cheeses, including American, cheddar, pepper jack, Swiss and Pecorino Romano.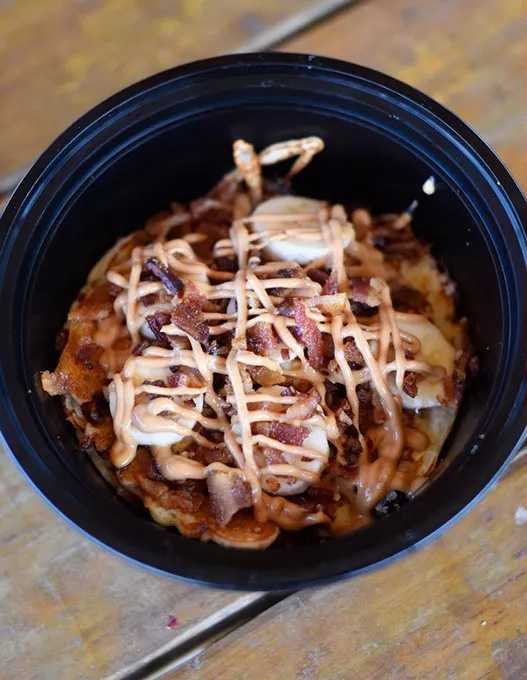 Garett Fisbeck
Hound Dog at Bacon N' Cakin', Thursday, April 28, 2016.
Eskimo Joe's
501 W. Elm St., Stillwater
405-372-8896
Even those with a cursory knowledge of Oklahoma lore are familiar with the Stillwater staple Eskimo Joe's. Its menu of cheese fries, in particular, is one of the most-known offerings in the state. Bacon rightly pops up on several dish varieties, including the standard bacon cheese fries, sweet peppered bacon cheese fries and Elm Street cheese fries, which adds marinated chicken and sweet peppered bacon.
Garett Fisbeck
Bacon cheese fries at Eskimo Joe's in Stillwater, Thursday, Aug. 6, 2015.
McNellie's The Abner Ale House
121 E. Main St., Norman
405-928-5801
Though long loved by Oklahomans thanks to Sonic and, more recently, The Pump Bar, national palates seem to treat the tater tot as a less-appreciated cousin to the more popular french fry. This is a true food travesty. Anyone who has sampled McNellie's Buffalo bleu bacon smothered tots knows the plump rendition of the crispy fried potato should play second fiddle to no one.
Mark Hancock
Buffalo Blue Bacon sothered tots, at McNellie's The Abner Ale Hous on Main Street in Norman, 12-19-16.
Okay Yeah Coffee & Eatery
705 W. Sheridan Ave.
405-652-1322
Bacon is a versatile ingredient that can be used in a number of ways, but it is most commonly seen either beside eggs at breakfast or under a cheeseburger's bun at lunch. Instead of choosing one or the other, Okay Yeah lets diners have both at the same time. Its Breakfast Burger comes with egg, bacon, lettuce, tomato, micro dill and a generous slather of peach bourbon jam. At last, a burger that is acceptable to eat any hour of the day.