If you like pancakes but are looking for something more fun than the standard syrup and occasional blueberry or pecan, these seven restaurants have you covered. Try everything from pancakes with bacon inside to ones with marshmallow topping.
By Jacob Threadgill with photos Gazette / file and provided
Aurora Breakfast, Bar & Backyard
1704 NW 16th St.
shinewithaurora.com | 405-609-8854
The tiramisu pancakes are such a hit at this 16th Street Plaza District favorite that they were featured on Travel Channel's Cheap Eats when it visited Oklahoma City last year. The fluffy pancakes are topped with Hoboken crème anglaise, almond cream, toasted walnuts, shaved chocolate and citrus zest. Be on the lookout, as Aurora is adding dinner service in the coming weeks.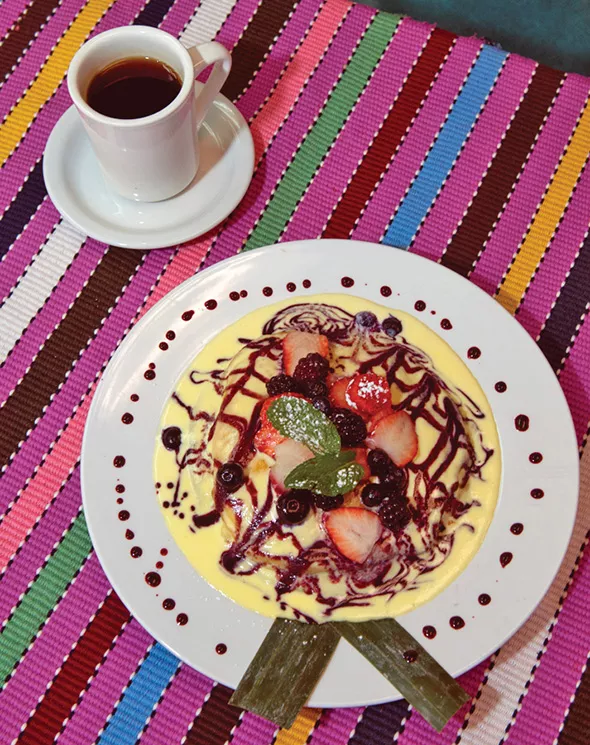 Café Kacao
3325 N. Classen Blvd.
cafekacao.com | 405-602-2883
One of the city's most beloved restaurants offers unique pancakes topped with its signature lechera sauce. Wild berry uses seasonal berries and the blackberry-bourbon sauce that also appears on its Oreo and mango versions. It also offers Nutella pancakes with bananas and a Nutella sauce.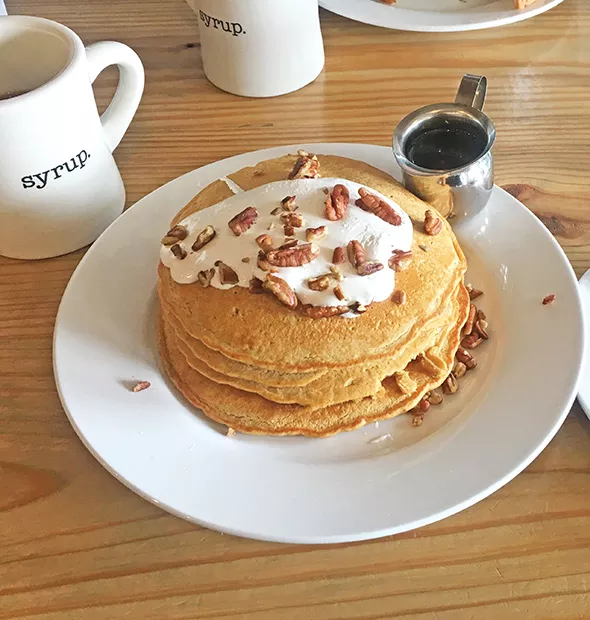 syrup.
1501 NW 23rd St.

syrupbreakfast.com | 405-601-1354
The Home Sweet Homa is the first item listed on syrup.'s menu, and it's a unique take on the standard pancake. Despite the name, the sweet potato pancakes aren't overly saccharine and exude nice warmth that makes them almost savory. Of course, there is plenty of sweetness from the marshmallow topping and syrup for a balanced dish.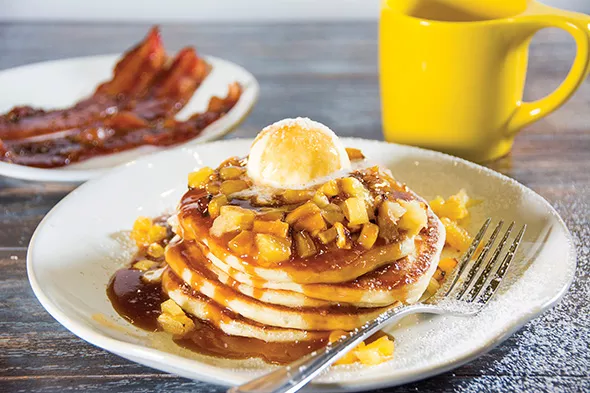 Neighborhood JA.M.
15124 Lleyton's Court
thatsmyjamok.com | 405-242-4161
The Third Wheel at Neighborhood JA.M. allows you to mix and match three different pancakes on one plate. The pineapple bourbon cakes top buttermilk pancakes with caramelized pineapple, pineapple bourbon sauce, bourbon butter and lemon cream swirl. The Looney Cakes are a version of carrot cake, Lemon Poppy tops poppy seed cakes with lemon curd and Prom Cakes are oatmeal and granola with bananas and more granola.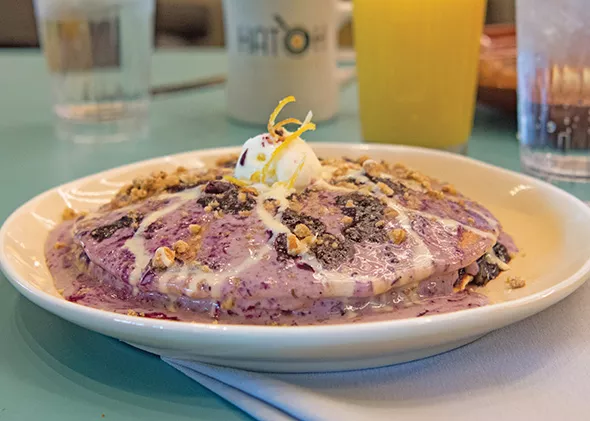 Hatch Early Mood Food
1101 N. Broadway Ave.
hatchearlymoodfood.com | 405-609-8936
The pancake flight is the best way to try three of Hatch's six nontraditional pancakes. Its Famous PanOKCake puts bacon in the batter with pecans and a bourbon maple glaze. It also offers Bananas Foster, Strawberry Dream, The King sans banana with peanut butter and bacon, Piña Caramelo and blueberry streusel with blueberry compote, crumbled streusel and cream cheese anglaise.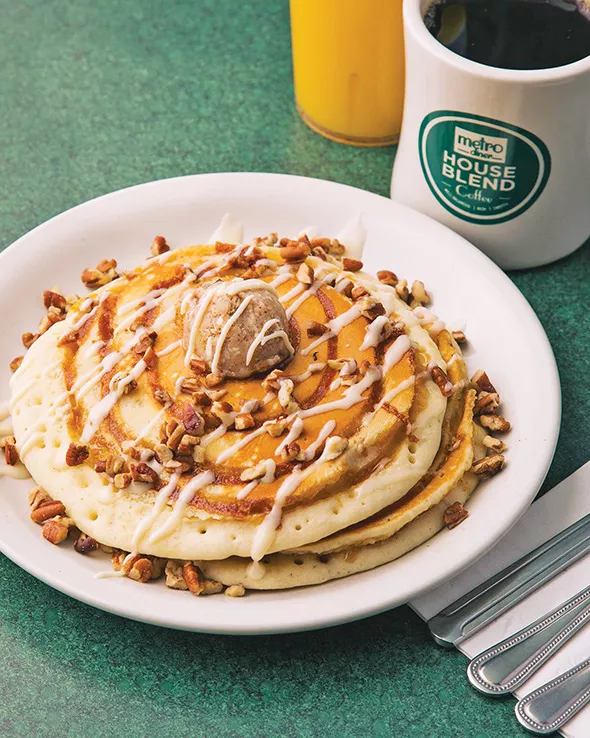 Metro Diner
3000 W. Memorial Road
metrodiner.com | 405-437-3079
This over-the-top diner parlayed its appearance on Diners, Drive-Ins and Dives into becoming a national franchise. Its cinnamon roll pancakes pair cream cheese icing, candied pecans and cinnamon butter with the cinnamon and sugar swirled into the two fluffy pancakes. It also offers croissant French toast and fried chicken and waffles with strawberry butter for total indulgence.
Sunnyside Diner
916 NW Sixth St.
eatatsunnyside.com | 405-778-8861
Sunnyside offers four types of specialty pancakes at its three locations, including chocolate chip with chocolate syrup, lemon blueberry with citrus zest, banana Nutella and pineapple upside-down cake. That last item caramelizes on the griddle with sugar as it cooks with a pineapple in the batter before getting topped with cherry syrup. Sunnyside recently added plenty of plant-based menu items as well.