Chicken outside the fried variety doesn't hold a high enough position in the U.S. protein power rankings, but it can be much more flavorful than the sad, dried-out chicken breast that sometimes tops an uninspired salad. We pay tribute to the best non-fried chicken dishes the city has to offer.
By Jacob Threadgill Photos by Jacob Threadgill and Gazette / file

Upper Crust Wood Fired Pizza
5860 N. Classen Ave.
ucpizza.com | 405-842-7743
At a restaurant known for its freshly fired pizza, the bricked chicken steals the show. If you've ever tried to pan-roast a chicken breast and didn't get the skin crispy enough, add more pressure. Whether it's a tinfoil-covered brick or a weighted cast-iron pan, don't be afraid of the Maillard reaction; it's where the flavor is created. Upper Crust's version is marinated in garlic and herbs and cooked to perfection.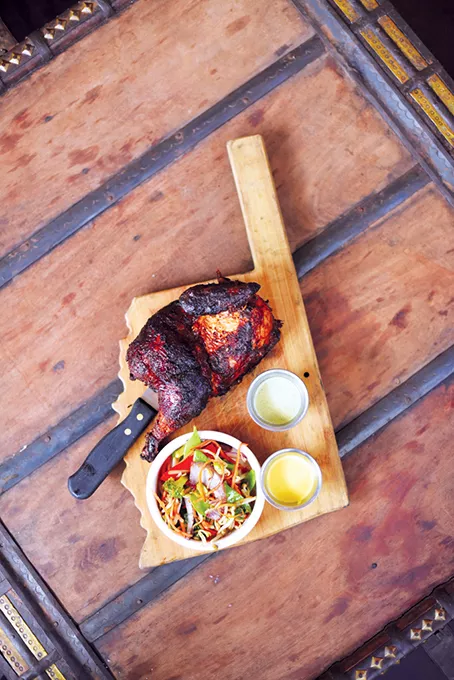 La Brasa
1310 NW 25th St.
labrasaokc.com | 405-524-2251
The process for the namesake dish at La Brasa, pollo al la brasa, begins days before it arrives at your table. The chicken is marinated for over 36 hours in a spice mixture that has over 20 spices before it hits the special charcoal rotisserie. The crispy chicken skin will make you forget the deep-fried version, and the marinade provides memorable depth of flavor.
Florence's Restaurant
1437 NE 23rd St.
florences.restaurant | 405-427-3663
Florence's certainly has fried chicken on lockdown with its smothered and sweet potato versions, but for the purposes of this collection of non-fried chicken, do not sleep on its classic chicken and dumplings. There might not be a better meal for sticking to your bones and keeping you full with its hearty gravy and thick but not chewy dumplings.
Carican Flavors
2701 N. Martin Luther King Ave.
caricanflavors.com | 405-424-0456
Whether the marinade is wet or dry or whether you refer to them as Scotch bonnets or habaneros, the spicy pepper is the key to the Jamaican jerk dry rub or sauce. Carican Flavors serves up the famous jerk chicken in entree portion or as a jerk-seasoned chicken wing. If you want something a little less spicy but just as flavorful, go with the curried chicken.
Cous Cous Cafe
6165 N. May Ave.
couscouscafeokc.com | 405-286-1533
When it comes to the delectable and tender chicken slow-cooked in a tagine — a heavy clay pot — the choice is a tough one. Do you want sweet or savory? Customers have the choice of getting the fork-tender chicken with either raisins and sweet onions or mixed vegetables with olives. No matter the choice, you can't go wrong.
Tandoor
1901 E. Reno Ave.
tandoorokc.com | 405-270-0379
Cooking meat inside of a tandoor — traditionally a cylindrical clay oven with charcoal or wood — allows for unique preparation of protein, particularly chicken. The high-temperature convection process allows the chicken to retain moisture while getting extra flavor from charred edges. Try the marinated chicken at this flavorful gem hidden inside a gas station.
Patrono
305 N. Walker Ave.
patronookc.com | 405-702-7660
Chicken al Mattone is another version of "chicken under a brick," but lovable Arts District neighborhood rustic Italian restaurant Patrono takes its version up a notch by topping the crispy bird with salsa verde that is traditionally made with plenty of lemon, vinegar and capers along with fresh herbs for a flavorful punch. Pistachio farro, charred tomatoes and fresh ricotta round out the tasty dish.